Spring Wall Hanging
After a long winter, it is time to think Spring!
It won't be long before the northern USA will
 see the bare ground. (at least I hope!)
Time for a little Spring DIY craft idea to help
shorten the look of winter that is left and give a glimpse of what is to come!
Make this decorative DIY Spring wall hanging as big or small as you like.
Simply find an appropriate sized curvy branch and hang your creative
Spring-time items at varying lengths.
Items Needed:
Branch – leave natural color or spray paint
Scrapbooking paper or other patterned and colored paper
Cut-outs (foam or paper) or various Dollar Store items
Glue
Scissors
Yarn or Ribbon
Colorful Muffin Liners
Variety of stickers or embellishments (optional)
This mobile was made by my friend, Vicki, who has allowed me to feature it. She included various sizes of pinwheels, kites, paper flowers, butterflies and birds.
Use handmade items or use several Spring things found at the Dollar Tree,too! They have eggs, foam flowers, birds, butterflies, etc. that work well for this project. Not everything needs to be handmade.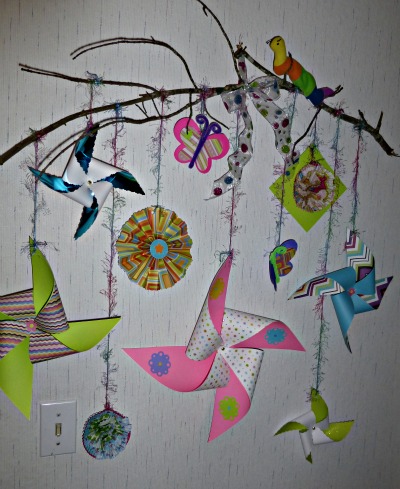 Colorful folded paper flowers were made from a tutorial found at Origami Instructions.I like that you are able to do this without a special machine. Paper flowers made from cupcake liners are explained at intimateweddings.
A simple tutorial for the pinwheels is found at WendyShat. Pinwheels are easy for elementary kids to make so get your kids or grandkids involved.
Butterflies that kids make from coffee filters work, too!
Putting all these ideas together makes for an interesting look!
This project is easy to do and easy on the budget!
It is nice that many of the materials needed are quite inexpensive and probably kept on hand for many crafts. 
Take off on this idea and design a meaningful Easter wall hanging with a cross, dove, empty tomb, Easter lily, lamb, butterflies, and foam Easter eggs. This idea is great for church groups. 
Another idea is making one with Easter eggs, chicks, bunnies, flowers, and lambs – perhaps a fun project for Girl Scouts!
The possibilities are endless.
Have fun and Happy Spring!
Many thanks to Vicki for letting me share her creation!
Vicki has started a non-profit organization for helping families whose babies die before, during or shortly after birth. Check it out on www.evansembrace.org
Thanks,
Phyllis 
Subscribe to future posts on the sidebar.
Follow on Pinterest, Facebook and Bloglovin!
Linked to the following linky parties….
Pin It