Wheat Pictures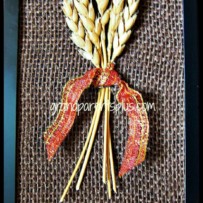 You see wheat used as fall accents in a lot of arrangements. It's symbolic of the fall harvest time. These easy Wheat Pictures are a unique addition to your fall home decor. Hang them among pictures on a wall or simply display on a table. My inspiration came from seeing them in a decorator's idea house. I decided I needed to try them myself.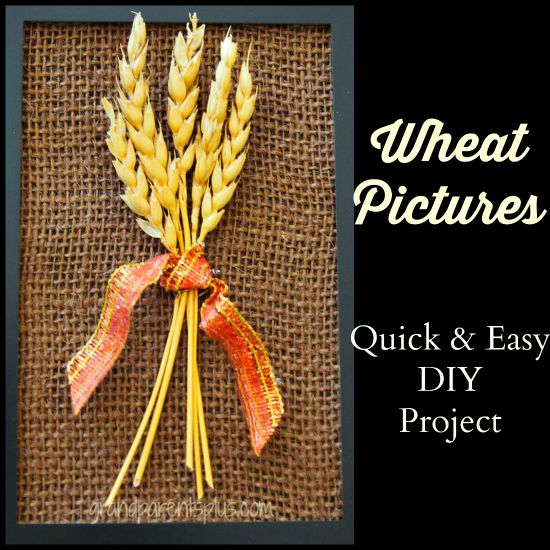 Use a Dollar Store black frame or any frame you might have on hand. The size you choose depends on where you want to use it. I happened to have a small black frame on hand so I decided to use it for this project. The size is 4 x 6.
There are different kinds of wheat. I had three kinds. The black-bearded wheat, white-bearded wheat, and simply wheat with no beard at all. Because the size of my frame was small, I used the non-bearded wheat.
The supplies you need are:  thin wire, wheat, frame, burlap (or anything for a background), ribbon and glue gun.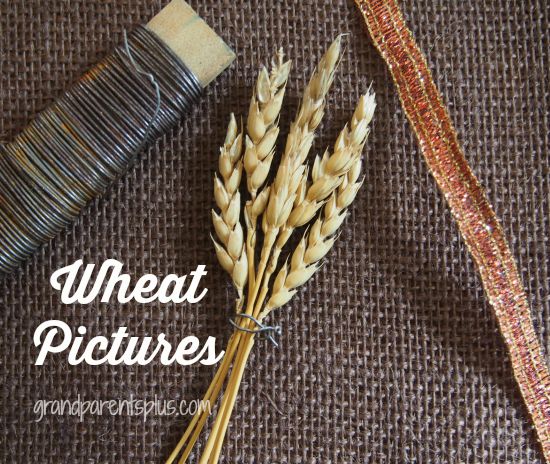 I used a dark brown burlap to contrast with the cream-colored wheat. I, also, found some orange 1/4 " ribbon that I happened to have on hand.  Instead of ribbon, raffia, or yarn works, too. Other suggested backgrounds are a textured fabric, wallpaper, or scrap-booking paper.
First, Remove the glass from the frame. You do not need it.
Next, I cut the burlap just larger than the frame opening. You can use the cardboard insert as a pattern. If you have some spray adhesive, spray the cardboard insert and place the burlap over it and adhere in place. I didn't have that adhesive, so I just placed it in the opening, put the cardboard insert in, and pulled it tight. Then, I trimmed the excess burlap and replaced the backing.
Then, once your frame is ready, secure the bunch of wheat with the wire. Cut stems to fit the frame. Don't cut it evenly, but keep some a bit short and some longer.
Finally, tie the ribbon around the wire and secure the wheat bunch to the burlap with a glue gun.
There, you're done!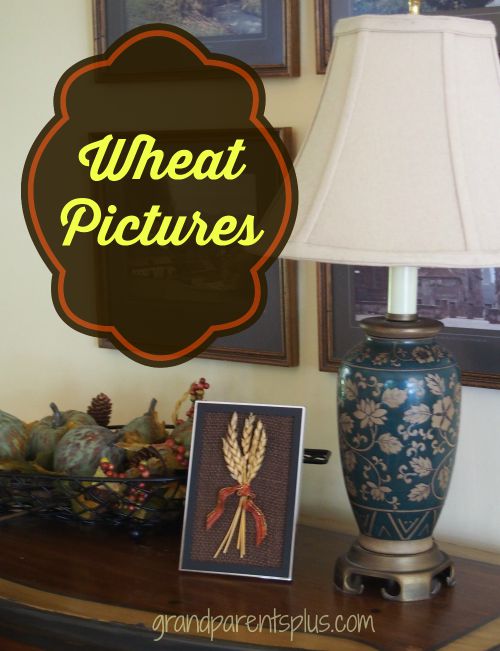 Don't you like quick, simple, and easy? I might add inexpensive,too!
If you have a long narrow frame, do three small bunches horizontally. Another variation is with a plain ribbon, write "Give Thanks", if you choose.
Wheat Pictures is a fast and easy craft and one that adds a nice touch to your fall decor. Nice for a hostess gift, too!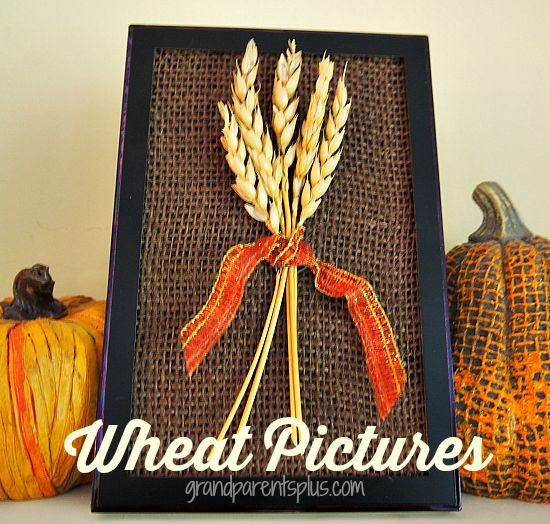 You may have all the materials necessary already on hand. Try it and you'll see how easy it is to do!
Enjoy! 
Phyllis
By subscribing, you won't miss a post and your email is never shared or sold!
Follow on Pinterest, too!
post linked to these parties….