Cheesy Pockets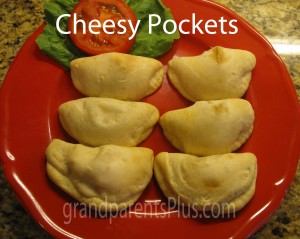 This recipe is one that kids can help put together. Because I didn't have enough rolling pins, I used small glasses with smooth sides and they worked well. They can also just press out the circle with their hands.  Make the circles at least 3 1/2 inches in diameter.

Cheesy Pockets with Turkey, Ham or Chicken

2 oz. cream cheese, softened
1 tablespoon mayo
1 tsp Dijon mustard (optional)
Deli meat (turkey, ham…) finely chopped ( I used canned chicken, drained) Add a scant 1/2 cup

1/3 – 1/2 cup shredded mozzarella cheese

1 can refrigerated biscuit (10 biscuits)
Preheat oven to 400 degrees. Mix together cream cheese, mayo and mustard. Add well-chopped turkey or other meat and cheese; mix well.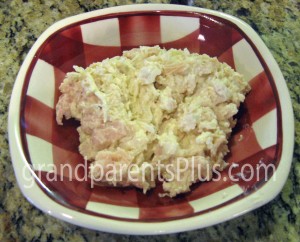 Press or roll out each biscuit circle to 3 1/2 inches. Place one heaping teaspoon cream cheese mixture in the middle of each biscuit circle.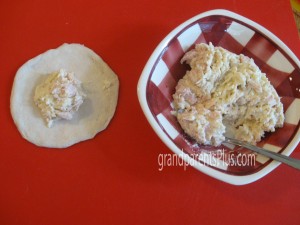 Fold dough over filling making a small turnover shape and seal edge by dipping finger in water to seal and press the edges together. Use a fork to crimp edges. Be careful not to poke a hole in the dough!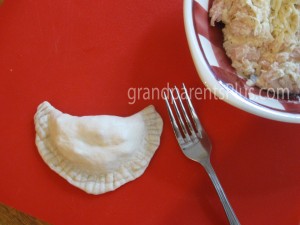 Place on ungreased baking sheet. Bake 10-12 minutes or until lightly browned.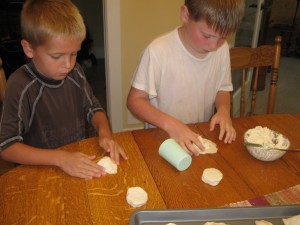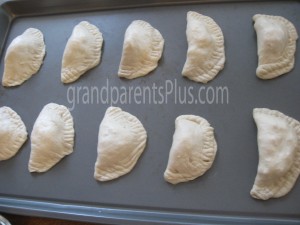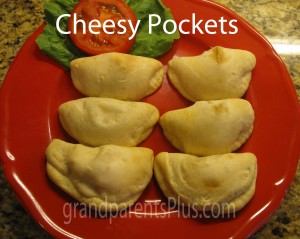 Even the picky eaters liked them!
These would make great appetizers, too!

Enjoy!
Pin It