Christmas Idea House Part 1
I don't mean to rush Christmas, but now is the time to gather ideas that inspire your own Christmas decorating. This Christmas Idea House – Part 1 is a home that designers transform three times a year with current trends, new items, old vintage pieces re-purposed, and loads of unique decorating ideas. There's so much seasonal decorating inspiration here!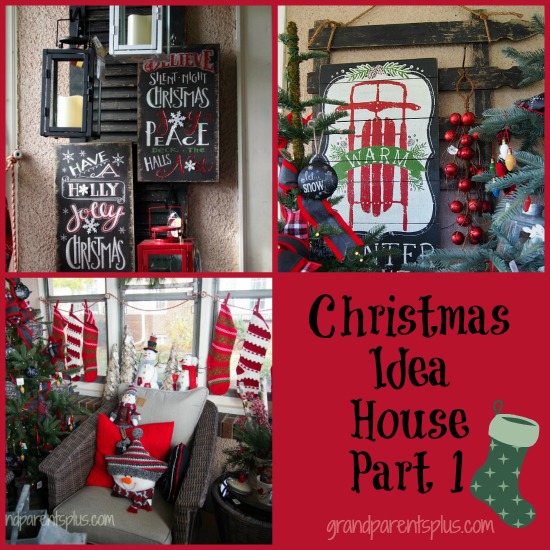 Let's start outside….
A pair of birch reindeer with big red bows greet guests  If you have access to birch trees, these would be easy to make.
Now that your gardens are in their winter state,  reuse a trellis by filling it with large red plastic ornaments. One change I would make, is to add a large red bow on top! What do you think?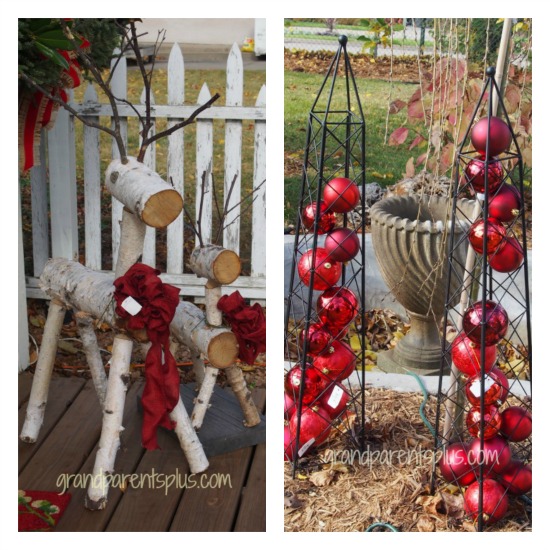 This container winter garden display uses lots of greens, three birch logs, pops of red balls, berries, red twigs, and accented with cotton bolls.(yes, bolls; not balls) If you're from the south, you may have easy access to these. Up north, you need to buy them. They make a nice white accent among the green and red. I, also, though they would make a great accent on a Christmas tree. I like to use natural items on my tree along with the ornaments.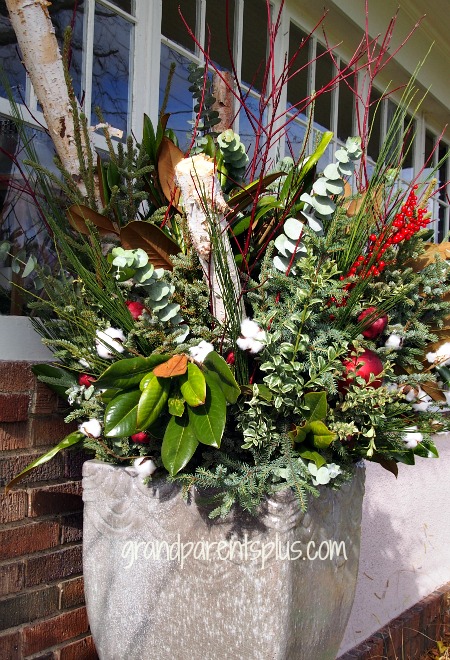 The window ledge of the out-building displays white baskets filled with evergreens and red balls. Whimsical snowmen, fashioned from a birch log, peer out among the greens.  Notice the lanterns hung from the garland spell "JOY".
The window boxes of the home look festive filled with spruce tops, red balls, bows, along with more accents of white cotton bolls.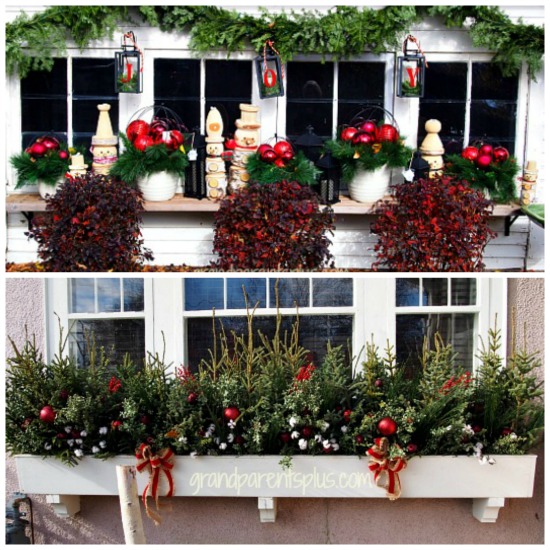 This old house has an enclosed front porch. As you enter, to one side there's a display of snowmen and trees  The trees are faux birch bark with lots of glitter added to make them sparkle. Behind the snowman display, Christmas knit stockings, clothes-pinned on a decorative rope ribbon, hang in the windows.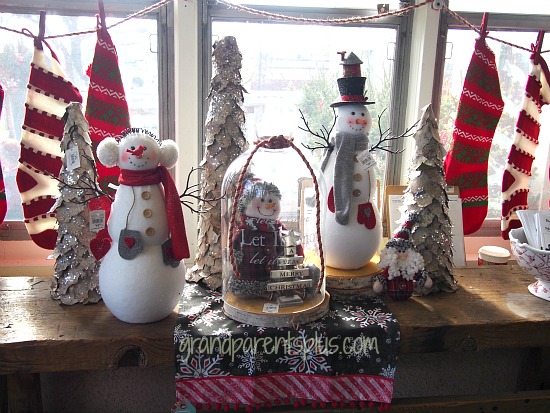 On the other side of the porch, you see the same hanging stockings repeated along with another snowman display. A stuffed snowman toy sits on one pillow while a funny snowman pillow repeats the theme.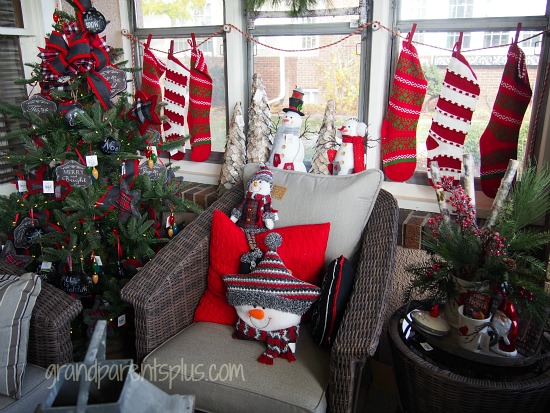 Using a vintage shutter, lanterns and Christmas plaques create a unique re-purposed decor idea.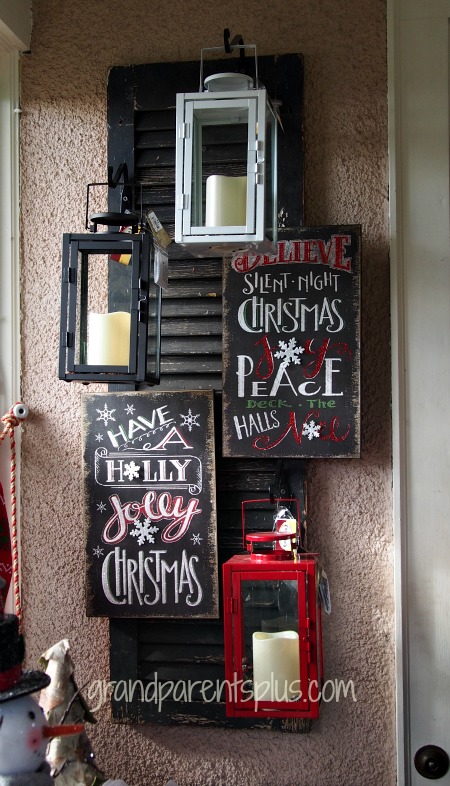 Above the windows to the house, you see vintage skis used as a valance.
Christmas cards hang from the green garland.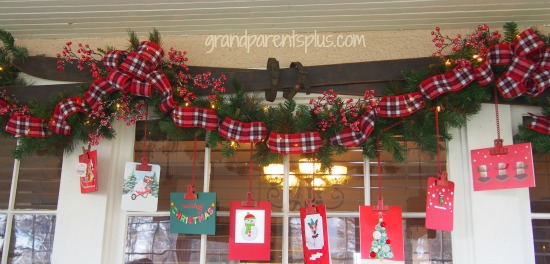 A  section of a vintage gate is transformed into a unique wall piece when a plaque and red bells are added. Decorated trees flank each side of this gate so it was hard to photograph the entire piece, but I think you get the idea.
Notice the chalkboard ornaments which are easily personalized with both art and words. Each year you can change what is on them. Now, that's an easy project!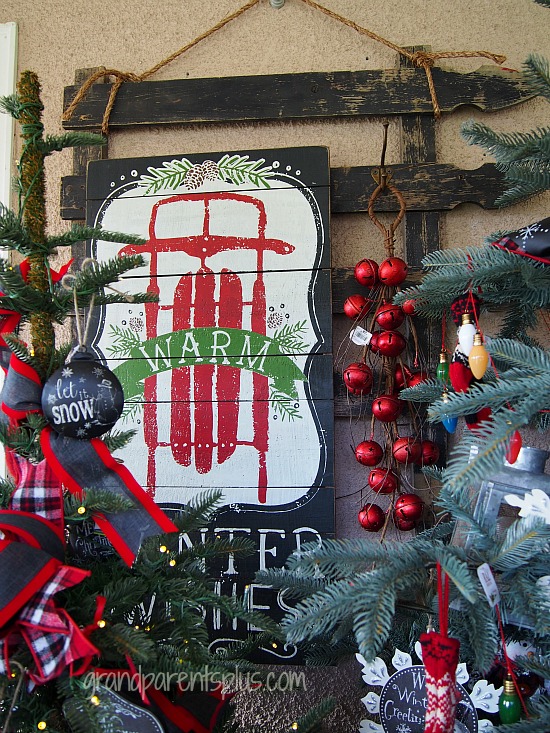 Under the trees is a red vintage wheelbarrow filled with gifts.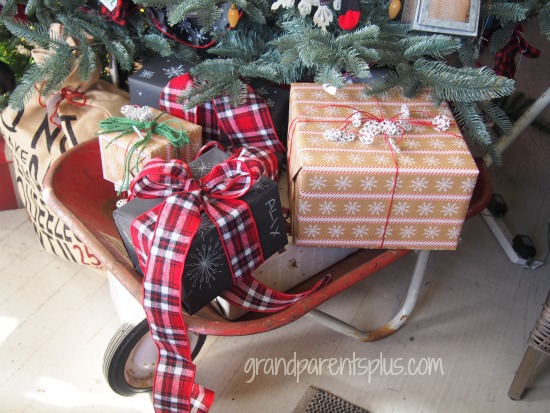 Sitting on the window ledge are faux birch bark planters filled with more spruce tops,  red berries and illuminated stems. A simple garland spells out "NOEL".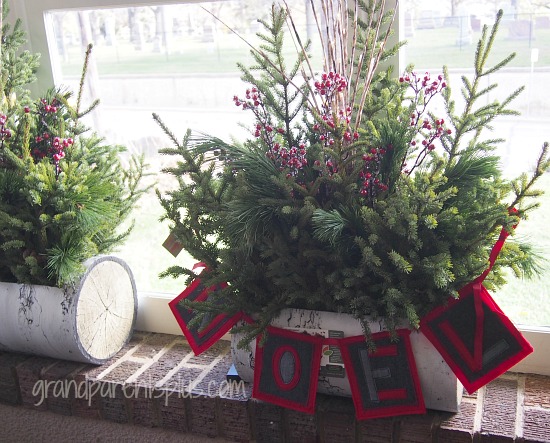 This is just a small sampling of ideas. More to follow..
Next time, we'll enter the house with oodles more inspiration. You won't be disappointed, I promise! 
Thanks for viewing this Christmas Idea House Part 1. Hope to see you for Part 2!
Phyllis
Subscribe! You won't miss the next post and your email is never shared or sold!
Follow on Pinterest!
linked to these parties….