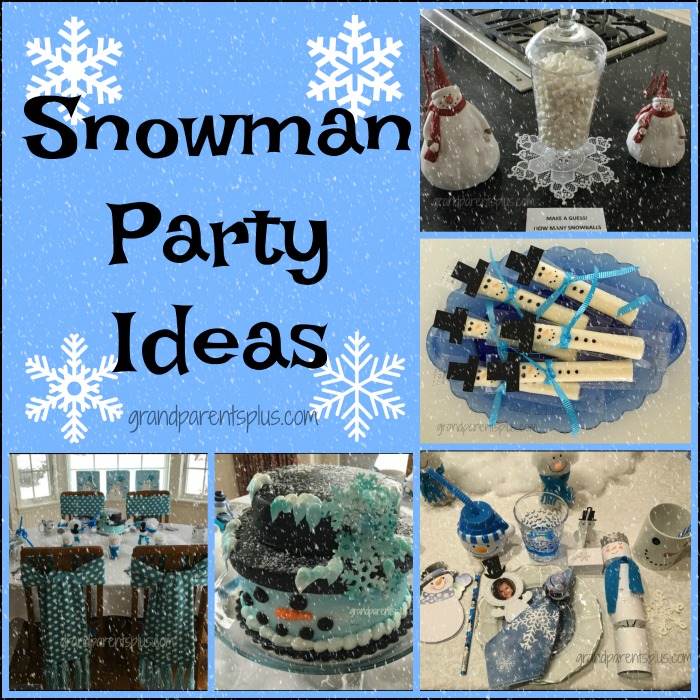 Need some Snowman Party Ideas?
"Mid-winter blues" call for some fun! Brighten up the day with a fun-filled Snowman Party. These ideas can be used for a Tea, Birthday Party, Sleep-over, or just any special day.
First, start with an invitation. How excited they will be as they wait for this special party!
Here's a sample invitation…..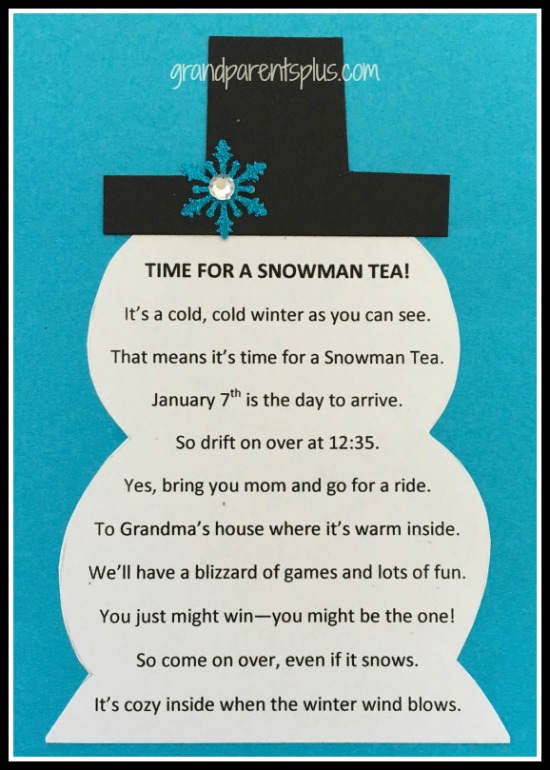 Next, plan a special table. It can be simple or elaborate. Shopping after-Christmas sales is a good time to find lots of items that fit a winter theme.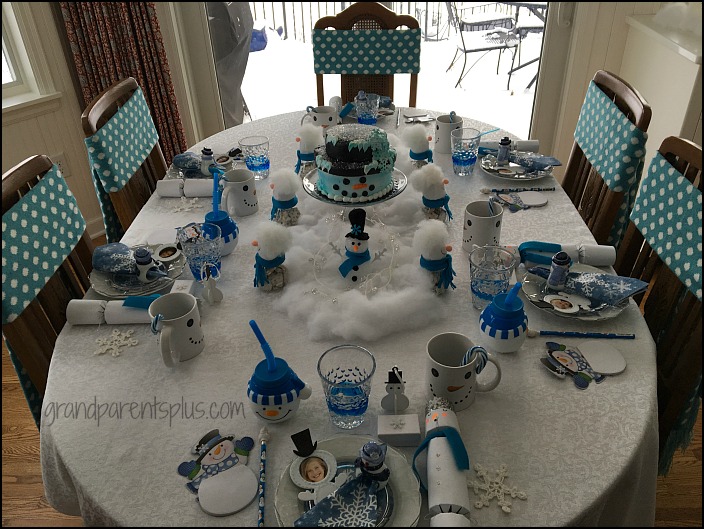 Feature a snowman cake as the centerpiece or use stuffed snowman and lights under the cotton batting.
A local grocery store made this cute snowman cake. It was very reasonably priced. Remember, you don't have to create everything yourself.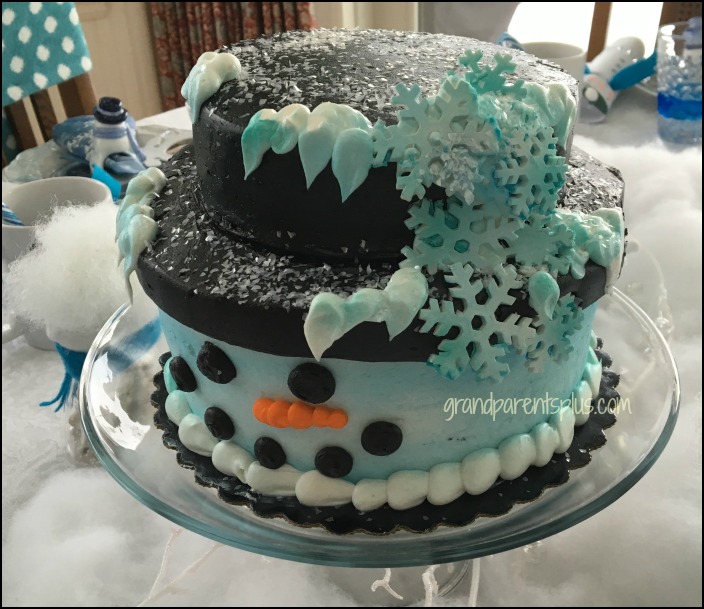 Purchase "dollar-store" mugs.  Adding a simple snowman's face with permanent markers, makes a great snowman accent.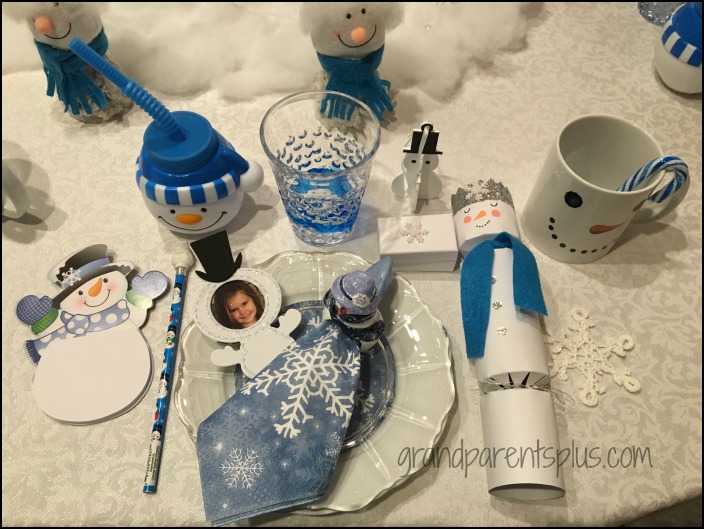 Go to www.gandparentsplus.com/snowman-placesetting  for more ideas for your table.
Snowman cheese sticks are quick and easy to make. Using markers, construction paper hats and ribbon, they take very little time to put together. Healthy, too!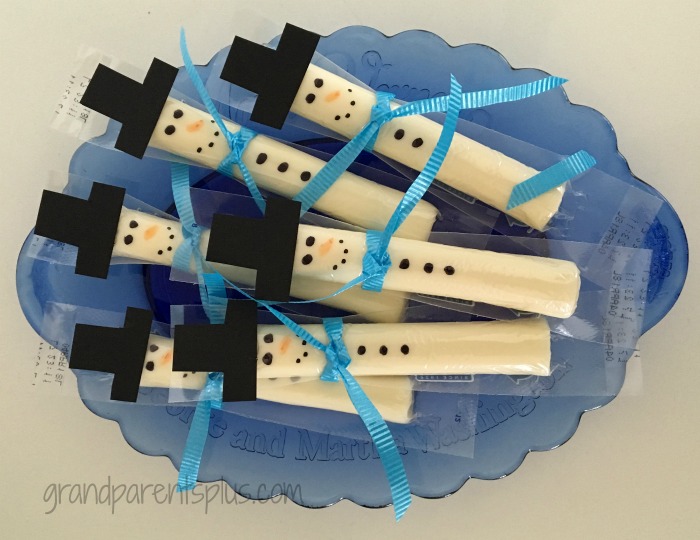 For lunch or dinner, have guests make their own Snowman pizza! Use Pillsbury Refrigerated Pizza Crust Classic Dough. Cut graduated circles from pizza dough, press the edges together and pre-bake according to directions. Place on parchment paper and let kids add the sauce, cheese, and decorations to make it look like a snowman. Use pepperoni for the mouth and boots, sliced black olives for the eyes, nose, and buttons. You can, also, use a small carrot slice or a piece of sausage for the nose. For the top, use spinach leaves. I know lots of kids only like cheese pizza so picky eaters can easily remove items they don't like.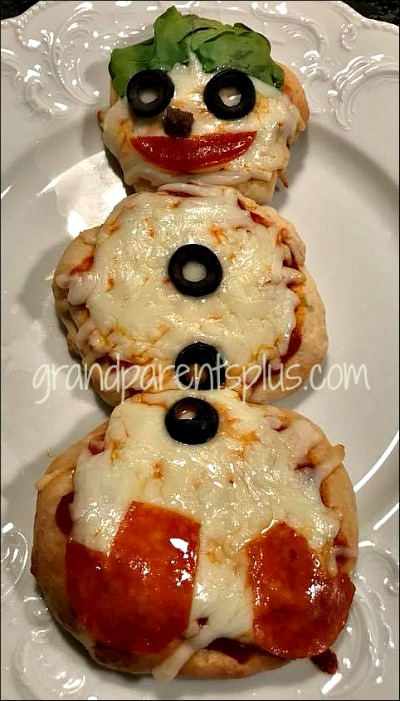 Here are some fun game ideas based around the Snowman theme for you to use.
Game Ideas:
Guess the number of snowballs     (use mini marshmallows)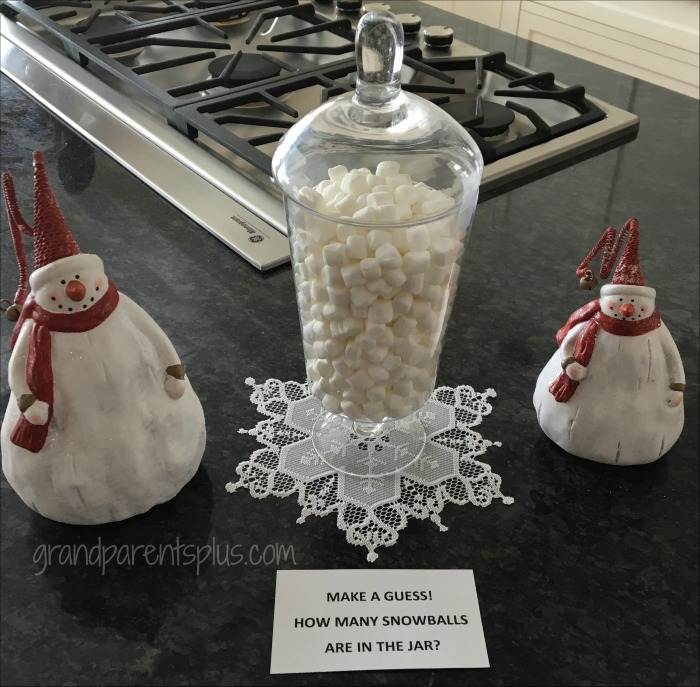 2. Make a Snowman
Using a roll of toilet paper, adults dressed their kids as a snowman. Kids can do this to the adults, too.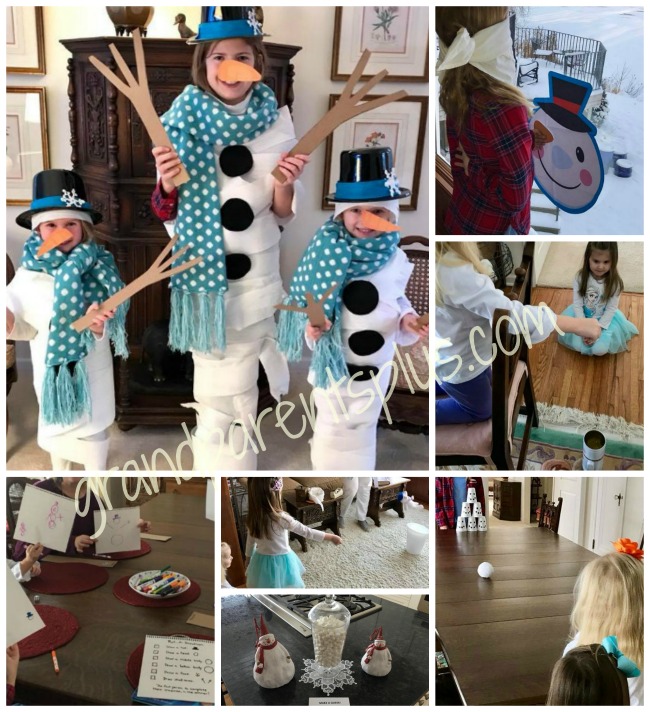 3. Toss the Snowman into a snowbanks!
Using a small stuffed snowman, toss it into a container or an area lined with white fiber-fill. Give points for getting into the container or specified area.
4. Pin the Nose on the Snowman. (just like Pin the Tail on the Donkey)
5. Snowball Bowling (see picture above)
6. Snowball Drop
Using cotton balls, see how many you can drop into a can or container.
7. Roll-the-Dice Snowman Directions:
If you roll the following numbers, you can draw what the number represents. You can't draw the hat or face if you haven't first rolled a #1 for the head. You can't draw the arms if you haven't first rolled a #3 for the middle. #2,#3, and,#4 can be drawn at any time. If you roll the dice and can't draw it, pass the dice to the next person.
 A Hat
 A Head
The Middle Snowball
The Bottom Snowball
The Snowman's Face
Draw Stick Arms on the Middle Snowball
The first one to finish their Snowman, is the winner!
Another special treat is Snowman cookies. Send them home as a favor.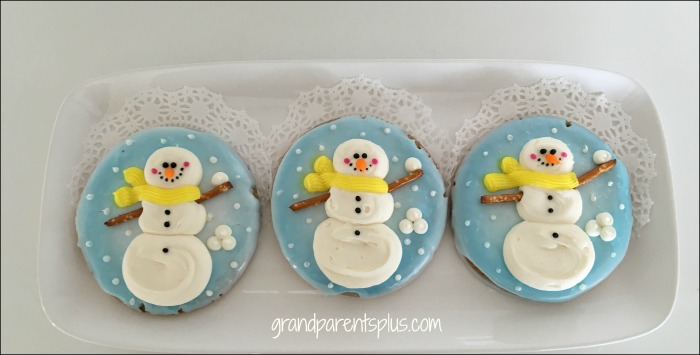 Notice the milk, water, and lemonade labeled with fun, "snow" related names! There's  a saying that you "Don't eat the yellow snow!"  This time, it's OK because it is lemonade.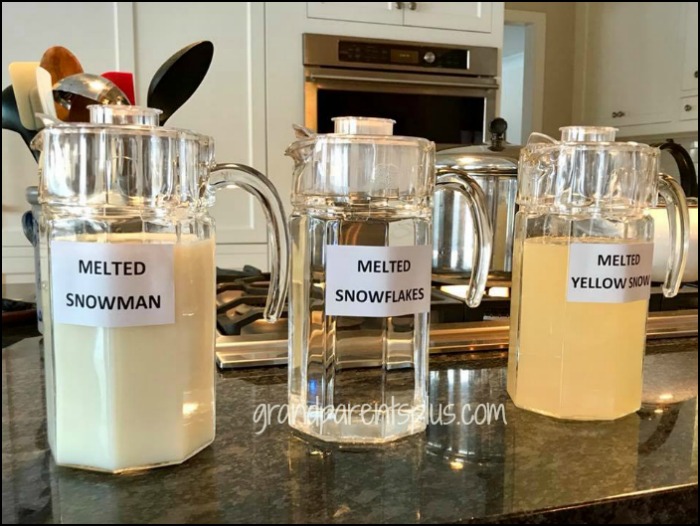 Also, add a time for reading a good Snowman book.  I just listed a few.
Snowmen at Night, Snowmen at Play, and Snowmen at Work  by Caralyn Buchner
The Biggest Snowman Ever by Steven Kroll
The Biggest, Best Snowman by Margery Cuyler
All You Need for a Snowman by Alice Schertle
Finally, at the end of the party, there's a visit from a "SNOWMAN"!  Kids loved this fun snowman!  This costume came from Oriental Trading.  Get into the "snowman role" and have fun with it.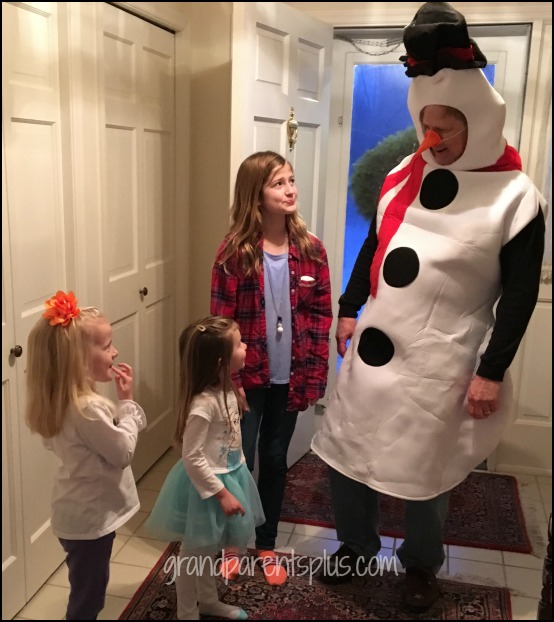 Keep memories alive by making a picture book or text some pictures to the families.
I'm sure you can add your own ideas. It's an easy theme to plan a party around. Have fun!
Enjoy!
Phyllis
This party is linked to many of the following parties…..
Pin It
Read More