Easy Burlap Christmas Wreath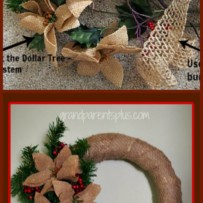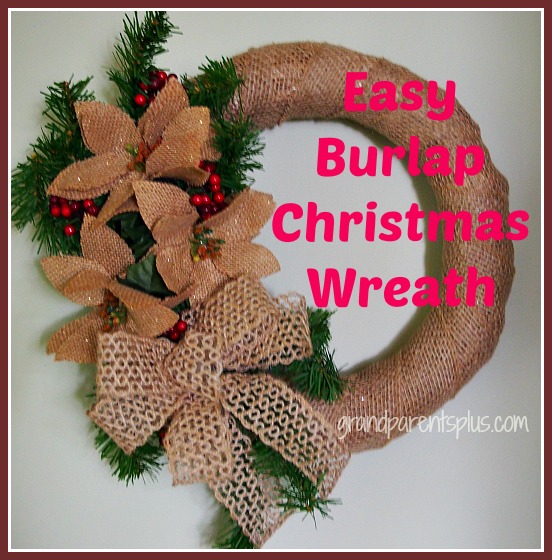 A lot of Christmas decorations are glittery and elaborate, but sometimes a room calls for something more casual. This Easy Burlap Christmas Wreath might be just what is needed. Burlap is certainly popular for any season and it works for Christmas as well.
Check your Christmas decorations for items you already have on hand. I had most of the items needed and just bought the ribbon and burlap wrap (with a coupon, of course). Now, with glue gun or florist picks in hand, you are ready to put it together!
These are the supplies needed for a 12 inch diameter wreath. (either foam or straw) Make a bigger one if you wish, just adjust the size the other supplies fora larger wreath.
Supplies:
2 Christmas greenery picks (size them for the 12 inch wreath)
Red berries
Burlap Fabric Wrap  (found at Michael's for about $2. Don't look in the ribbon aisle, but in the floral wrap.)
Burlap Poinsettias (found at the Dollar Tree. One pick had 3 flower on it.)
Burlap ribbon for the bow. Choose a different texture of burlap ribbon from the wrap or flowers.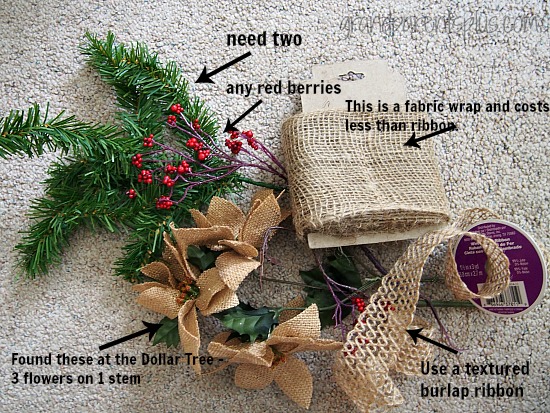 Step 1:
 Whatever wreath you are using, wrap with the wide burlap fabric. Start at an angle and overlap each round by just less than half. When you are back where you started, either hot glue it together or use a florist pin to hold it.
(Before I do any gluing or pinning, I like to lay out all my pieces in order to get the look I want.)
Step 2:
 Place the Christmas greenery on the wreath. Place one stem going down and the other going up. Get an idea of where you wanted it positioned before you attach it permanently. Once you have it positioned the way you like, cut the stems short and either use a florist pin or hot glue it to the wreath. (I like to use floral picks so I can change the wreath easily for another season or just a different look.)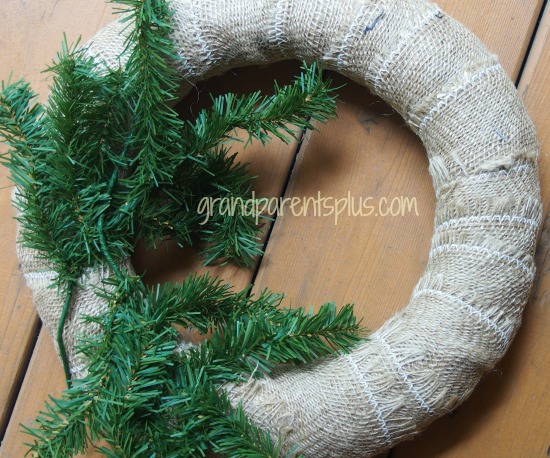 Step 3:
 Add the flowers using a group of 3. If your flowers are smaller, use 5. Always use an odd number.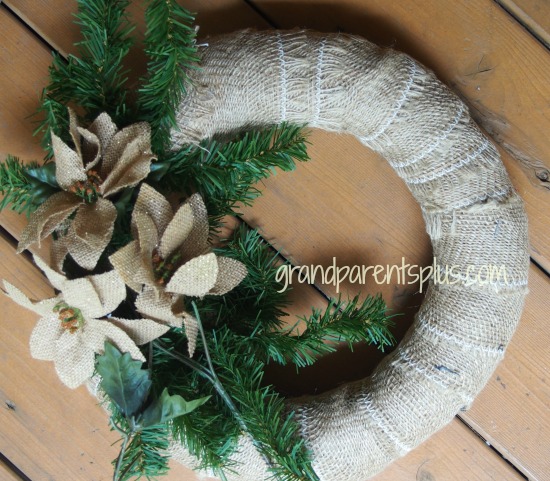 Step 4:
 Add the bow
Step 5:
 Glue the red berries in 3 to 5 places for an accent of color.
Step 6:
 Add a wire loop on the back for hanging the wreath.
Step 7:
Hang and enjoy your Burlap Christmas Wreath!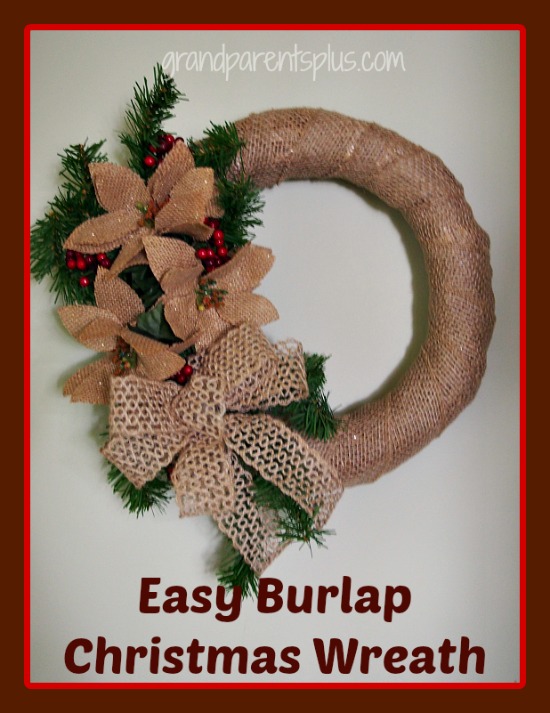 When you compare the price of a ready-made burlap wreath, this is a real bargain! It is quick and easy to do. No real talent involved. ( OK, you need some talent to know how to use a glue gun!)
Try it!
Enjoy!
Phyllis
Subscribe on the sidebar! Remember, your email is never shared or sold!
Follow on Pinterest or Bloglovin, too!
Linked to the following parties…..