Part 3 of the Fall Idea House 2016 has loads of fall decorating ideas that give you inspiration for your own home. If you missed Part 1 and Part 2, you'll want to check them out, too. In this post, I will show you features that caught my eye. Remember, this home is decorated three times a year by a team of decorators.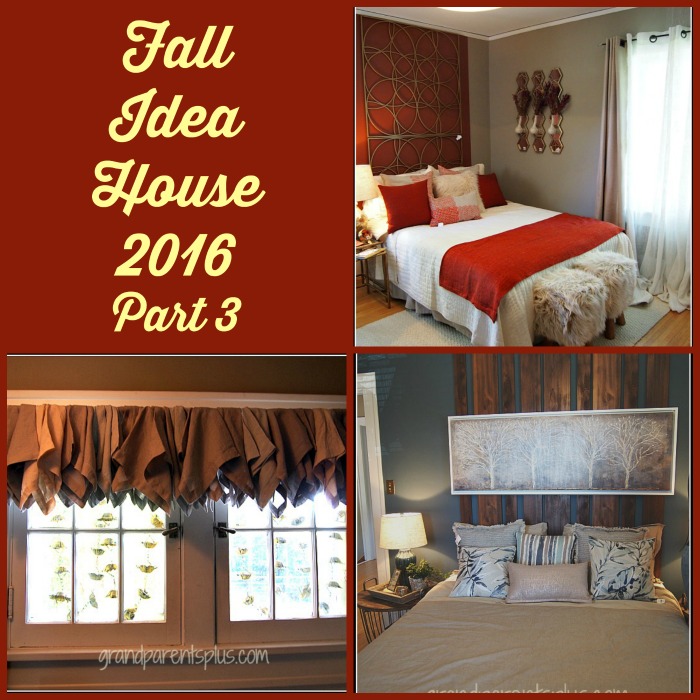 I'll take you through the bedrooms, craft room, office, craft room, small vintage bathroom, living room and sunroom. I'm highlighting lots of ideas so let's go!………
The two bedrooms feature unique headboard ideas.
The master bedroom uses assorted wood boards attached to the wall for a headboard. Layered on top is artwork of white trees on glass. The wood boards show right through it.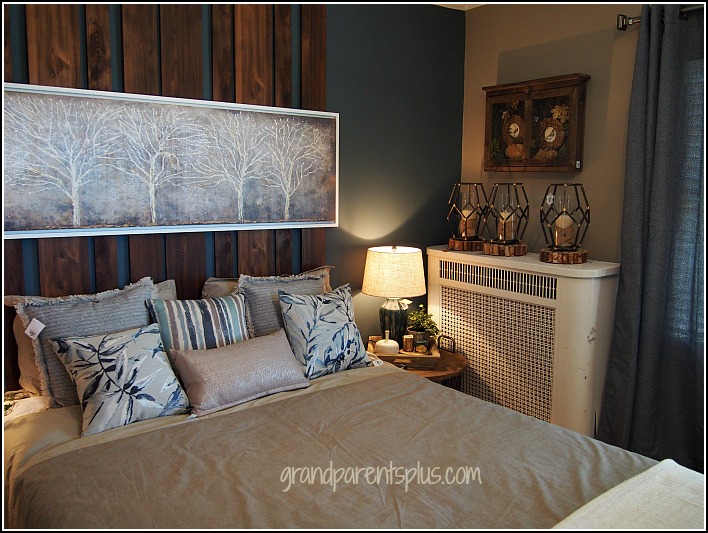 The headboard in the guest room uses metal wall art.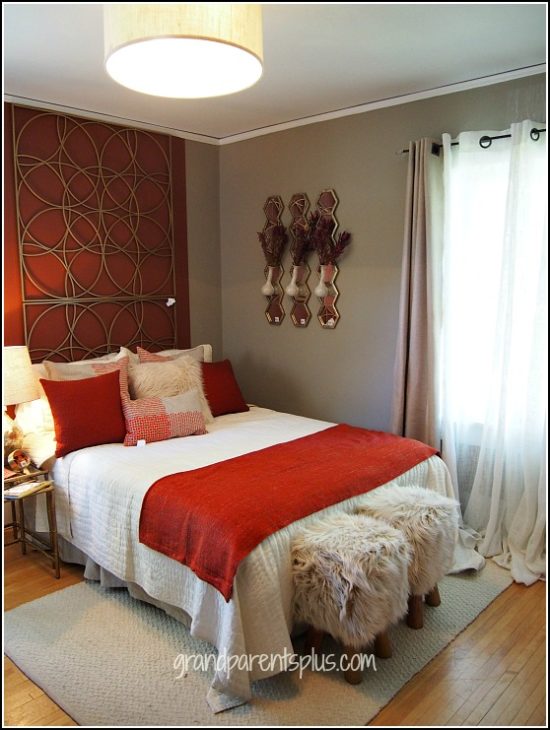 Other features in the master bedroom include these layering ideas for wall art.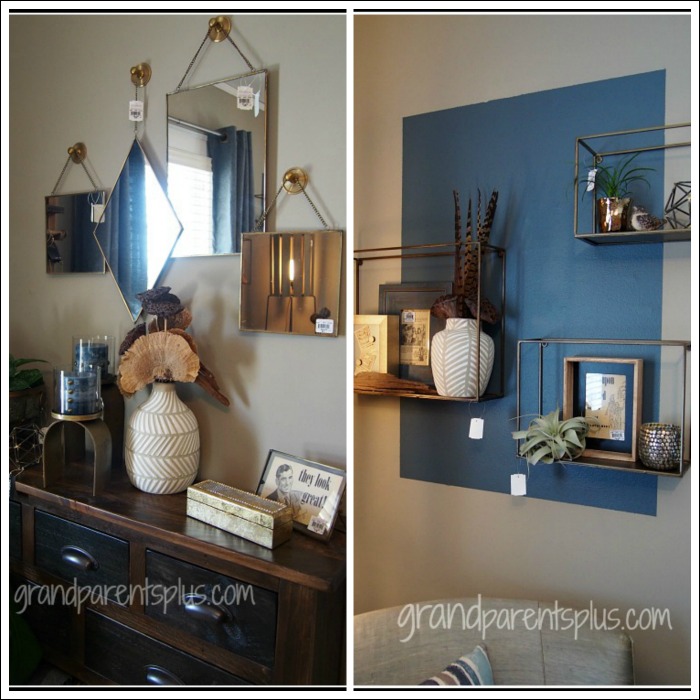 Use two table runners layered behind art work to give it added color and texture.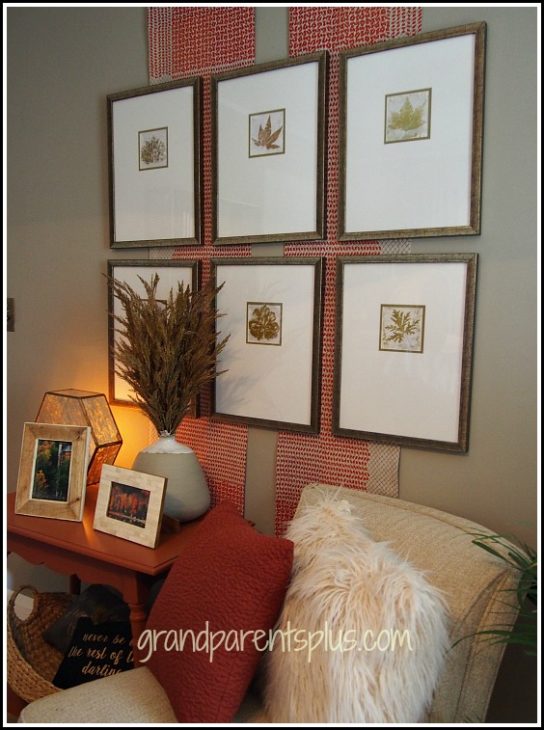 Next, we go to a craft room.  Wow! Here's two unusual ideas of String Art! It's not just for kids anymore!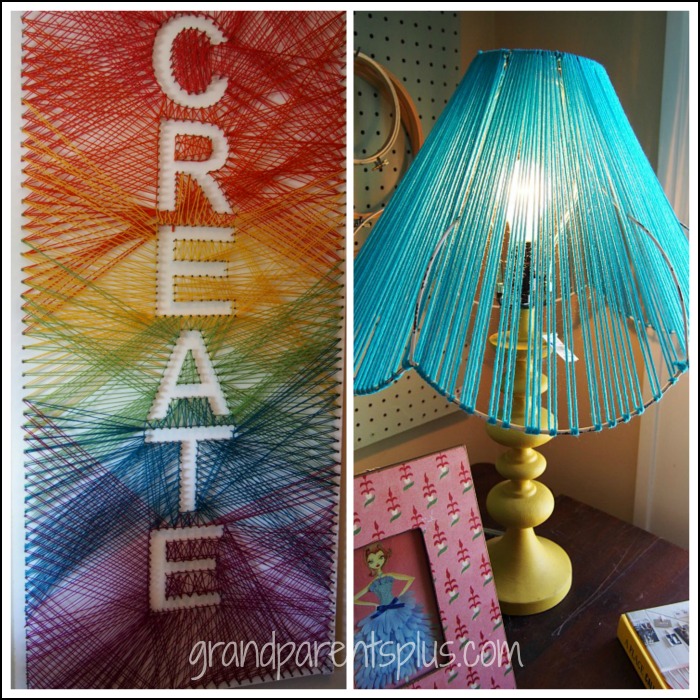 Notice the revolving metal hardware bin that holds all the paint. On another wall, there's a vintage iron panel with lights and wall art.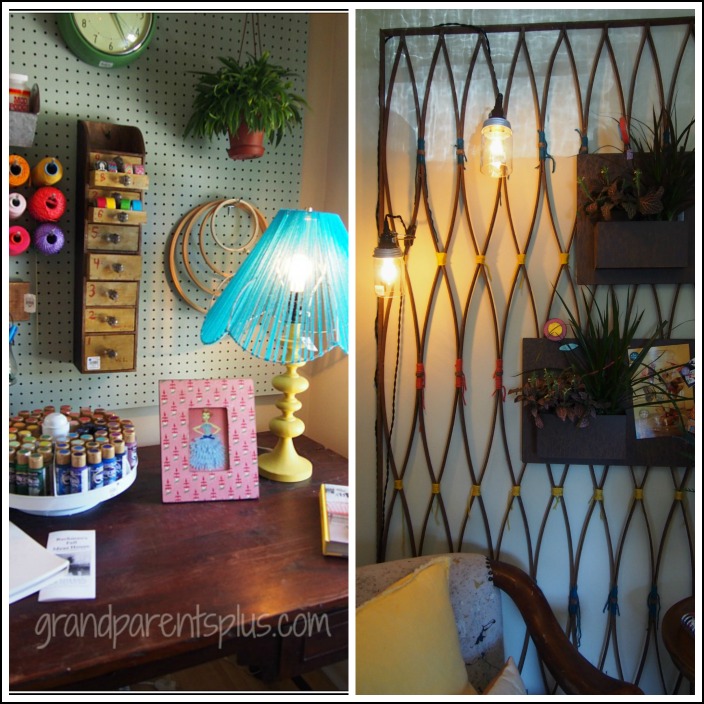 Have you ever thought of using vintage aprons for a window valance?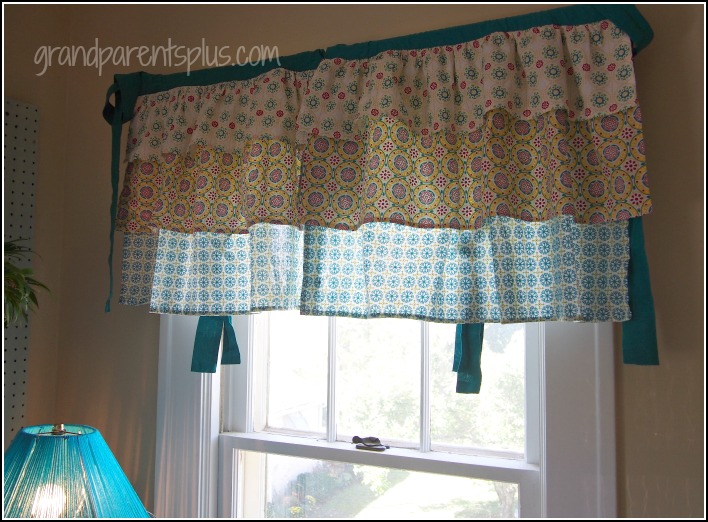 Now, someone thought "out of the box" when they decorated this vintage bathroom. A small boat-shaped container hangs on the wall for towels. Another idea is to use an old mailbox for a toilet paper holder. Also, just above the sink are several glass containers in a wire basket attached to a salvaged board. And that's not all….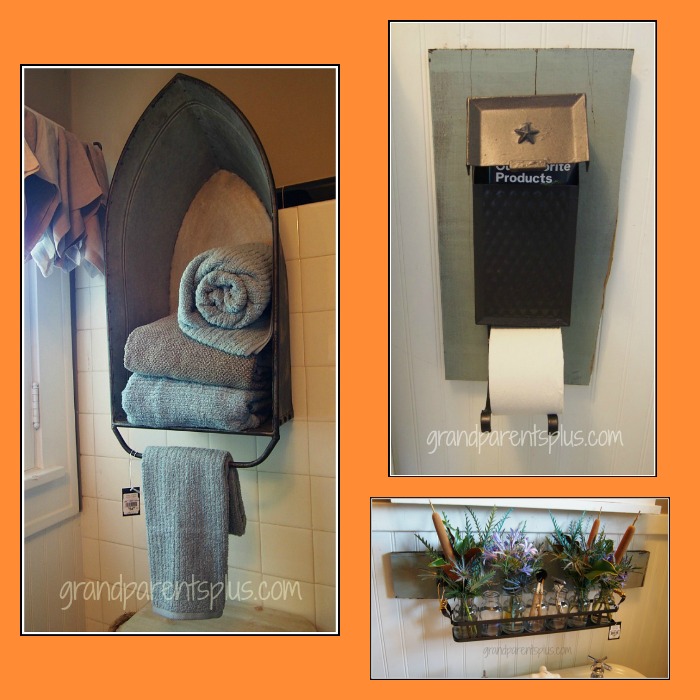 By using several coordinating shades of taupe napkins attached to a rod, it makes an attractive valance on this small bathroom window. For a small bathroom, it is big on ideas!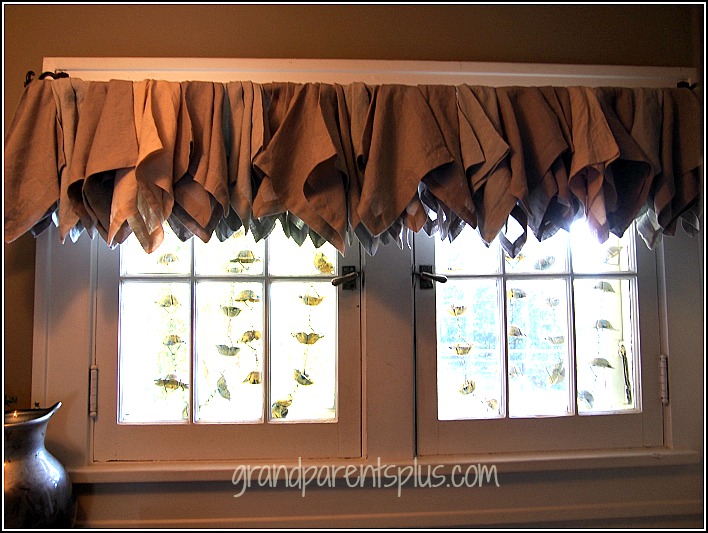 The office is next!!
"Watch out" when you walk into the office! This would be a good "time-out" room, too! Perhaps it's a reminder that it's "time" to get to work! I could go on and on, but I won't!  (Sorry, I just couldn't resist!)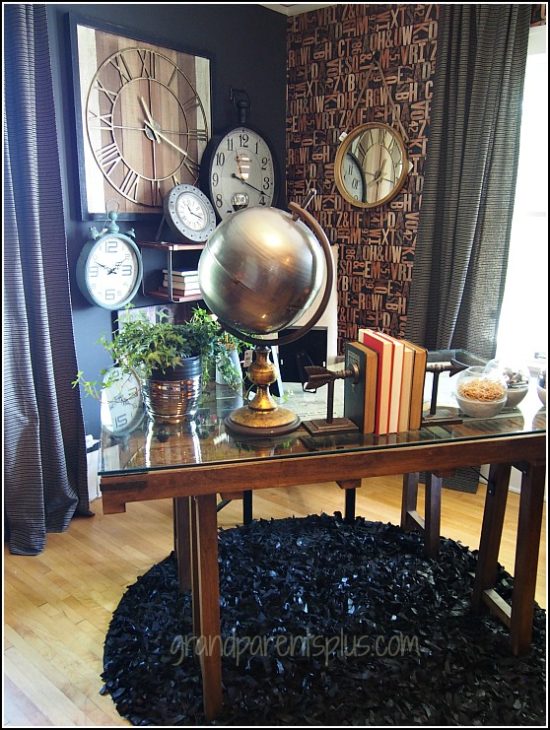 Another view of the office…..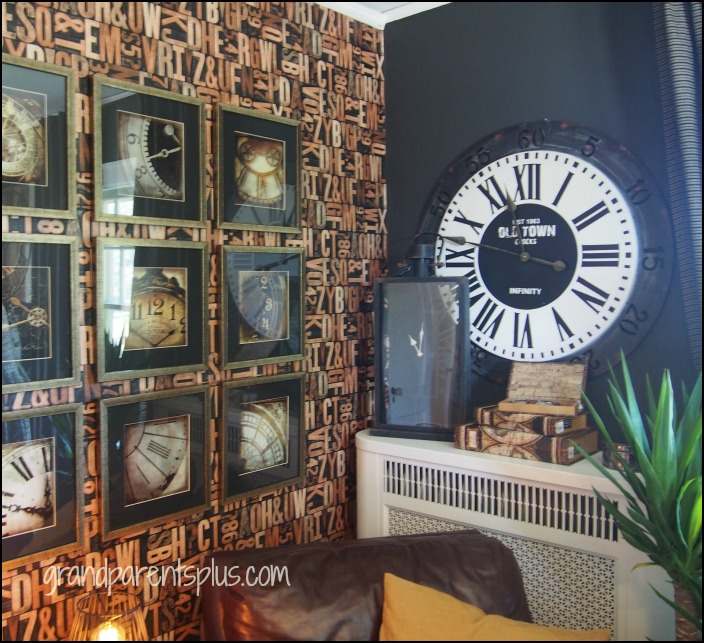 The last area on this tour of decorating ideas, is the living room and sun-room. Another layering idea uses shutters behind framed pictures along with a basket filled with fall stems.
The coffee table is a wood-topped metal bench layered with a striped dish towel for a table runner.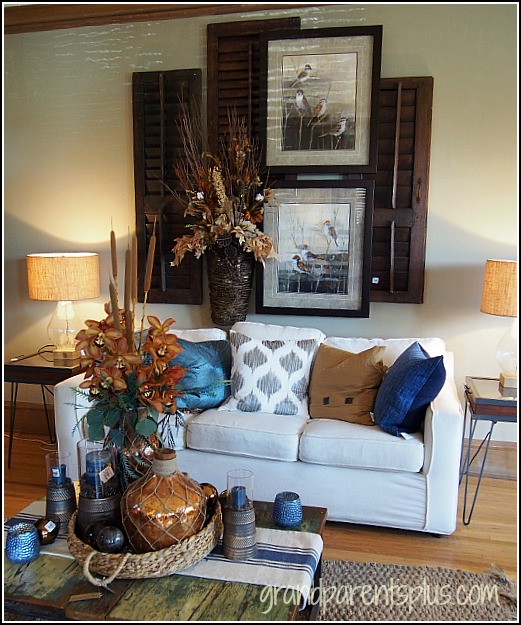 Above the fireplace several sections of metal leaves layered with ceramic bird houses make a big impact. In the fireplace, two garden trellises along with a garden stool support pumpkins and garden mums.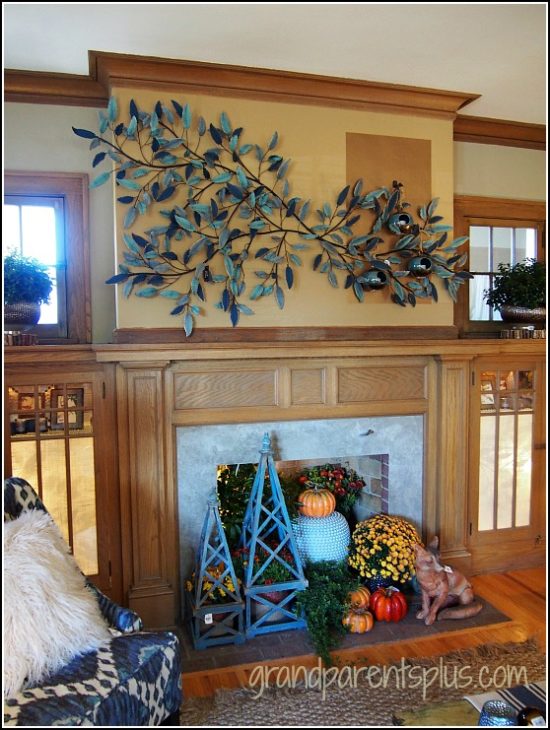 The sunroom has more seating and uses a bench as a coffee table.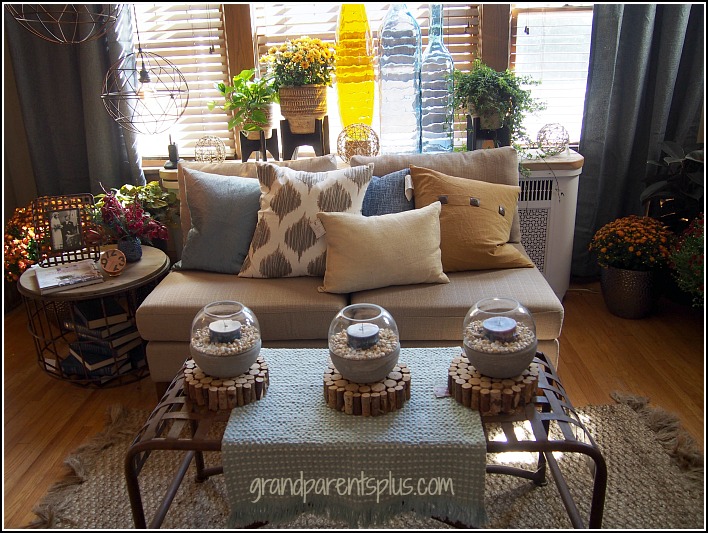 A vintage metal work bench serves as a side table. On top of the bench is a rug for a table runner along with a vintage cutting board holding several pottery items.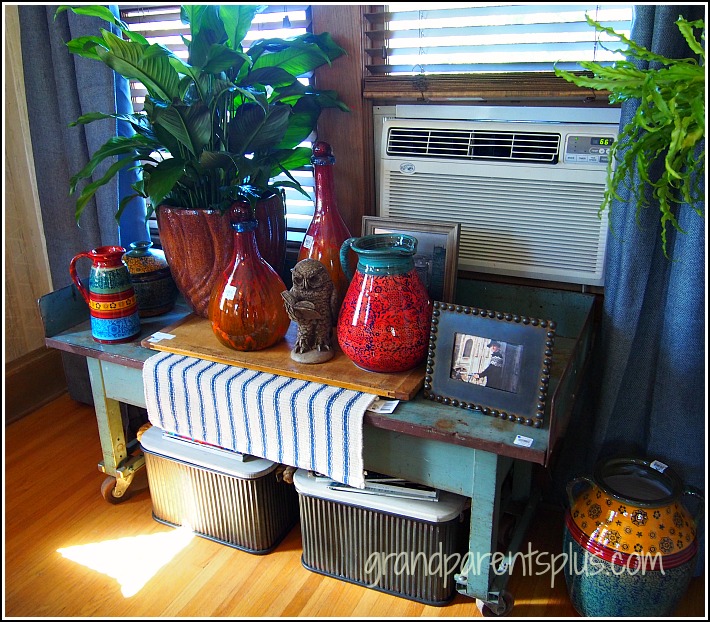 I found two craft ideas that make great gifts. One was in the sunroom resting on a book and the other was in the kitchen. The first is a bookmark made from the spine of an old leather book. It is simply glued to a backing. I think it looks awesome!
The second is a recipe holder made from a small shutter. They added a piece so it stands.  Two decorative drawer pulls hold the recipe in place!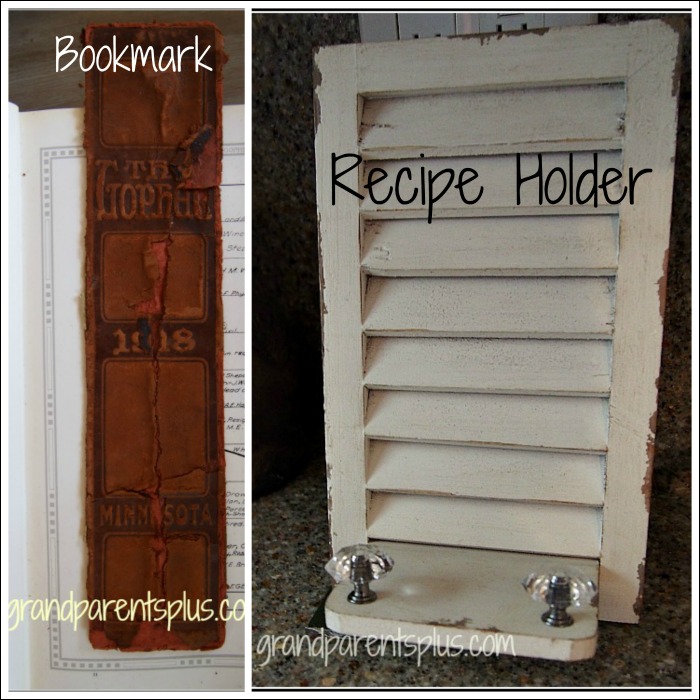 Did you find some ideas for your home? This was better than a magazine, right? No advertising!
Happy Fall Decorating!
Thanks for stopping by!
Phyllis
By subscribing on the sidebar, you won't miss a future post. You can be sure your email is never sold or shared!
Follow on Pinterest, too!
Pin It
Read More