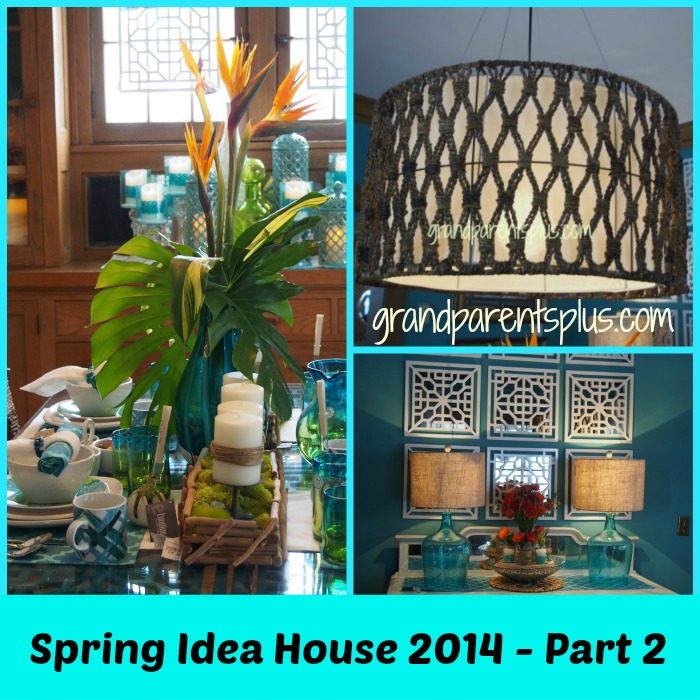 Today's tour of the Spring Idea House takes us through the dining room, kitchen and small bathroom. This is an old house so some of the ideas are unique to this house, but certainly can be altered to fit other places in your home. I love that it gets the creative juices flowing!  Some ideas are trendy and some are timeless just by incorporating vintage items. 
 Upon entering the dining room area of the Spring Idea House, your eyes are immediately drawn to the white sideboard.  Above it,  squares of garden art with mirrors are hung in repetition on the wall! The mirrors are an addition to the back of them.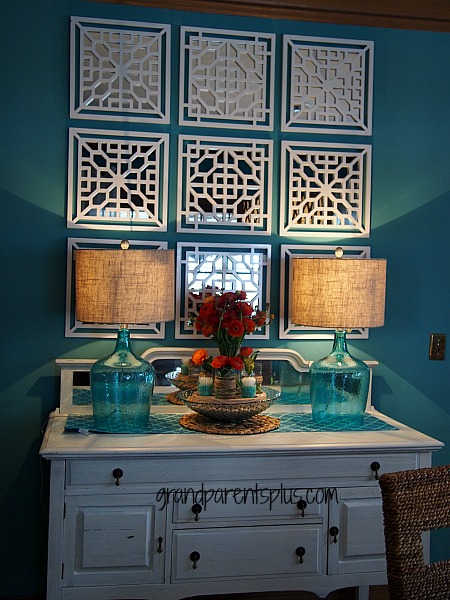 The same garden art is hung in the windows and used under the glass top table.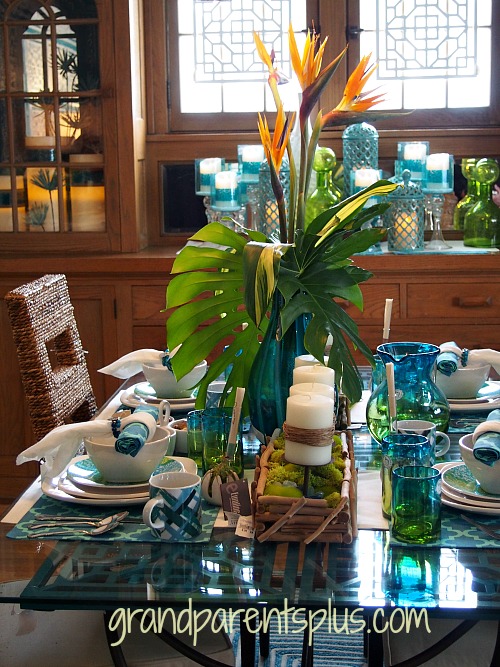 Here's a better view of how it is used under the glass top table…..
Notice the candles wrapped in twine! Great look and easy to do!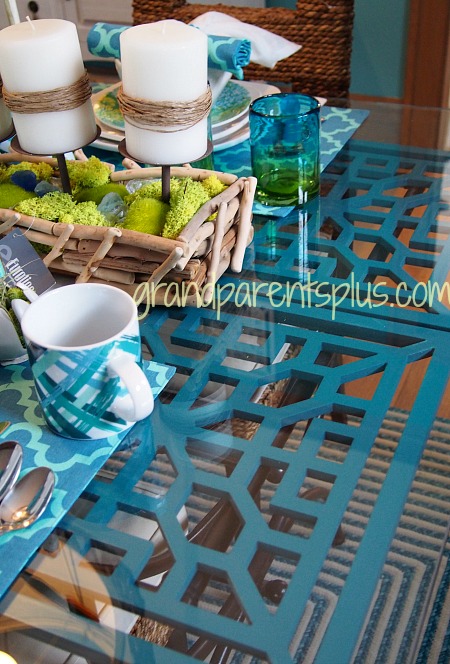 The napkin rings on the table are like "beaded bracelets".  I found a beaded bracelet in my jewelry box and used it, too! For a women's luncheon, wouldn't these be a fun favor to make for your guests to take home!
Their version…..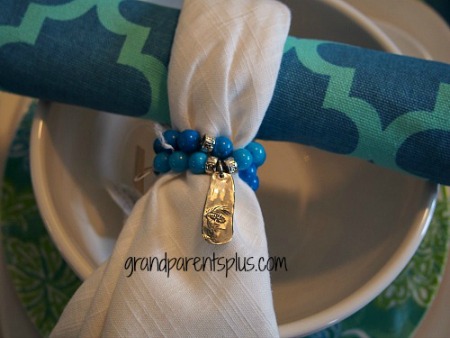 My version…..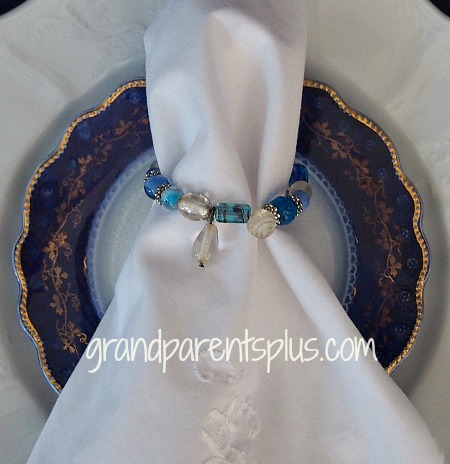 Here's a unique dining room light tied with macrame cord. This might inspire you to try something like this with a lamp shade you own. The macrame cord is supported by a wire ring both on top and bottom of the shade. This is above my patience level! How about you?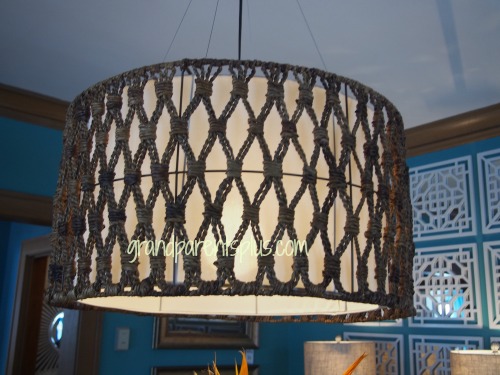 Next on to the kitchen…..
The window treatment was awesome! What a simple and cute idea to secure coordinating kitchen towels with a colorful napkin ring! Do you have a small window where this idea would work?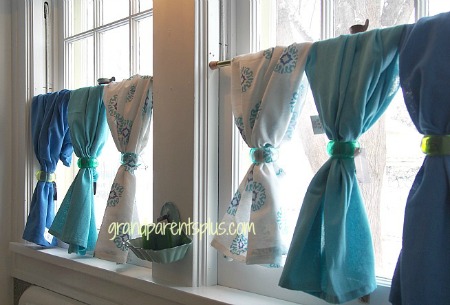 Open shelving in the kitchen shows off the color scheme.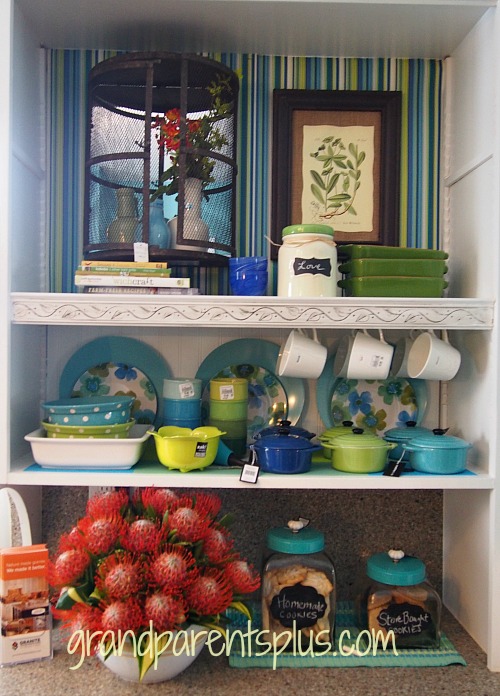 There's a small niche' in the kitchen.  A cute hand-painted, whimsical tree gives life to this space. Attached to the tree are three-dimensional flower magnet accents.
Here's the secret of how they stay in place……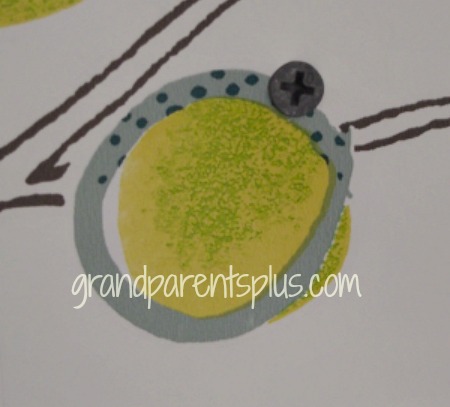 That's right! They put a screw in the wall! The magnets now stick! So clever!

The bathroom off the kitchen used a unique wire piece as shelving storage.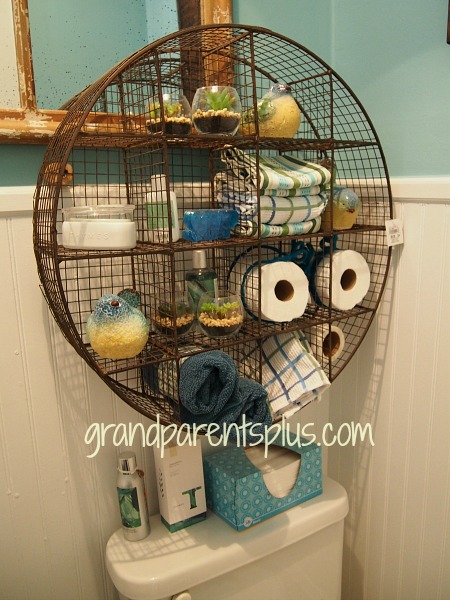 Here's another easy accent idea for a small window…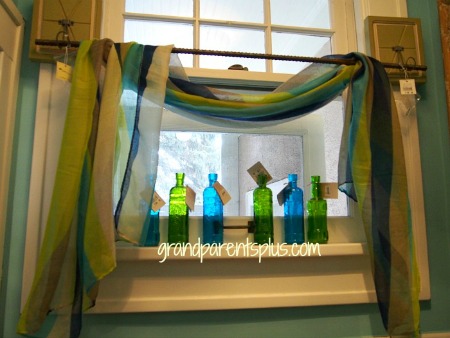 They used rebar for the rod and set it on hooks! Another easy idea!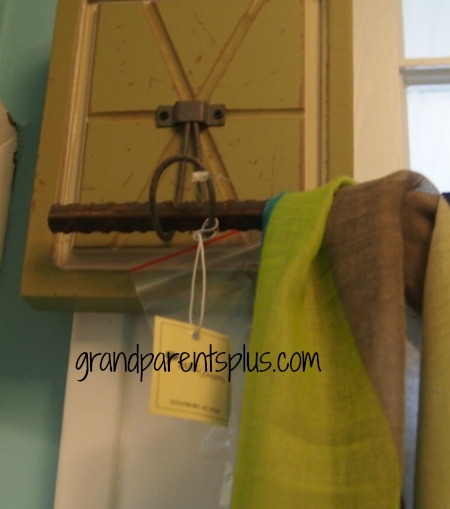 Which decorating idea, from the Spring Idea House, inspired you today ?  There's lots more to come!
Happy decorating and thanks for stopping by!
Phyllis
You might want to subscribe on the sidebar!
Also, follow on Pinterest or Bloglovin'
This post in linked to many of these parties…..
Pin It
Read More