#4 Fall Idea House
This #4 post of the Fall Idea House has more unique and fun decorating ideas. Remember, they're not just for fall, but adaptable for anytime of the year. As always, I  like to show you one simple idea that I have used in my home from this tour. I'm sure you'll find several ideas that you will want to use, too, both now and later.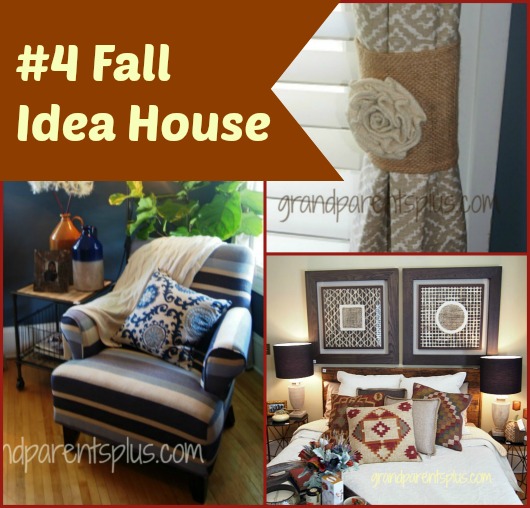 There were two bedrooms in this Fall Idea House that showcased many unique ideas. This is the master bedroom…..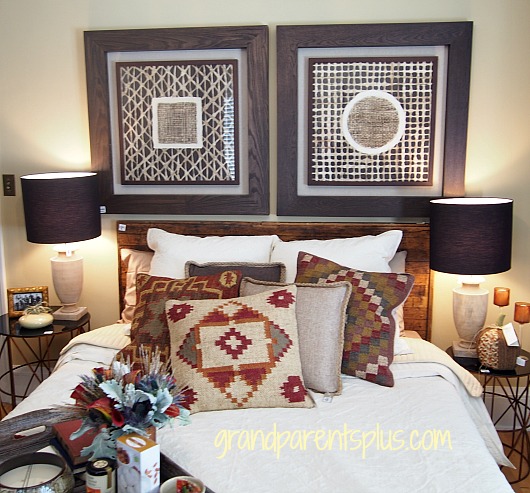 Notice the headboard? It's an old wooden tabletop! Here's a closer view…..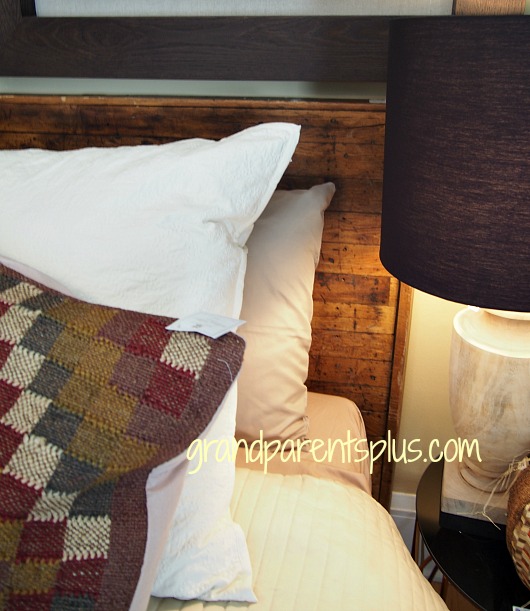 Another re-purposed item is the salvaged metal gate behind the mirror!  Under the table are vintage suitcases used for extra blanket storage. Look at that colorful table runner! It's a dish towel!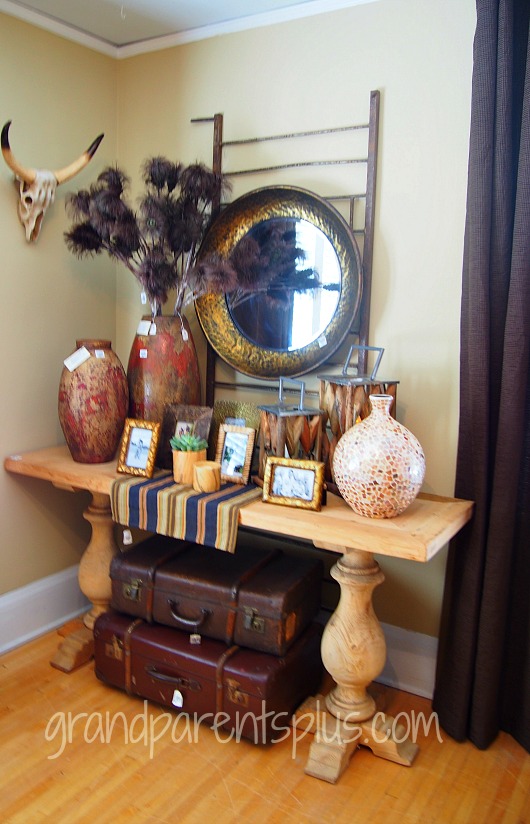 The unique twine pattern, added to a wooden room divider, has lots of texture and repeats the design in the pillow. Now, there's a DIY project for you!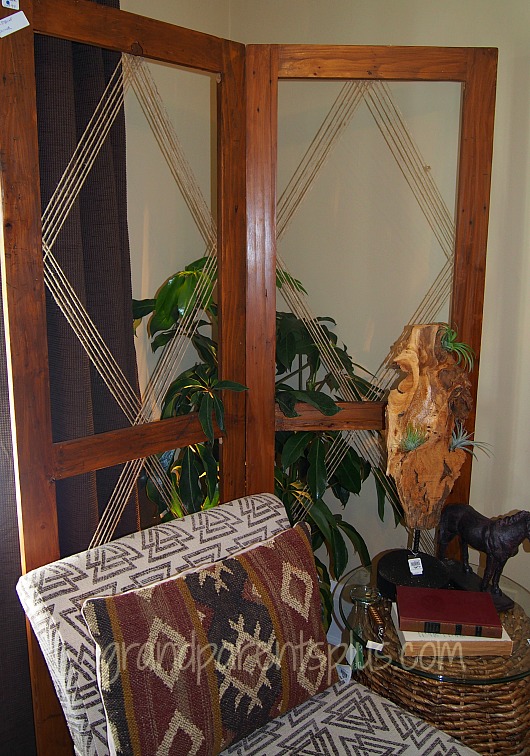 A peek into the second bedroom…..
Remember these macrame' wall hangings? (You may be too young to remember these. Oops! Showing my age!) Well, they're now "new" again when used as a headboard.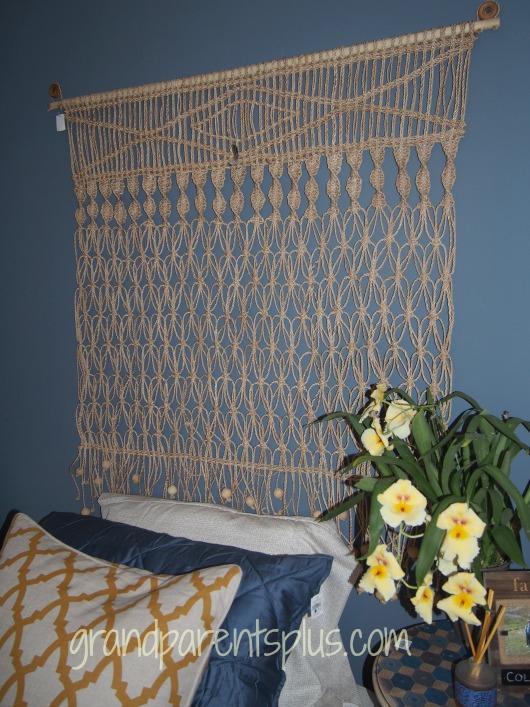 Curtain tie-backs made of wide burlap candle wraps and accented with a textured flower compliments the tan and cream curtains.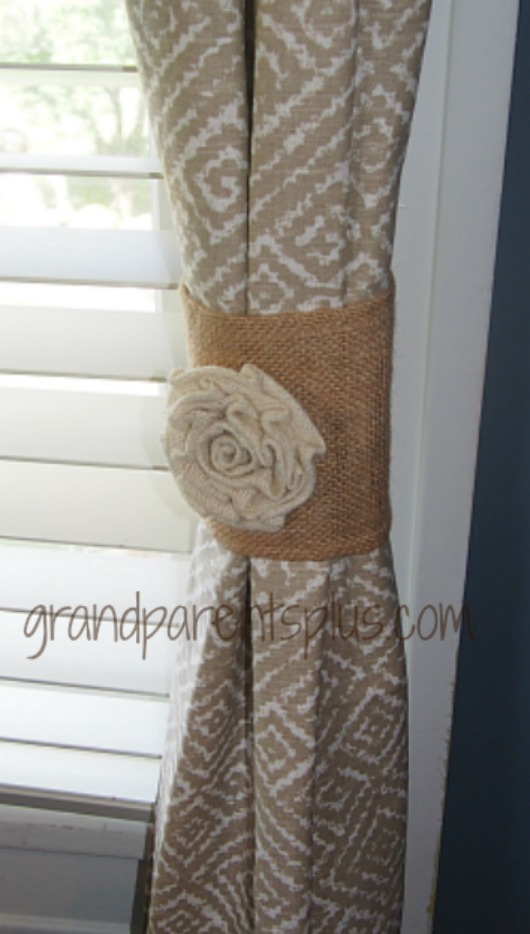 Cream, blue and beige work nicely together in this bedroom. Notice the wire basket table beside the chair.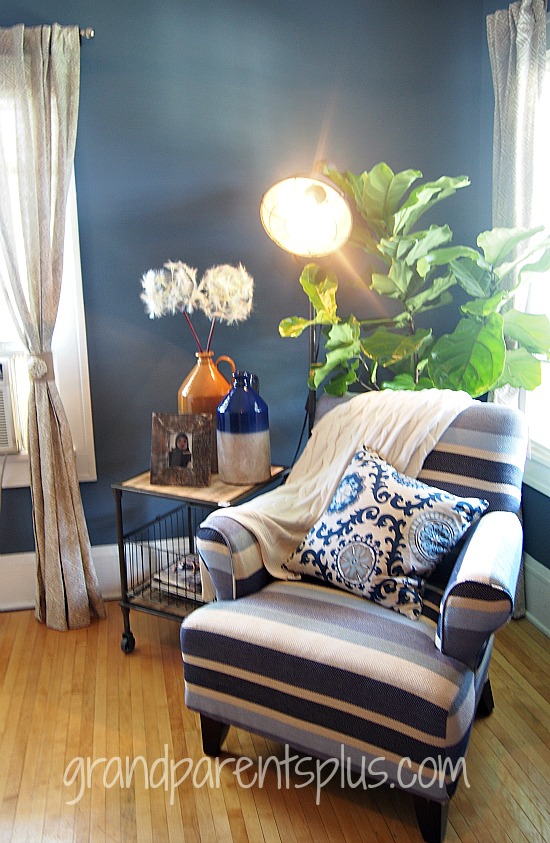 Don't forget the bathroom when decorating for fall. What could be easier than punching a whole in an artificial leaf and putting it in the ring?

Another tablescape caught my eye  in the retail center.  I love the little pumpkins that they used as part of the napkin ring. The ring itself is black yarn wrapped around the napkin and the pumpkin is just attached to the yarn. Simple!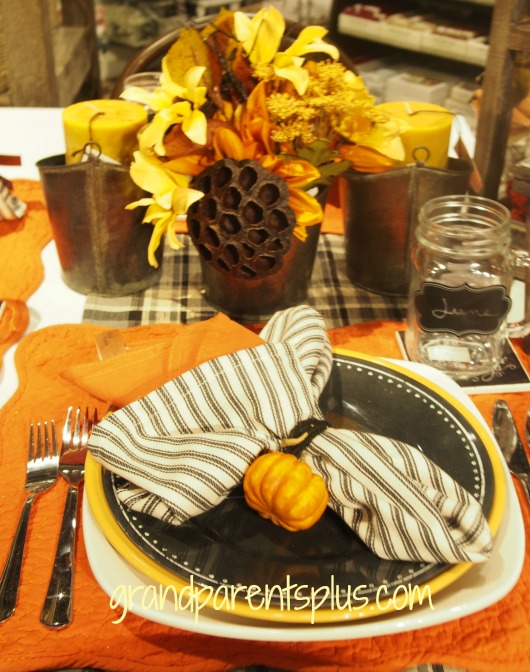 I couldn't pass up those little pumpkins and use them myself. I didn't have any chunky yarn so I just used rope and attached the pumpkins to the rope. Twine or ribbon works, too!
I, also, used the little pumpkins in this easy centerpiece. Along with the pumpkins, there's dried fungi (purchased), dried rose-hips, and amber votives all arranged on a long, wooden, french bread board.
Back in a shed, they set up an idea for a pumpkin decorating party. On the table was Duck tape, Washi tape, sequins, paint, buttons, brads, mini-mirrors, tacks. and more.  This is a great party idea! Offer prizes for the cutest, weirdest, most artistic, fanciest, funniest, etc. Guests get to bring home their creations! I've got to do this next year!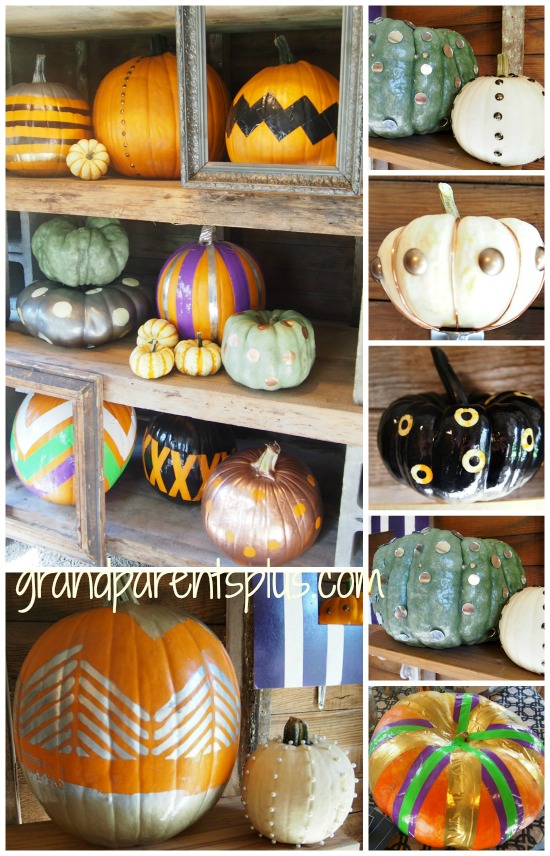 Sorry to say, this is the last post of the Fall Idea House Ideas for 2014!  What ideas did you like the best?
But wait!!  It won't be long and there will be the Christmas Idea House!! You might want to subscribe so you don't miss all the Christmas ideas to come!
If you missed the earlier posts for the Fall Idea House, here they are……  Fall Idea House 2014,  Fall Idea House #2,  #3 Fall Idea House Tour
Thanks for stopping by, 
Phyllis
This post is linked to many of the following parties…..
Pin It