4th of July Food Favorites
4th of July Food Favorites

When it comes to entertaining, I like what is easy, delicious, and fun! The 4th of July entertaining is no exception! Entertaining is not fun when you are overwhelmed with every little detail and try to do too much. Choose what you can accomplish realistically and you will do it more often. Having fun together is the most important thing. These 4th of July Food Favorites are easy and fun to put together. They will make a hit at your gathering.
Many of these ideas I chose are great for kids to put together themselves. When the family gets together, it's fun to have a food activity for them and many of these fit that category. Involving them in the process is a memory maker event, too! It takes a little of the pressure from having everything finished before everyone arrives! The outcomes may not be as perfect as when you do it, but they will still taste the same!

 While the pictures show ten, I included 13 favorite picks! Thirteen stands for the 13 original colonies!

13 easy ideas to make your 4th of July special. 13 is for the original 13 colonies and 13 stripes on the flag! #4th-of-July #holiday #patriotic  www.grandparentsplus.com
#1 and #2     4th of July Dipped Strawberries
These spectacular looking treats are from www.allrecipes.com
Have all the ingredients ready and let the kids put these together! They may not look perfect, but they still will taste good and the kids will love doing it!
Hint: Strawberries should be washed and completely dry! White chocolate coating doesn't stick to a damp or wet strawberry!
An alternative is to have a bowl of vanilla yogurt and blue sugar for dipping. Dip and eat! No prep involved!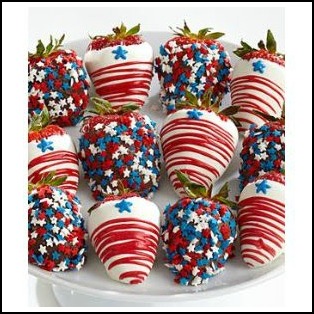 Idea from ….   Cupcakes, Kisses 'n' Crumbs
If you have any white chocolate left over after dipping strawberries, dip pretzels , sugar cookies, sugar ice cream cones or glass rims (see # 4)

 #3 Cream Cheese Filled Strawberries
Do this one yourself! This is too hard for kids to put together, but will be a hit with both kids and adults!
Another version is this…..
From kikukat.blogspot.com
25 jumbo strawberries
     3/4 c heavy whipping cream
     3/4 c milk
     1 small box vanilla instant pudding
     1/2 tsp almond extract
Mix together
Put mixture into a plastic bag. Cut corner of bag and pipe into the strawberries.
Top with a blueberry
#4 Fourth of July Drink Picks
This is another idea for kids to put together! The idea originated with Martha Stewart. With a small cookie cutter, cut out stars from jicama or pineapple.  Have kids thread the items on the skewers or straws for people to add to their drink. Dip glass rims in white chocolate and then red, white and blue sugar for an extra festive touch.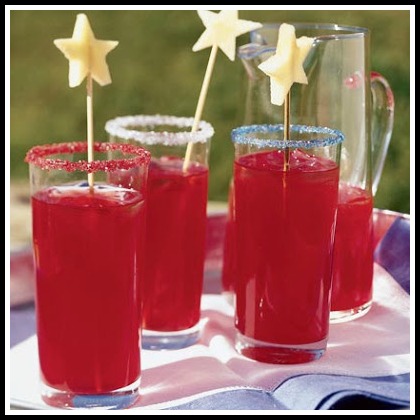 #5    Flag Cupcakes
This idea is good for a kids' cupcake decorating station. Have the frosting, blueberries and fruit leather ready to go. It helps to cut the fruit leather into strips beforehand.
Idea from…   www.partycity.com
#6.  Patriotic Ice Cream Sandwiches
Another kid friendly idea! Insert a stick in the ice cream sandwiches, dip it into sprinkles and eat!
Ice cream Sandwiches can be found on www.LivingLocurto.com
#7   Red, White and Blue Cake
While this idea is not exactly kid-friendly for helping, they certainly will love to eat it. Make this the day before so everything won't be last-minute! I had to include this as it is so delicious looking and fun with the combination of the red cake, white frosting, raspberries and blueberries. Instead of a layer cake, make a 9×13 cake and decorate with raspberries and blueberries. ( much easier)

idea from www.recipecottage.com
#8  Patriotic Brownies
I included this idea because it is an easy dessert to put together. Wh the strawberries and blueberries on top, it looks so festive and tastes good, too. Make cupcakes or make individual brownies in muffin papers and then decorate! I couldn't find the original link of this picture! I searched and searched so if you know, please contact me and I will edit this post.
Use the rest of the cream cheese recipe for frosting from the filled strawberries above! Then add the blueberries and strawberries!
#9   Red, White and Blue Parfait Jello
What kid doesn't like Jello? This is so easy to make and have it ready the day before! No last-minute rush! Perhaps this could be just for the kids, however, some adults would like this, too! Add a flag pick for the top!
Recipe found here…
#10  Flag Toast or French Toast
You can even make breakfast patriotic with this Flag Toast! Let kids can make their ow. They would have fun putting this together by themselves. So what if the rows aren't perfectly straight! Put some sweetened cream cheese or Cool Whip on and then add the strawberry jam, bananas and blueberries! YUM! What a patriotic way to start the day!
Directions are here….
Use this idea for French Toast! Instead of cream cheese,use whip cream or Cool Whip on the toast. Add strawberries, bananas and blueberries.
 #11  Patriotic Rice Krispie Bars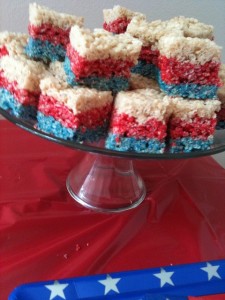 Just add food coloring for the red and blue layer when making the rice krispie bars! Kids loves these!
#12 White Chocolate Patriotic Tart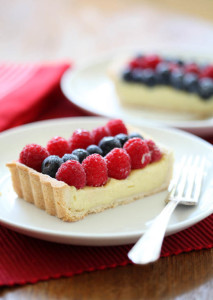 White Chocolate Blueberry Tart
Recipe found at  …    www.zoebakes.com
#13   Individual Cookie Tarts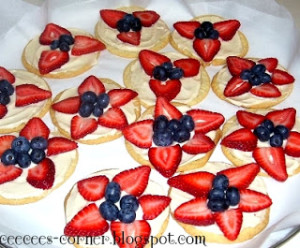 Let your guests build their own tarts with a sugar cookie as the base!
This idea is from www.popsandpodge.com
Ingredients for cream cheese spread:
1  (8-oz.) pkg. cream cheese, softened
 2  tablespoons frozen limeade concentrate, thawed
1/2  cup powdered sugar
Mix together
This is enough for approx. 20 cookies
Have strawberries and blueberries washed and ready to place on cookies.
Make these ahead of time or an easier way is the have  bowls of the cream cheese mixture, strawberries, blueberries and let your guests make their own! The sugar cookies can be store-bought. Just don't tell anyone! So easy! If you make your own sugar cookies, use a star cookie cutter!
 Well, these are my favorite picks for an easy, kid-friendly, no big fuss, 4th of July Food Favorites for a non-hectic 4th of July celebration! Whew! That was a mouthful!
While I call them kid-friendly, adults love these ideas, too!

Lots of these ideas are changeable for other holiday celebrations as well! Just change the color scheme!
Let's celebrate the freedoms that we have in this country!
Which idea is your favorite?
Happy entertaining!

Subscribe for future posts or follow on Pinterest and Bloglovin'
Phyllis (Oma)

This post is linked to these link parties…
Post featured on…..
Pin It