Amazing Stuffed Jalapenos Recipe
While visiting in Arizona, we had an extended family get-together which grew to over 70 people! One of the relatives brought these Amazing Stuffed Jalapenos! Now, I'm from the midwest and don't like really hot spicy food, but these were absolutely delicious! My second-cousin, Beth, graciously shared this recipe.
The recipe makes a generous amount of appetizers, but people absolutely love them and they really go fast. So, plan accordingly. They're stuffed with a combination of sausage, cream cheese and parmesan cheese. Then, they're wrapped with bacon. Ooh, my mouth just waters thinking of them. Please don't shy away from this recipe because you might think of it as way too spicy. You can control the amount of heat. If you want it spicier, just leave some pulp, seeds, or use a spicy sausage for the stuffing. Make one batch spicy and another fairly mild, just to please everyone.
 Click on the "YUM" button to add to your recipe box.
Amazing Stuffed Jalapenos

Ingredients
15-20 jalapenos
1 lb. breakfast sausage (I used Jimmy Dean)
1 pkg. of cream cheese
1/2 cup shredded parmesan cheese
1 pkg. bacon
Instructions
Brown and crumble sausage.
Melt cream cheese in with sausage and add parmesan cheese.
WEAR GLOVES
Halve jalapenos, lengthwise
Remove stem and remove seeds and pulp
Fill with sausage mixture
Wrap with 1/2 slice of uncooked bacon
Bake at 425 degrees for 25-30 min.
If you want bacon really crisp, broil on high for 2-3 minutes.
Serve immediately.
http://grandparentsplus.com/amazing-stuffed-jalapenos-recipe/
I wanted my family to taste these and give me their opinion. I didn't want to make the entire recipe for just a couple of people, so  I made half and refrigerated the sausage-cream cheese combination and made the rest two days later. It was nice to have them fresh-made two times in a week.  By the way, the family opinion was that they were AMAZING!
These are ready for the oven…..   I baked these Stuffed Jalapenos on foil for an easy clean up.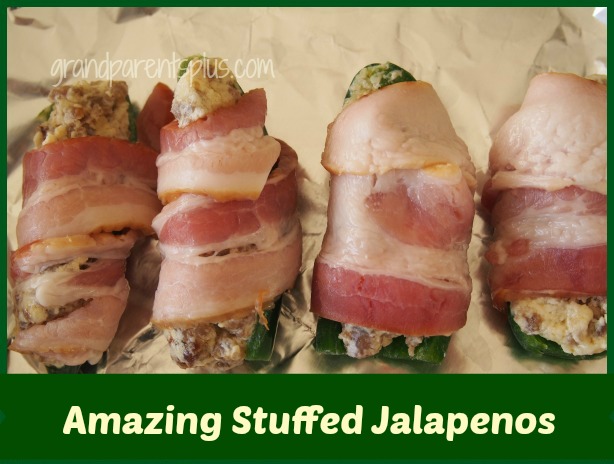 Baked at 425 degrees and ready to eat!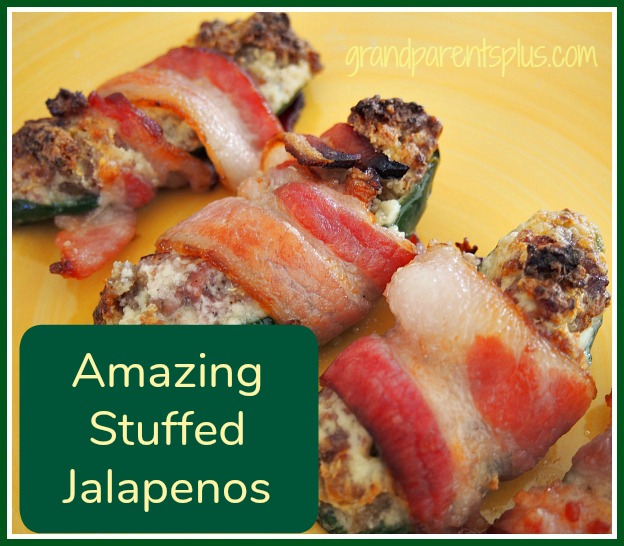 Just wait until you taste one…..you'll be amazed at how delicious they taste! These are perfect for Cinco de Mayo, too, when you're looking for something Mexican to serve.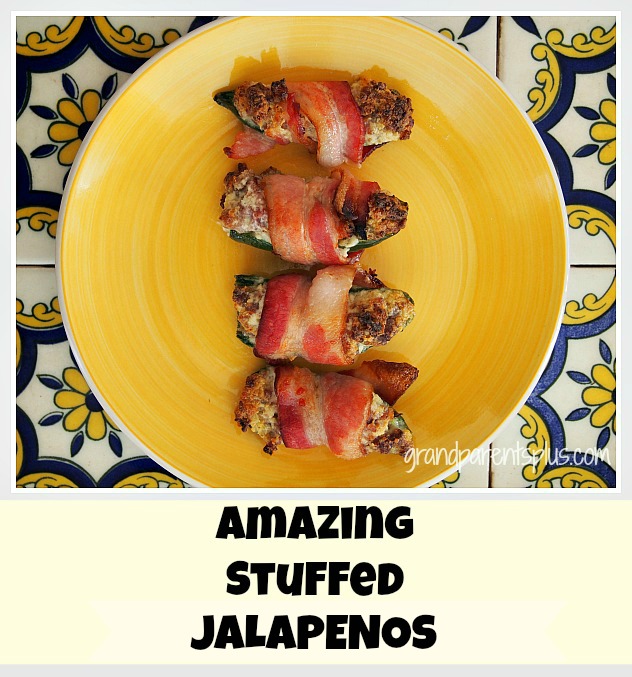 I hope I've convinced you how delicious these appetizers taste. They were a big hit at the family get-together!
Enjoy!
Phyllis
Subscribe on the sidebar knowing that your email is never shared or sold.
Follow on Pinterest..
post linked to these parties….
Pin It