Annie's Pasta Salad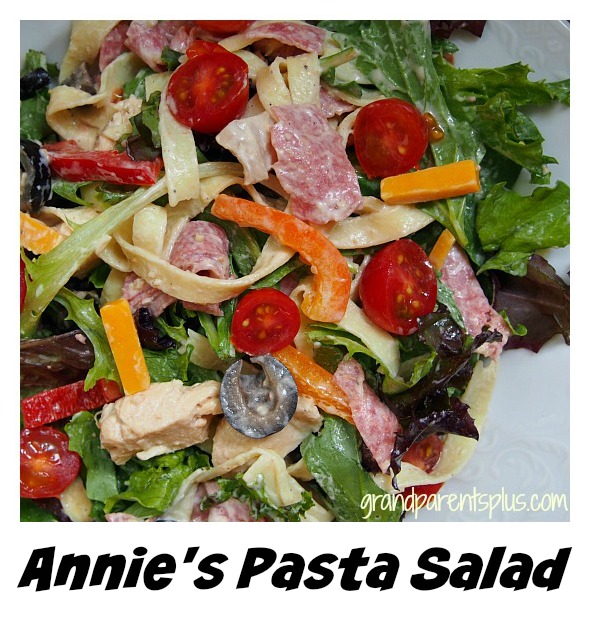 My cousin in California created this awesome salad and she named it after her daughter…. hence the name Annie's Pasta Salad. It is a cross between a pasta salad and a green salad. I have made this salad so many times and always get asked for the recipe.  I know you'll enjoy it! Thanks, Sharon, for this delicious salad!  
[print_link]
Annie's Pasta Salad
9 oz. fresh fettuccine 1  1/2 cup cooked chicken torn in strips 1/2 c. cheddar cheese, cubed 1/2 c. pepperoni or soft salami 1 small can sliced or whole black olives 1 green, yellow or red pepper, cut in long matchsticks (I used both red and yellow pepper) 1 container cherry tomatoes, halved 2 cups endive 3 cups green leaf lettuce or use a Spring Mix combination for all Dressing (I used Wishbone Caesar, but the recipe calls for Wishbone Olive Oil Classic Caesar…  couldn't find it)) All the above amounts can vary to your liking!  
Directions:
If using fresh fettuccine, boil water and then add fettuccine. Remove from heat and let sit for 10 minutes. Drain fettuccine and rinse. Put fettuccine in a large bowl and add chicken, cheese, salami, peppers and olives. Pour 1/2 bottle of dressing over the ingredients above and chill in refrigerator for at least two hours. When ready to serve, add lettuce combinations, cherry tomatoes and more dressing to taste. Serves 6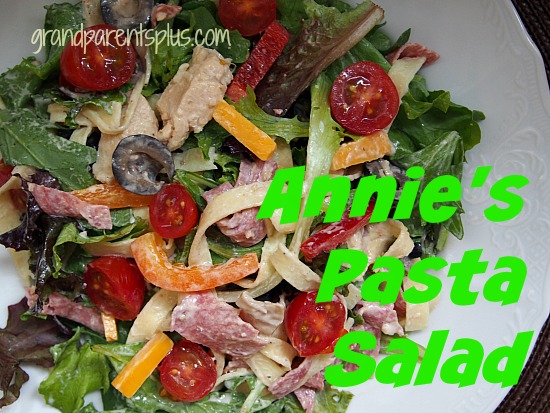 When I make this for a smaller group, I mix the lettuce greens and add the amount of chilled ingredients that make the portion needed to serve. This way, the greens don't get soggy if you have leftovers. The chicken mixture will be fine when refrigerated overnight for another salad the next day.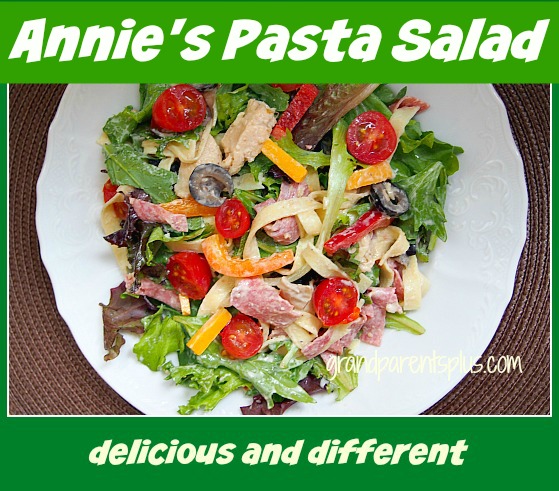 My husband loves this salad. I think you will, too!


Enjoy!
Phyllis
If you subscribe on the sidebar, you won't miss a post. Your email is never sold or shared! Linked to these parties…..
Pin It