Best Appetizer Recipe!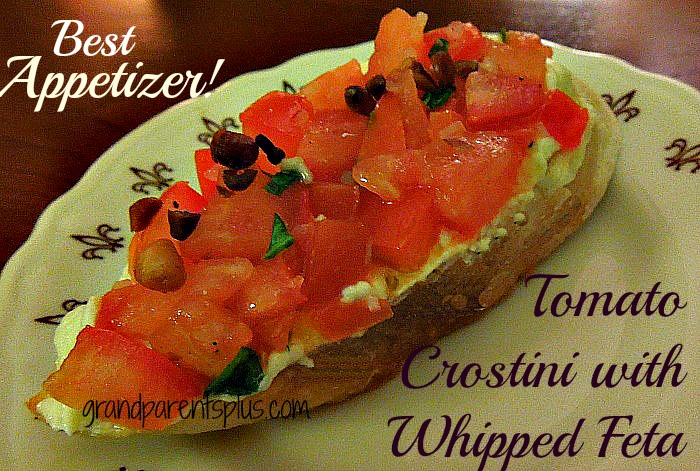 Perhaps you are still looking for a great idea for your holiday party! Here it is…..

This Tomato Crostini with Whipped Feta is the best appetizer recipe! You can make this ahead, then put it together just before guests come and it doesn't get soggy like bruchetta! This will be the hit of the party! Everyone will want the recipe!  The recipe is from Ina Garten and the Food Network. I've made a couple changes, however.

Ingredients:
6 oz. good feta cheese, crumbled
2 ounces cream cheese, at room temperature
2/3 cup good olive oil, divided
2 tablespoons freshly squeezed lemon juice
Kosher salt and freshly ground black pepper
2 tablespoons minced shallots (2 shallots)  –  I used onions
2 teaspoons minced garlic (2 cloves)
2 tablespoons good red wine vinegar
2 pounds ripe heirloom or cherry tomatoes, 1/2-inch-diced
3 tablespoons julienned fresh basil leaves, plus extra for serving
20 to 25 (1/2-inch-thick) diagonal baguette slices, toasted
2 tablespoons toasted pine nuts – (sometimes I don't use these)

Directions:
For the whipped feta, place the feta and cream cheese in the bowl of a food processor fitted with the steel blade. Pulse until the cheeses are mixed. Add 1/3 cup of the olive oil, the lemon juice, 1/2 teaspoon salt, and 1/4 teaspoon pepper and process until smooth. ( I added a small amount of the garlic and some onions to the cheese mixture)

For the tomatoes, up to an hour before you're serving, combine the shallots, garlic, and vinegar in a medium bowl. Set aside for 5 minutes. Whisk in the remaining 1/3 cup olive oil, 1 teaspoon salt, and 1/2 teaspoon pepper. Add the tomatoes, stir gently, and set aside for 10 minutes. Stir in the basil and taste for seasonings.Lightly toast the baguette slices.
To assemble the crostini, spread each slice of bread with a generous amount of whipped feta. With a slotted spoon, place the tomatoes on top. Put the crostini on plates and scatter with the pine nuts.

Sprinkle with extra basil ( I've used parsley) and serve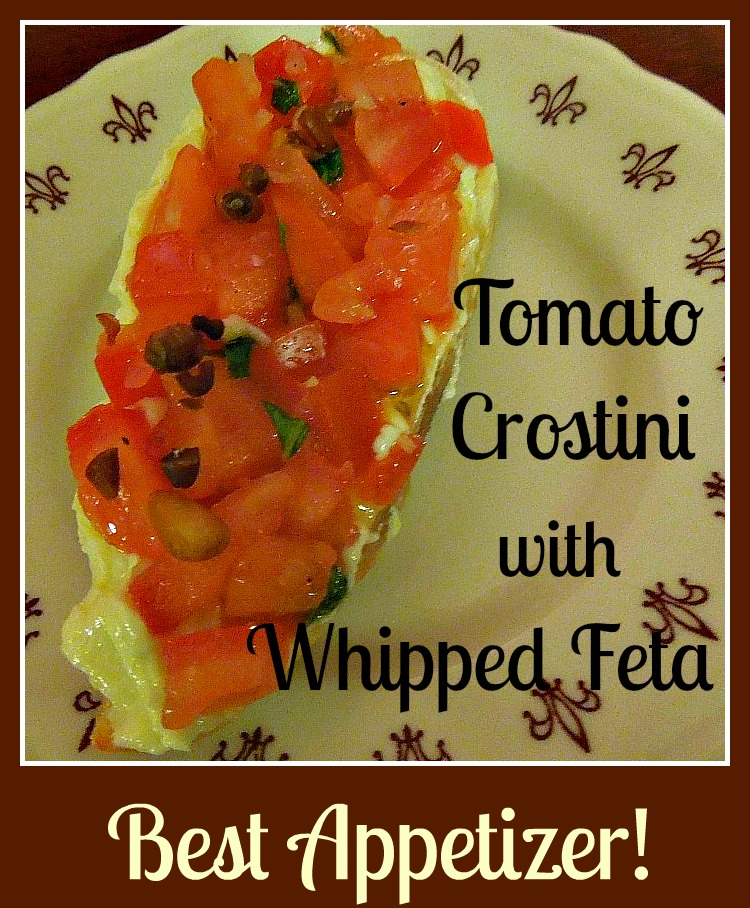 To cut down on the cost, use dried basil in the recipe.(Actually, the fresh basil never got in my shopping bag at the grocery store one time so I had to improvise.) Also, pine nuts are expensive so leaving them out is an option, too. Use parsley as a garnish instead.

Other options are to serve this on large crackers. Place the creamy feta in one bowl and the tomatoes in another. Guests are able to make their own.
Great appetizer recipe for that special party!
Enjoy!
Phyllis
Subscribe for notification of future posts, follow on Pinterest or Bloglovin!
This post is linked to the following parties….
Pin It