Best Banana Cream Pie
Best Banana Cream Pie (made with ice cream!)
You may have had Banana Cream Pie, but this recipe is by far the best I've tasted!  It is so easy with no cooking involved; just mixing! It is absolutely delicious! You Banana Cream Pie fans need to try this one for sure! I know you're going to love this!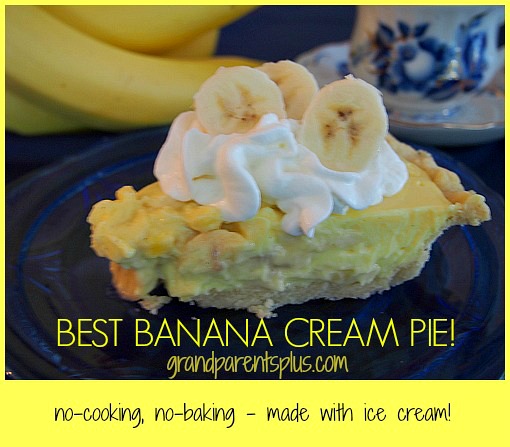 I guarantee you'll be asked for the recipe when you serve this pie. My cousin served this recipe and everyone thought it was the best! It is now a huge favorite at our house. I like that it is so quick to make!

Ingredients:
1 Oil Crust or Graham Cracker  Crust  ( I prefer an Oil Crust) Go to Fresh Blueberry Pie post for the Oil Crust Recipe and directions. (it's easy, too)

1 large package of Instant Vanilla Pudding (5.1 oz. size) Don't substitute 2 small pkgs.

1  3/4 cup of vanilla ice cream, softened

1 1/2 cup milk
2-3 bananas (depending on size)
Directions:
Mix dry vanilla pudding with softened ice cream and milk.
Add bananas (I always put 1 large banana on the crust, first, and then add another to the pudding. Add the rest to the top before serving)

Pour into a baked crust and refrigerate until set.
Serve with whipped cream and garnish with banana slices.
That's it! Don't you love how easy this is?

The Best Banana Cream Pie recipe is so GOOD!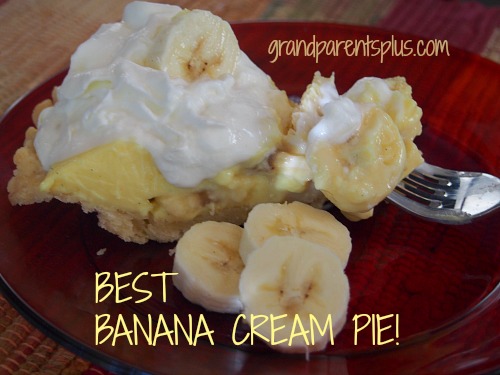 Enjoy!
Phyllis
Be sure to subscribe on the sidebar so you don't miss a post!
Follow on Bloglovin and Pinterest, too!
This post is linked to many of these parties……
Pin It