Bird Problem?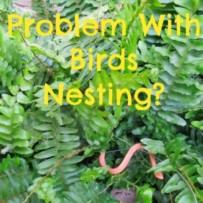 Bird Problem?
Funny question and a strange post,  but I promise this info about a bird problem will come in handy sometime.  I had such a problem with birds nesting under our front porch.  After some research, I came up with a solution and decided to pass this info on as this might be just what you are looking for in solving a bird problem, too!

My bird problem was this… I had birds always wanting to nest up on the top of the pillars under the porch. They also liked my hanging ferns which are protected from the elements by the porch roof.

Now don't get  me wrong. I love birds! I feed them and love to hear them sing. They are a beautiful part of God's creation! It's just that I don't want them in my hanging baskets on my porch or up on the ledges. They make a terrible mess! I would rather enjoy them at the feeders and bird houses that I have all around!
Here's the mess they leave down below!
If you have young children, it is cute to watch the stages of the eggs hatching and young birds growing, but my kids are grown, my plants suffer, and I have a mess to clean! We live in a wooded area so it isn't as if there aren't plenty of nesting options all around. See the woods in the background?

Putting nails up above wasn't an option so I set out to find what might be a deterrent. I found that the natural predator for birds is a snake. If they see a snake, they leave.   So that gave me an idea.
Off to the Dollar Store I went to find some snakes. They had to be quite small to fit in those places. Besides, I didn't want to scare any guests I  have sitting on my porch sipping lemonade only to look up and see a large snake! That wouldn't do!
 I found a package of small plastic snakes 8/$1! I thought they would be perfect! At least it was worth a try! It worked!

Now, each year, if I don't have my "deterrents" in place early, they find those choice spots and quickly make their nests. Once the eggs are there, I don't have the heart to destroy it. So I need to place them quickly at the start of spring. I can leave them on the ledges over the winter, but sometimes they get lost with the winter winds blowing them off.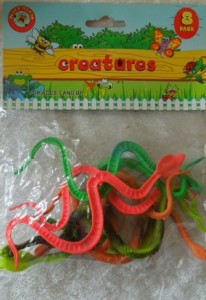 I placed the snakes up on the pillar ledges and in the fern baskets. No one can see them, but they are there! The birds will fly in, check it out, see the snake, and off they go!
I haven't had one bird make a nest in those places again!
It even works under a boat lift. Barn swallows like to nest there and then you have a very messy boat.  Place a larger plastic snake up in the corner and those birds won't be back!
Now you know how to end a bird problem! ! If you have a spot where you don't want birds nesting, try it! You only have a dollar to lose.
Have you ever had a problem with this?
Love for you to follow on Pinterest or Bloglovin' and subscribe to future posts.
P.S. Guess I'll place this post under "Misc."!
Phyllis (Oma)
Post linked to the following parties….
Pin It