Bruschetta Chicken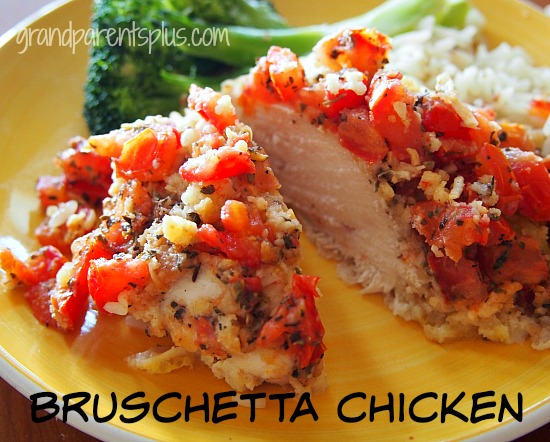 If you like Bruschetta as an appetizer, you'll like the flavor of Bruschetta Chicken. It has all the same ingredients of Parmesan cheese, tomatoes, garlic, basil and bread crumbs combined with a tender chicken breast. It is quick cooking and ready in about 30 minutes. Serve with pasta or rice, add a vegetable, and you have an easy dinner for family or friends. Be sure to use only boneless chicken breasts as adding bone-in thighs or drumsticks changes the cooking times.
Ingredients:
Servings 6
1⁄2 cup flour
3 eggs, slightly beaten
6 boneless ,skinless chicken breasts
1⁄2 cup grated Parmesan cheese
1⁄2 cup dry breadcrumbs
2 tablespoon butter, melted
4 large tomatoes, chopped & seeded
2 tablespoons olive oil
3 garlic cloves, minced
5 tablespoons minced fresh basil, set aside a few whole leaves as garnish
1 teaspoon salt
1⁄2 teaspoon pepper
Directions:
Combine chopped tomatoes, olive oil, garlic, and basil, salt and pepper in a  bowl and set aside.
Place flour and lightly beaten eggs in separate containers that are large enough for the chicken breasts.
Dip chicken in flour, then in egg, and place in greased 9×13 pan.
Combine the cheese, breadcrumbs, & butter, and sprinkle over chicken.
Loosely cover dish with foil & bake at 375 degrees for 20 minutes.
.
Uncover the chicken and bake an additional 5-10 minutes longer until top is browned.
Spoon tomato mixture over chicken, return to oven for 3-5 minutes or until tomato topping is just heated through.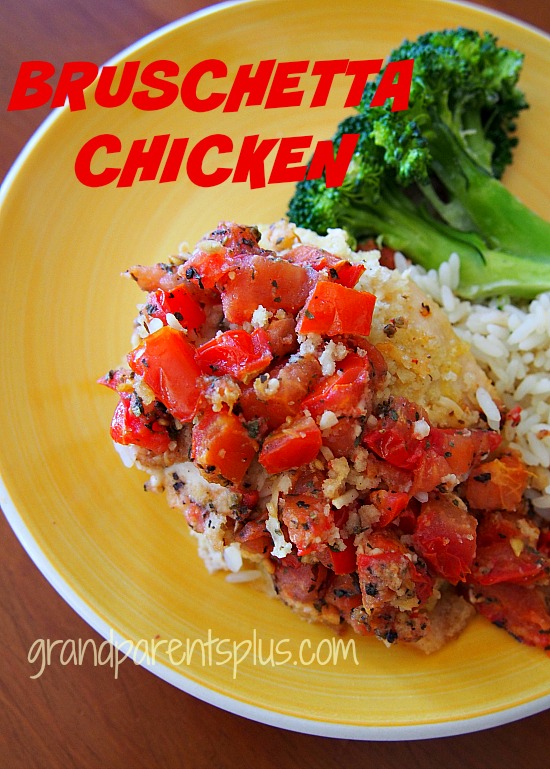 Serve Bruschetta Chicken with rice or pasta.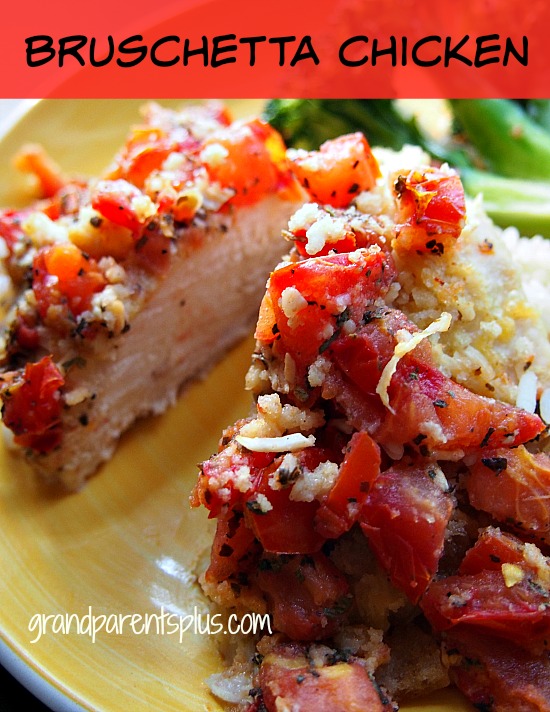 Enjoy!
Phyllis
If you subscribe on the sidebar, emails are never sold or shared!
This post is linked to many of these parties….
Pin It