Buster Bar Dessert (copycat)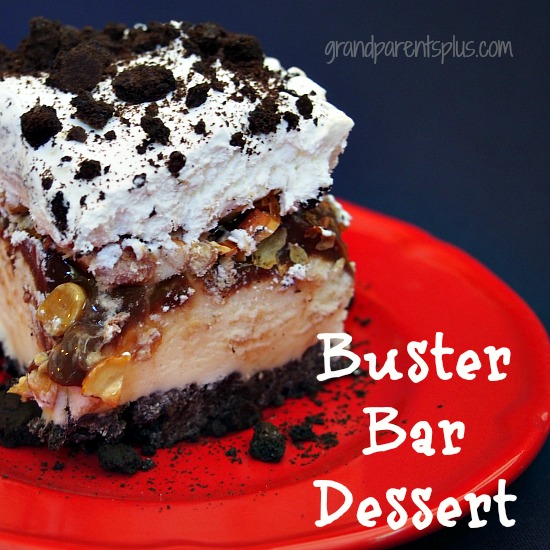 Need a cool treat on a hot summer day? Then, this easy Buster Bar Dessert is just the ticket for you!
I love going to the Dairy Queen and getting a Buster Bar. They are so delicious! Want the same taste, but don't have a Dairy Queen around? Make this dessert as it really mimics the Buster Bar tasty treat. You'll love the sweet salty combination of fudge, caramel and peanuts, along with the crunch of the cookie crust, and the cool, creaminess of the ice cream. YUM! It's a combination that's hard to beat!
[print_link]
Buster Bar Dessert (copycat)
Crust:
16 oz.  large pkg. Hydrox or Oreo cookies, crushed
1/4 c. butter
1/2 gallon vanilla ice cream
1  1/2 c.  Spanish peanuts
Fudge Sauce:
1 cup powdered sugar
3/4 cup evaporated milk
1/3 cup chocolate chips
1/4 cup butter
1/2 tsp. vanilla
Want a quick fudge sauce? Use a jar of Mrs. Richardson's Hot Fudge Sauce
Caramel Sauce-  I use Smucker's Caramel. I don't use the whole jar;  just drizzle some over the fudge.

Frozen whipped topping
Directions:
Mix  crushed cookies together with the butter and pat into a 9 x 13 pan. (save a handful for the top of the dessert)
Freeze until firm.
Spoon slightly softened ice cream over the cookie crumb base. Pack well and place in freezer. This is much easier when you open the carton all the way and slice off sections of ice cream to put over the crust.
Fudge Sauce:
Combine powdered sugar, milk, chips, butter, and boil for 8 minutes, stirring constantly. Remove from head, add vanilla and cool.
Sprinkle peanuts over ice cream and pour cooled fudge sauce over all. ( or jar of Hot Fudge sauce) Drizzle with the caramel sauce, too. Return to the freezer.
Spread whipped topping over the top and sprinkle with cookie crumbs. Cover with aluminum foil and freeze.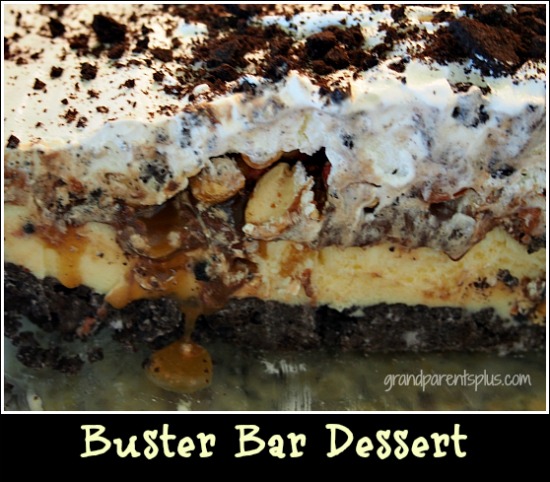 Yes, just like a Dairy Queen Buster Bar!
This dessert is hard to resist!

Serves 12-15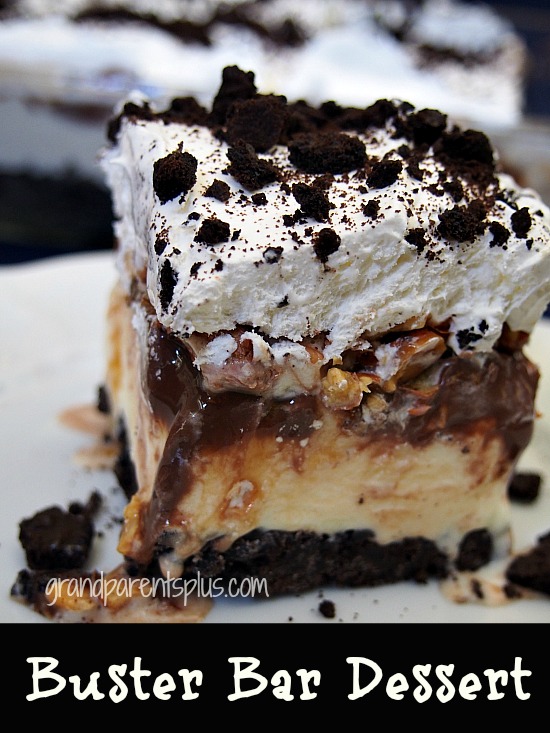 Enjoy!  (I know you will)
Phyllis
Subscribe on the sidebar so you don't miss a future post! Your email is never shared or sold!
Follow on Pinterest and Bloglovin, too.
Post linked to these parties…..
Pin It