Chocolate Crumb Pie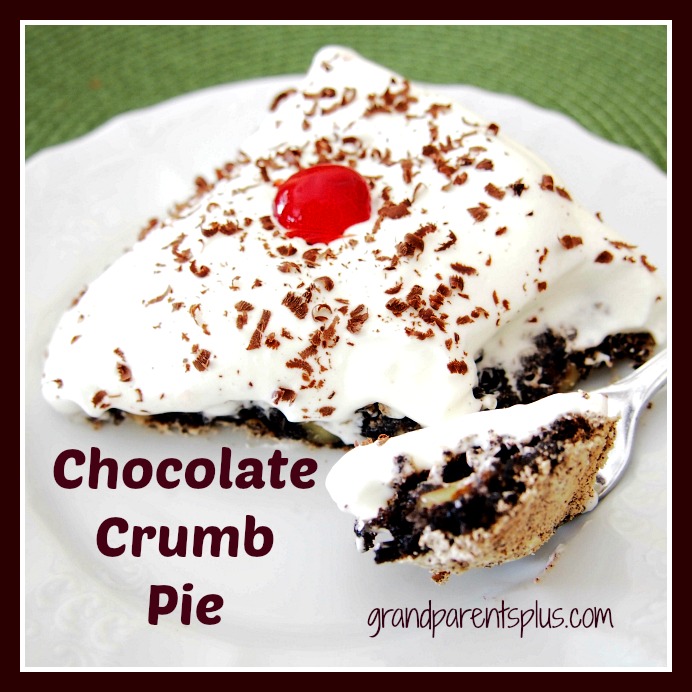 This delicious Chocolate Crumb Pie is another one of my mother's recipes. I remember big Sunday dinners after church and my mom would serve this for dessert.  What makes this Chocolate Crumb Pie so easy is that you make it the day before, add the whipped cream the next day, let sit in the refrigerator, and it is ready to serve. You can make a couple of them, freeze one after cooling , and have it ready for another time.
The chocolate crumbs come from the Nabisco Chocolate Wafers. Look for them in the baking section and not the cookie section of your grocery store.

You need very few ingredients  for this Chocolate Crumb Pie! One package of the Chocolate Wafers makes at least three pies.
Chocolate Crumb Pie
3 egg whites (large eggs) – add a dash of salt (room temp for the egg white is best)
3/4 cup of sugar
3/4 cup of chocolate wafer crumbs (approx. 10-11 wafers)
1/2 cup nuts
1/2 tsp. vanilla
1 pint of whipped cream – slightly sweetened to taste (use regular sugar; not powdered). Add 1 tsp vanilla.

Directions:
Beat egg whites until stiff and peaks form. Don't underbeat!  Add sugar slowly. Add vanilla. Fold in chocolate wafer crumbs and nuts.
Place in a slightly greased pie tin. (Normally I use glass for pies, but not for this pie – use a 9 inch tin pie pan)
Bake @ 325 degrees for 35 minutes until lightly browned
Cool
(Once cooled, you can wrap in foil and freeze for future use. This freezes well.)
Take cooled pie ( it will be a crusty meringue-like look) and top with slightly sweetened whipped cream.
Decorate with a little  grated unsweetened dark chocolate baking square
Place in refrigerator for at least 2-3 hours before serving.
Cut and serve.
These visual steps might help……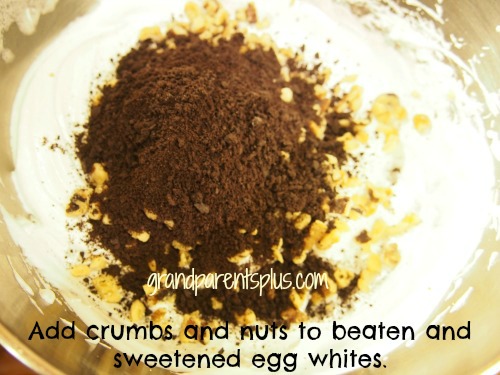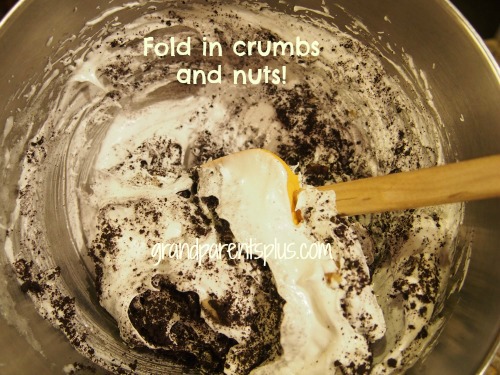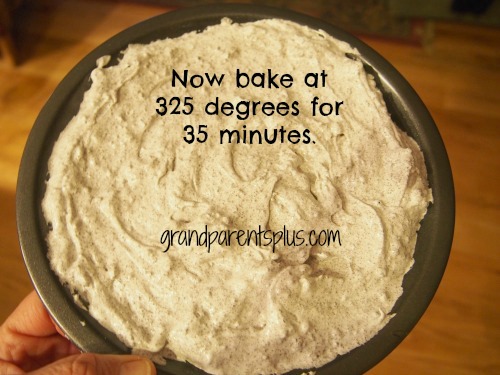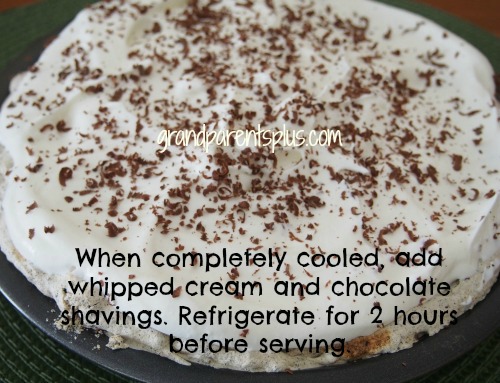 This pie is like a meringue. The whip cream softens the meringue while sitting in the refrigerator. It gets similar to a moist brownie texture. Delicious!
For me, it brings back lots of memories of those Sunday dinners.
Life is different today and I don't know of anyone that still does big Sunday dinners, do you?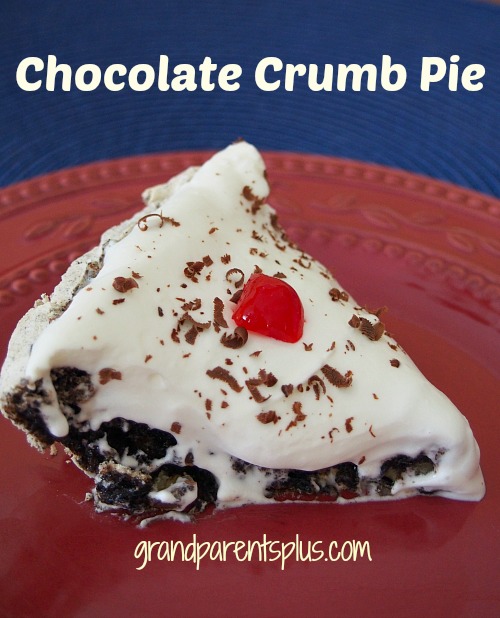 Enjoy!
Phyllis
So you don't miss future posts, you might want to subscribe on the sidebar.
You can also follow on Pinterest, Bloglovin and Facebook.
This post is linked to many of the following parties…..
Pin It