Christmas Idea House 2013 – Part 2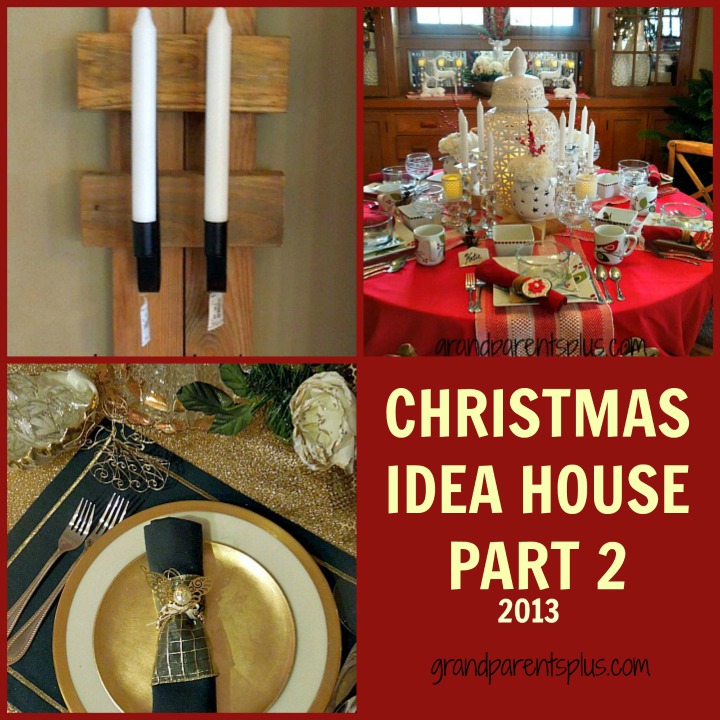 Welcome to the second post highlighting ideas from the Christmas Idea House 2013. I never tire of seeing creative decorating ideas that inspire me. It certainly gets my creative juices going. I think that is why Pinterest has become so popular. Lots of great ideas are right at your fingertips! In the Idea House there are certainly lots of ideas  too! Have fun checking them out….

In the dining room ……..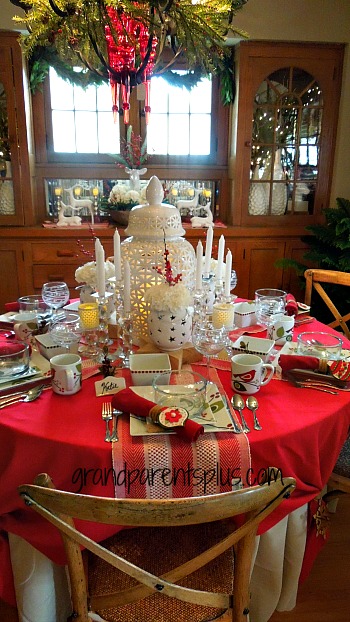 I am a big fan of  red and white. While it makes a stunning impact at Christmas time, it works for Valentines, 4th of July and other occasions, too! A red and white striped table runner gives great texture along with extra color.
Notice the white ginger pot which is not necessarily Christmas related, but lights up the table with an LED light placed inside. It, too, is usable at other times of the year. I love that it is so versatile.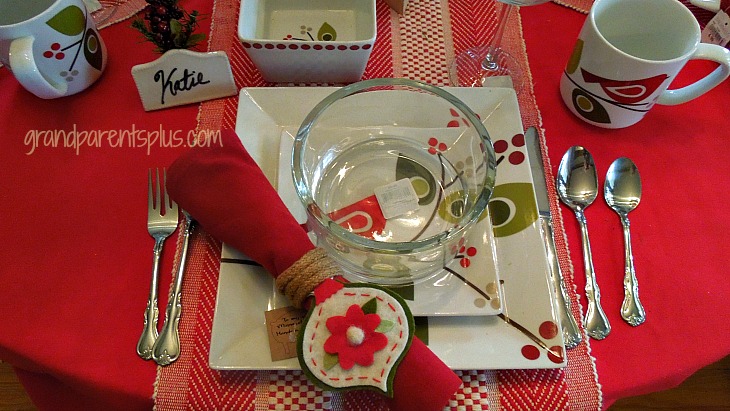 In the Idea House, the napkin is wrapped with roping and a felt ornament.
My version of a red and white table-setting using what I already have is this……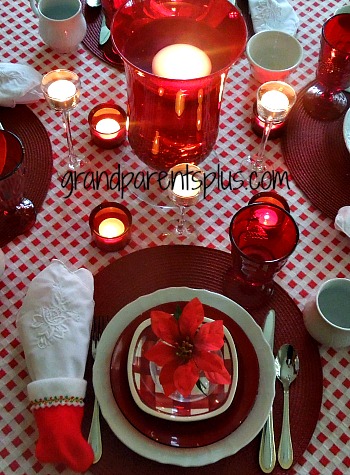 The little red stockings were some old decorations that I used as napkin rings/holders. Tall, clear tea light holders used in the center are from the dollar store. Just think outside he box for a tablecloth as this one is a bedspread! For the  centerpiece, I had  a large red vase and filled it with water and a floating candle. On the bottom is a submersible LED light hidden with glass accent gems to disperse the light. At night, it casts a colorful glow!
Notice the drama added to the chandelier! Long ornaments and garlands give it that special Christmas look!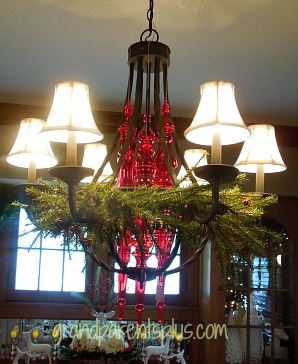 This Idea House is an old house with radiators! I love how they used a drip pan filled with dried items and lined up various sizes of trees on top of the radiator. You don't even notice the old radiator as your eyes are drawn to the trees.!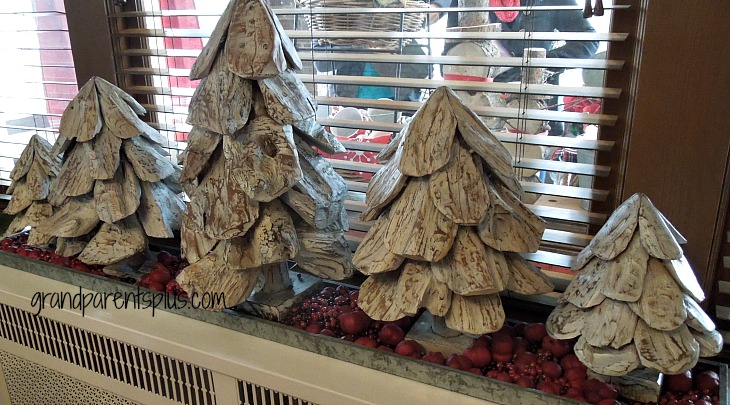 Another view of the dining room with the  trees in the background …..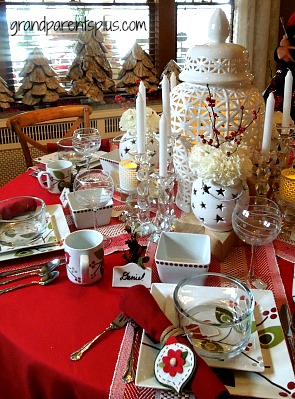 Inside the buffet are lit branches in white glass vases.  If you don't have white vases, paint clear ones from a thrift shop!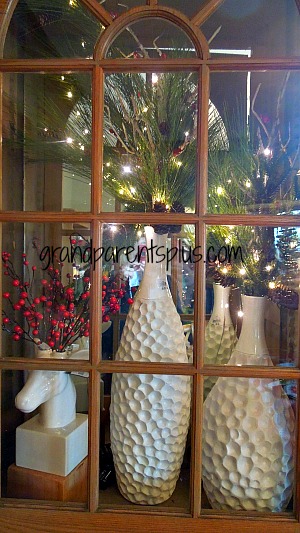 Now, this is for the wood pallet enthusiasts! When the garage workshop warms up in the spring, I'll be using this idea!

More tablescapes were set up in another room!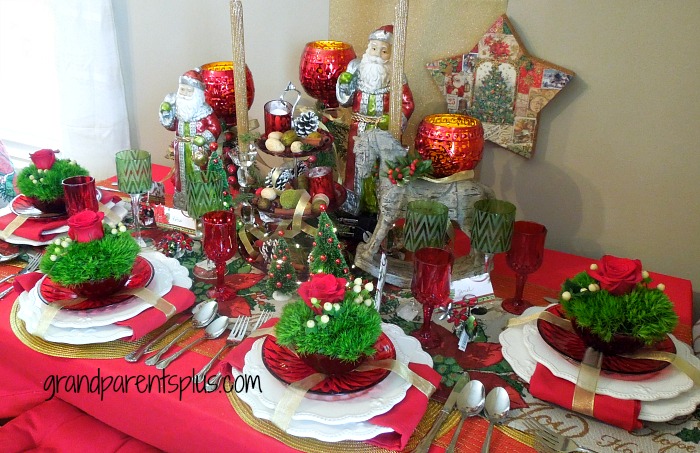 Black and Gold!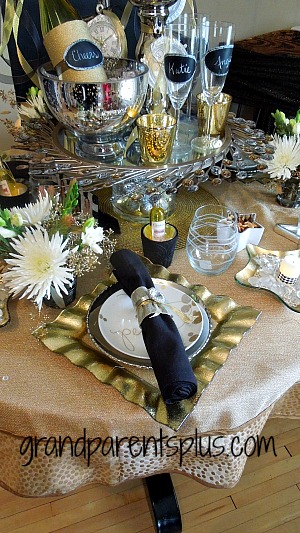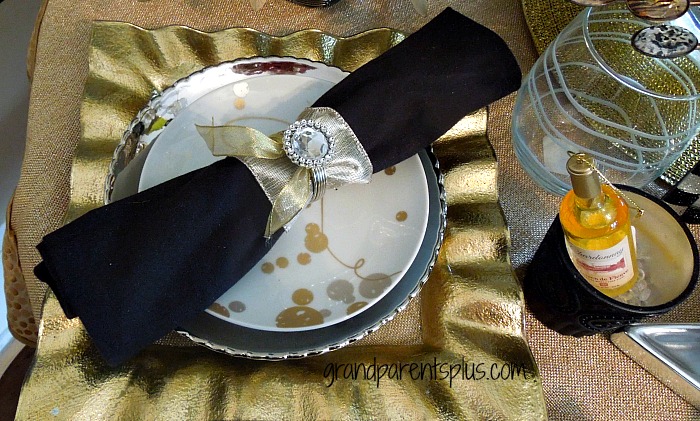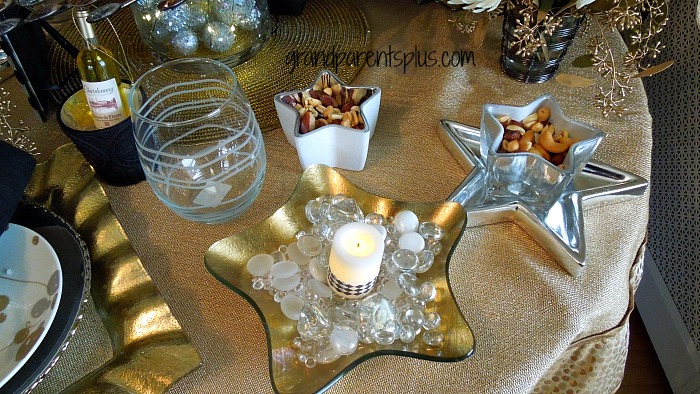 A similar version using my china……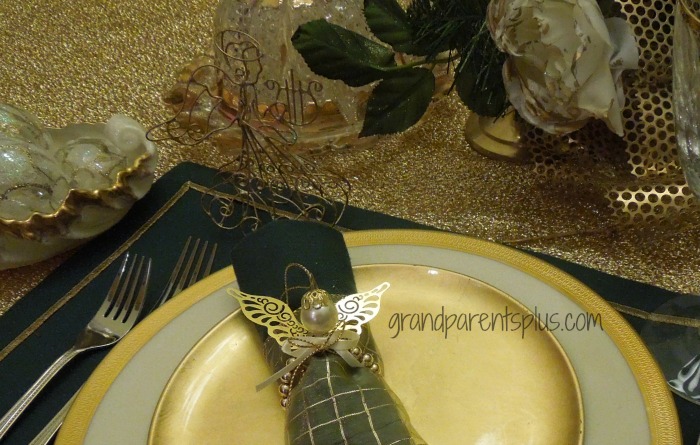 I used gold angel accents with a wire angel as an accent to the left of the placesetting and angel ornament used as a napkin ring.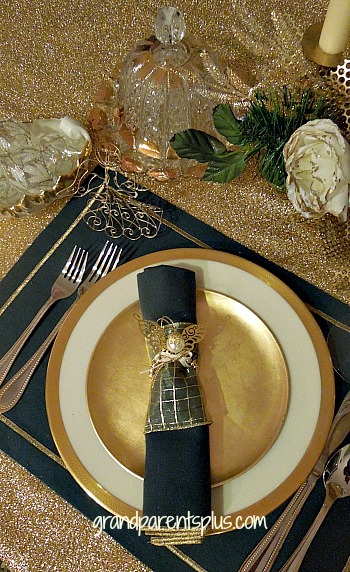 Were you inspired to set a wonderful table? For me, it is one of the fun things I enjoy about entertaining.
Hope you saw some ideas for your holiday festivities. More to come in Part 3!
Phyllis
For future posts, I invite you to subscribe, follow on Pinterest or Bloglovin!
This post is linked with the following parties…….
Pin It