Awesome Christmas Table Settings! (Part 1)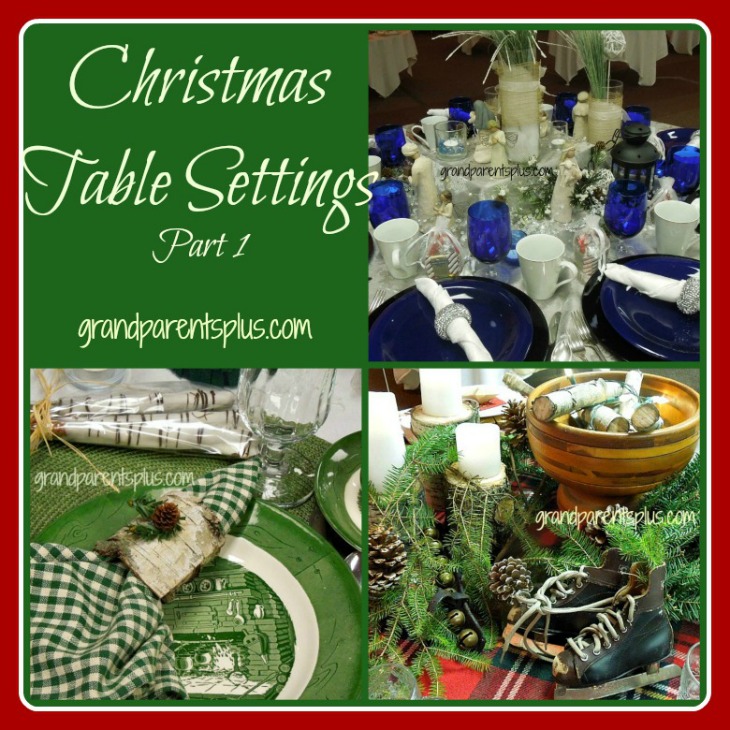 These awesome Christmas  Table Settings were done by the women from our church. We have an annual Christmas Extravaganza event and it is such a beautiful way to begin the Christmas season. Women host a table and set the table as they choose. Each one is beautiful and creative! There's a delicious catered dinner with a special Christmas program. In every way, it is a delightful evening celebrating the birth of our Savior!
This first Christmas Table Setting idea is carried out with all Thrift store finds! (except for silverware and birch candles)! It just shows you that you don't have to spend a lot to have beautiful Christmas table settings!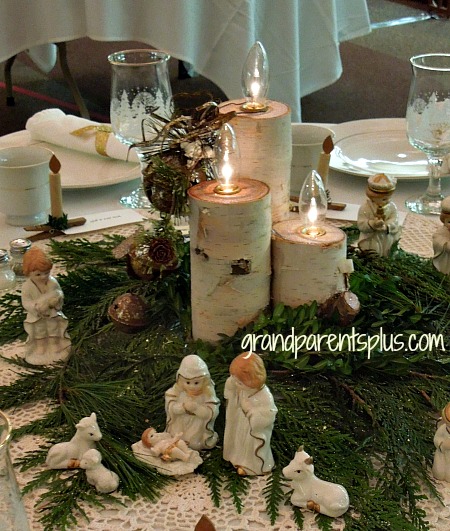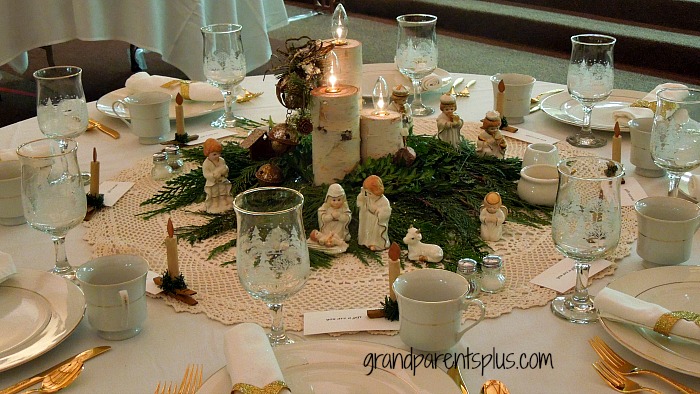 This next idea is easy to do and cost-effective, too. Find that perfect branch, add tiny battery operated lights and small gold and red balls. Fill the vase with a red bead garland! Ta-Da! Great centerpiece!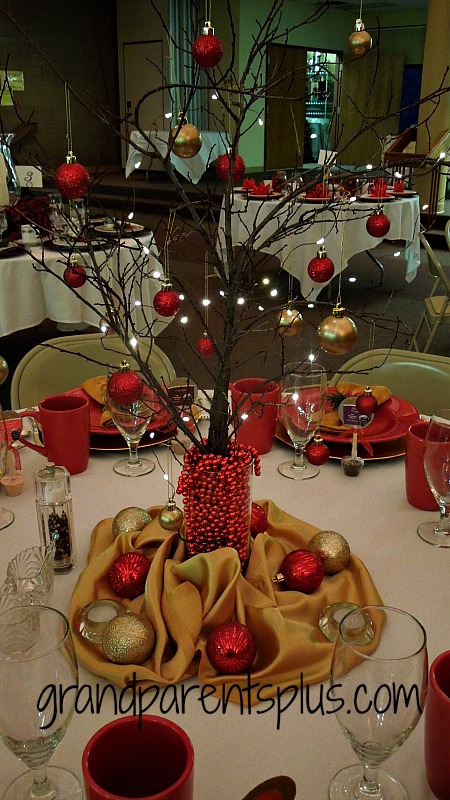 Adding a sprig of green with a red bow, sets off the napkin ring.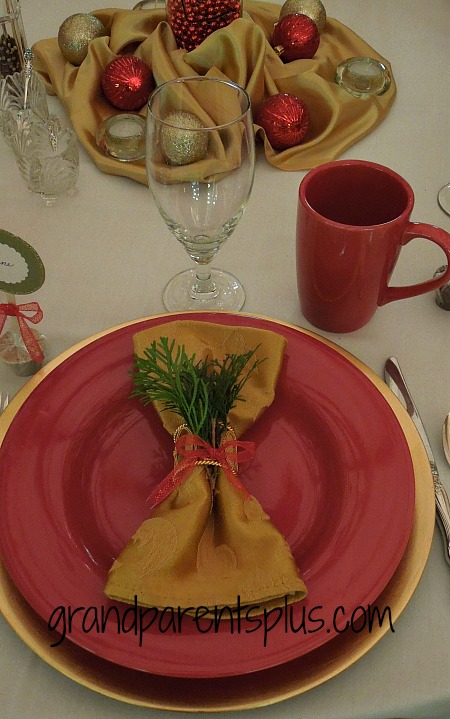 Now, this Christmas Table Setting is a cozy setting for a winter table!  The bowl filled with small logs has flickering lights to make it look like a fire! Makes you want to have "s'mores"! Fresh greens and log candle holders are accented with cute little skates and a hockey stick.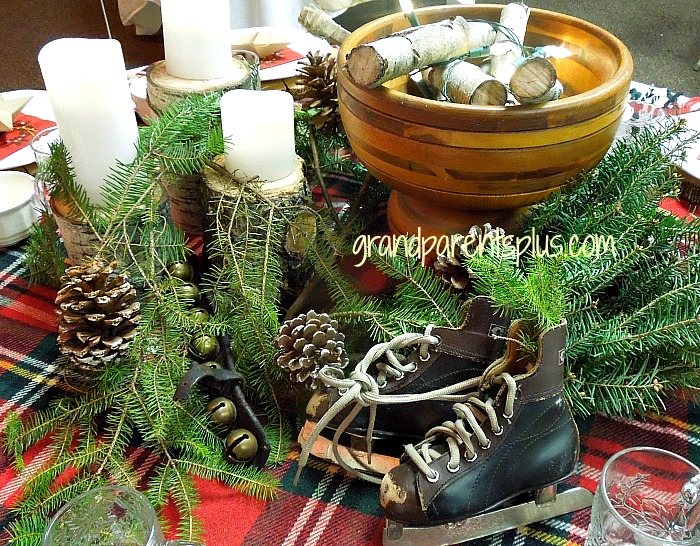 The table is topped with a warm cozy plaid blanket!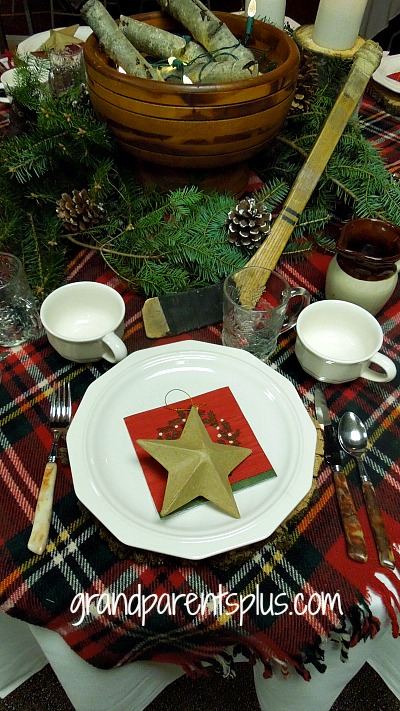 The "chargers" are slices of a log cut from a downed tree! Just another woodsy touch to this  outdoor themed Christmas table setting.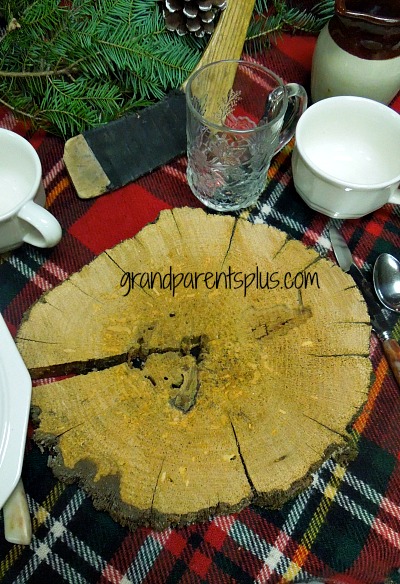 Perhaps you have a collection of carolers. Grouping them around a large candle makes a great centerpiece idea. The theme is carried out by placing small excerpts of sheet music of the popular carols at each place.
Notice the music note ornament on each napkin.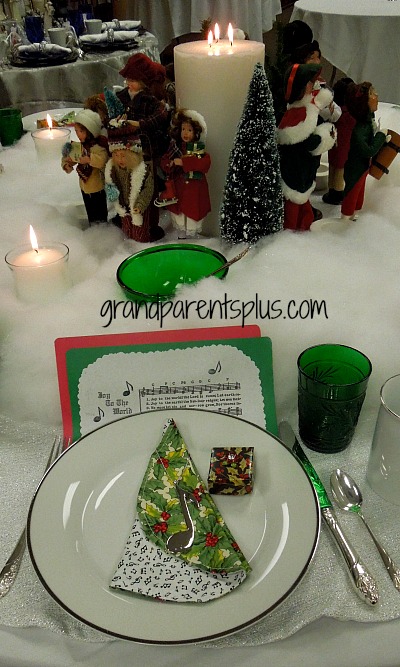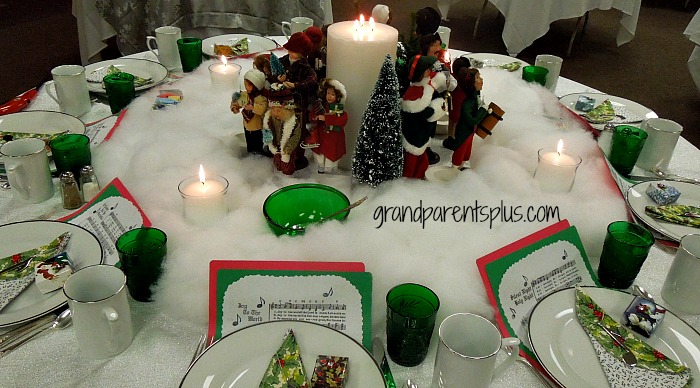 Using a collection of whimsical Santas makes a fun centerpiece! Plaids, pinecones and driftwood with tea light inserts all work together beautifully in the table setting!
Red china works well with the plaid runners. At each place is a brown paper bag with some goodies for a hostess gift. Cute mitten and star ornaments attached with a red-painted clothes pin add to the whimsical feel of the table!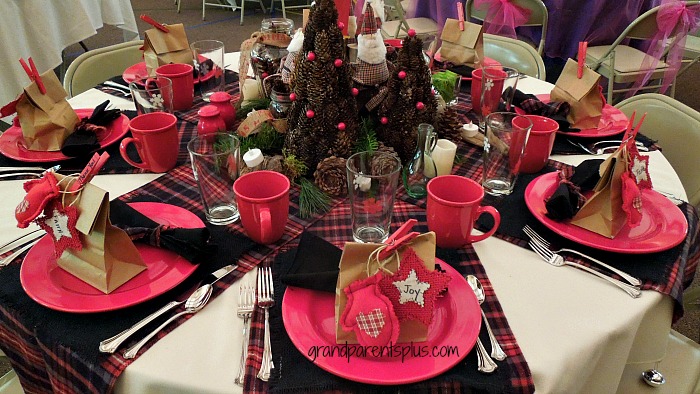 The next Christmas Table Setting is one of the tables that I did. It is an" up north cabin theme".
I used an old log cabin made from twigs that I've had for years. I thought it was time to give it a new look!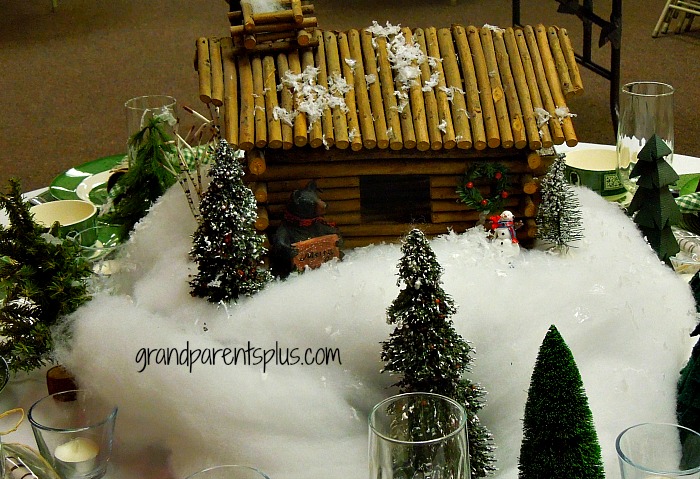 The china was a $7.00 find at an auction (15 place settings! – What a deal!) I made the napkin rings from birch bark that I found in our woods. I'll show you how here….
By candlelight, the table looked like this. Under the cotton, I placed several individual LED lights. They gave off  a beautiful white light and made the snow look so pretty!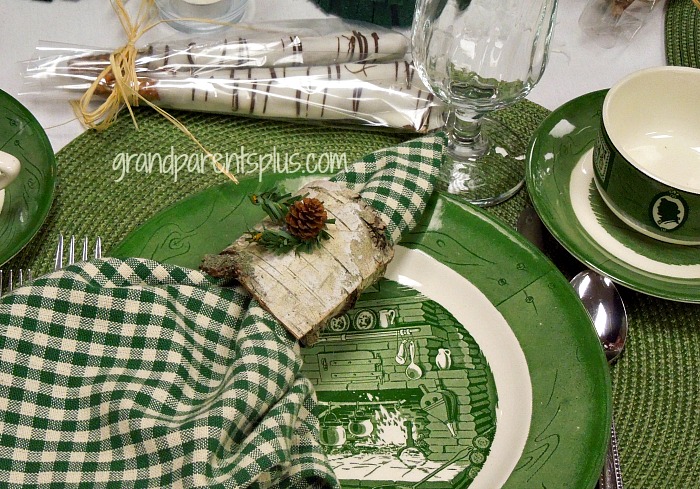 Their small gift was "birch logs" wrapped in a cellophane bag and tied with raffia, (pretzels dipped in white chocolate and drizzled with dark chocolate)
This next  Christmas Table Setting features silver and green trees accented with red votives, chargers, and napkin rings.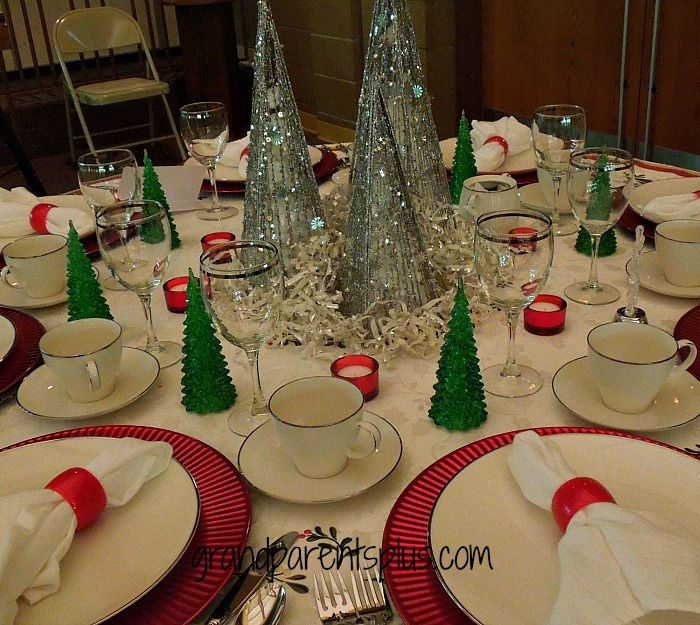 A lovely table setting, which is atypical for Christmas, highlights Paris in a pink and black color combination! The Eiffle Tower looks like a Christmas tree!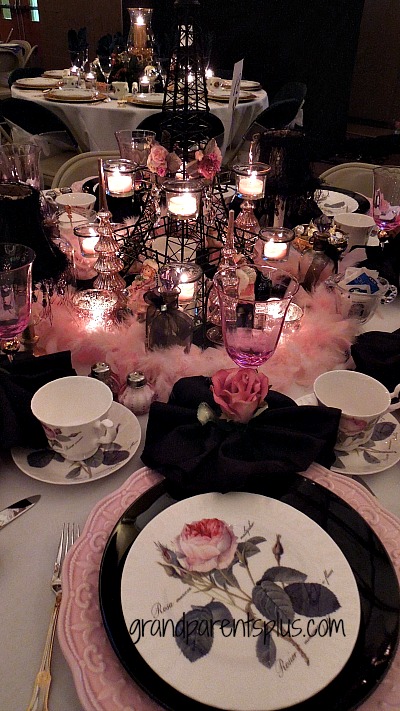 A color combination of blue, black, grey, silver and white accents this Christmas Table Setting!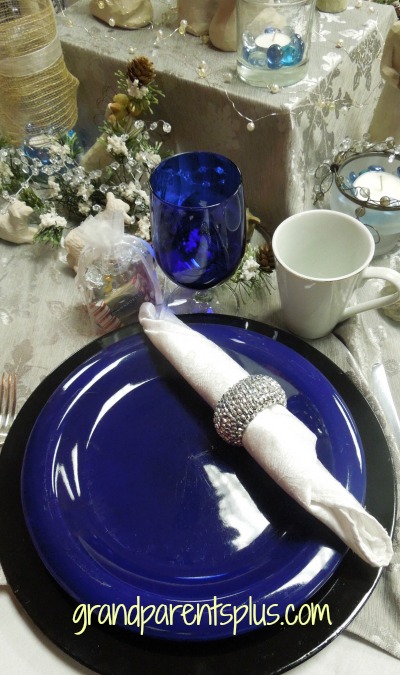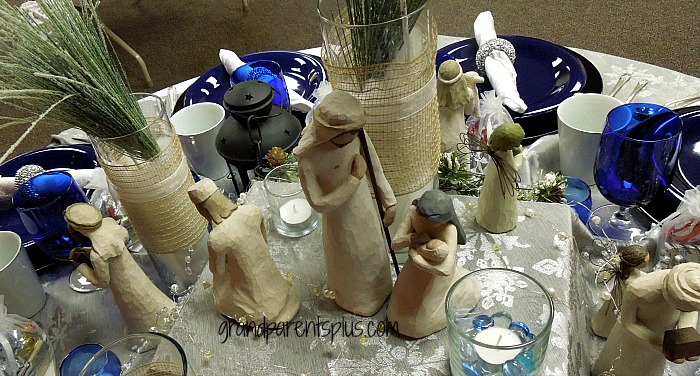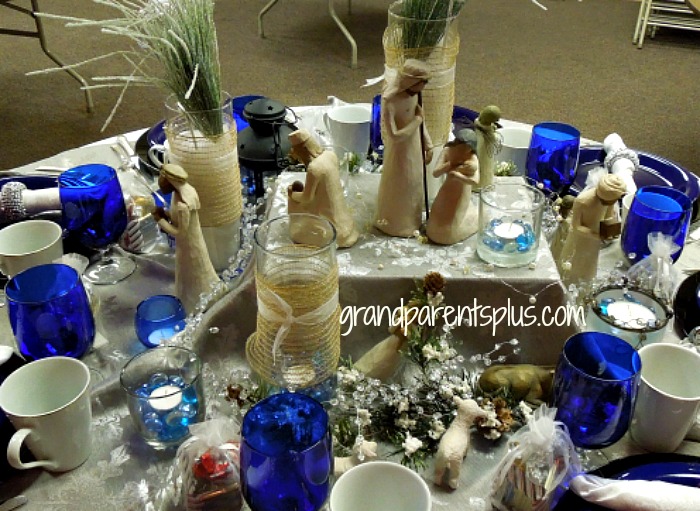 There are a lot more Christmas Table Settings  to come in another post!
Did you find some inspiration for your table?
Hope you enjoyed the Christmas Table Settings Part 1!
Phyllis
For notification of future posts, subscribe, follow on Pinterest or Bloglovin!
This post is linked to the following parties….
Pin It