Crock Pot Orange Pork
Two ingredients added to pork? Really?
Yes! Just add orange soda and soy sauce!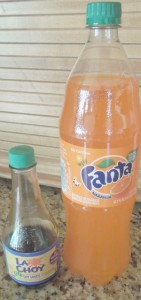 Who could guess that such an odd combination could make such a tasty main dish?
I would never think to put orange soda and soy sauce together! I read a recipe for chicken made this way long ago and placed it in my files. Just recently I came across it and decided I had to give it a try.  I had boneless pork chops thawed so instead of chicken, I decided to try it with pork.

Ingredients:
1  – 1/2 lbs. boneless pork

1/2 cup Soy Sauce ( I used lite sodium and gluten-free)
1 can ( 12 oz.) orange soda (I used Fanta because it is caffeine free)
Place all ingredients in a crock pot and let cook on low for 5 hours
The first time I made this, I served the pork chops over rice and thickened the juices with flour for gravy. For gluten-free, use cornstarch to thicken the juices.

The second time I made this orange pork,  I broke apart the meat after cooking for 5 hours, I thickened the juices with flour, and cooked for another 1/2 hr. I like this way the best!  Serve over rice or noodles. It was like a pork stroganoff.

You probably know this, but be sure to put flour in cold water, mix together, and then add to the crock pot. Just adding flour to a hot mixture makes lumps.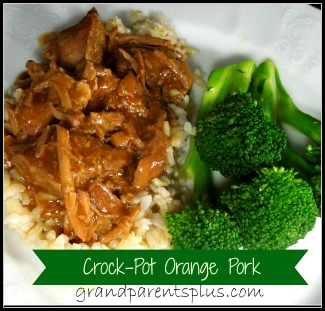 Next time you want a simple two ingredient crock pot dish, try Orange Pork or Orange Chicken.  Optional items to include are sautéed mushrooms, onions or frozen peas ( added at the end). With this easy dish, there is very little time spent in preparation! Dinner made easy, right?
Phyllis (Oma)
Linked to the following parties……
Featured on……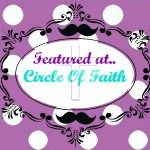 Pin It