Easter Cross Centerpiece
Here's an easy to make, meaningful Easter Cross Centerpiece.  By displaying it in your home, it is  a daily reminder of what Easter is really about to your family and guests in your home.  Now, I'm not against bunnies (they're so cute) or chicks, etc., but I do try to have some decorations that focus on the real meaning of Easter. This is a simple one to do.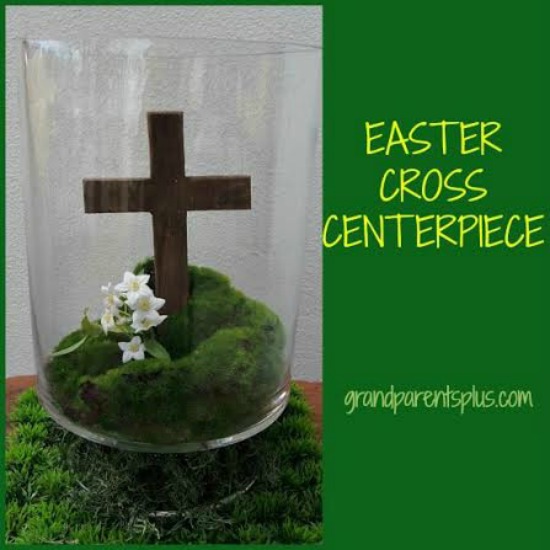 The Easter Cross Centerpiece is easily varied to whatever size glass cylinder you have. You just need to  get your hand down in it to arrange properly. My glass cylinder measured 9 1/2 inches high and 7 1/4 inches diameter. I found the wooden cross at Michael's. It was the right size for this glass cylinder. Making a cross out of twigs or  small pieces of wood works, too, if you're doing a smaller version.
Materials:
Glass cylinder ( this could be rectangle, too)
Moss circle 8 inches in diameter (found at Michael's)   Substitute any other moss or grass
Small white lily-like flowers
Bottle Cap
Wooden Cross – mine measured 8 x 4 1/2
Brown Acrylic Paint or stain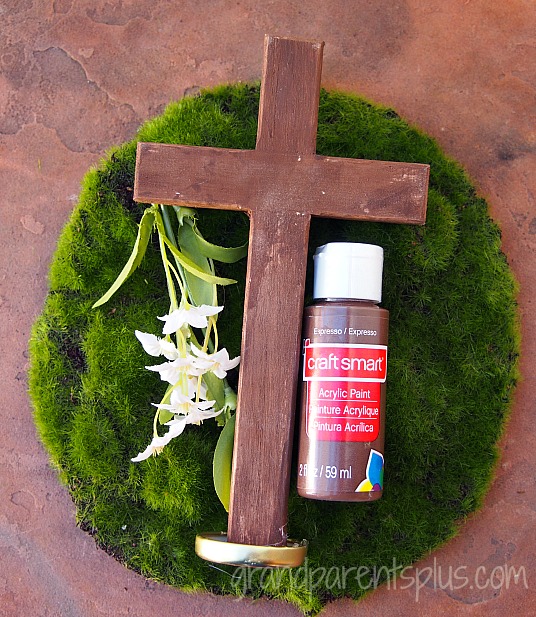 The cross is something that kids can help to make. Let them paint or rub on the brown color. I didn't want the cross to look so perfect so I rubbed the acrylic paint on it to make it look distressed.
Because I use this cylinder at for other arrangements, I didn't want the cross to be permanently glued to the glass. Instead, I found a small lid and hot-glued the cross to the flat lid.  This would enable it to stand up.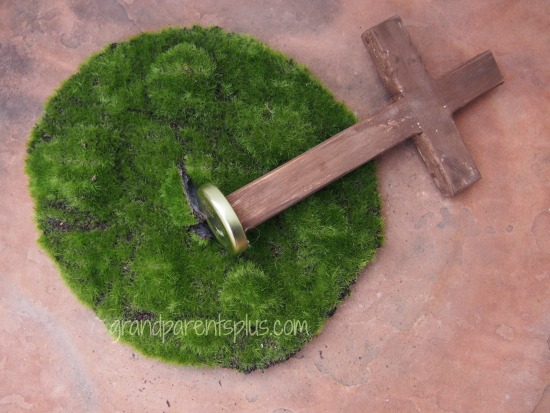 Make an "X" cut in the middle of the moss circle. Fit the bottom of the cross through the "x".
Now the glass cylinder is 7 1/4 inches in diameter and the moss circle is 8 inches in diameter. I didn't want to cut it down and liked that it bunched up in the middle and  made it look like a hill. It supported the cross as well.  Fit the moss with the cross into the cylinder.
It fit so nice and tight that I didn't have to attach it in any way. When you have it arranged, place the small white flowers at the base of the cross.
That's it! You're ready to display your centerpiece in the middle of your Easter table with candles on either side or use as a coffee table display.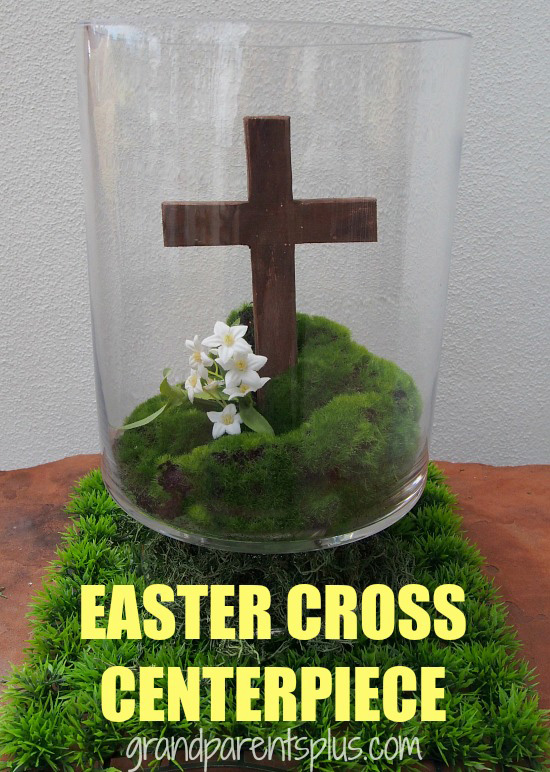 Remember, Easter is about Jesus!
"For God so loved the world that he gave his one and only Son, that whoever believes in him shall not perish but have  eternal life." John 3:16 NIV

"Salvation is found in no one else, for there is no other name under heaven given to mankind by which we must be saved." Acts 4:12 NIV
Have a Blessed Easter!
Phyllis
Subscribe on the sidebar so you don't miss future posts!
Follow on Pinterest and Bloglovin, too!
This post is linked to many of the following parties…….
Pin It