Easy Valentine Crafts for Kids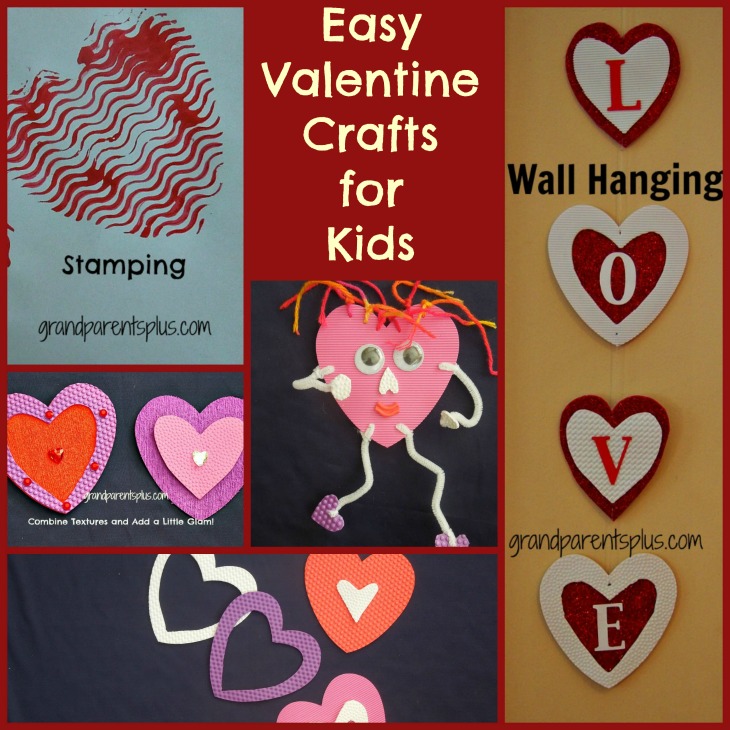 The following " Easy Valentine Crafts for Kids" all come from one package of materials!  The list of ideas could go on and on, but I will focus on 7!  Some are easy for preschool and some need more skill with the help of an adult.
I found this package at a Michael's Craft Store. In it were 18 pieces all large foam hearts with 6 different textures. It is called Text-ur Foam. It retailed for $3.95 and I got at least 7 different projects from one package. What is unique about this material is that it has "texture" as the name says! They look 3D!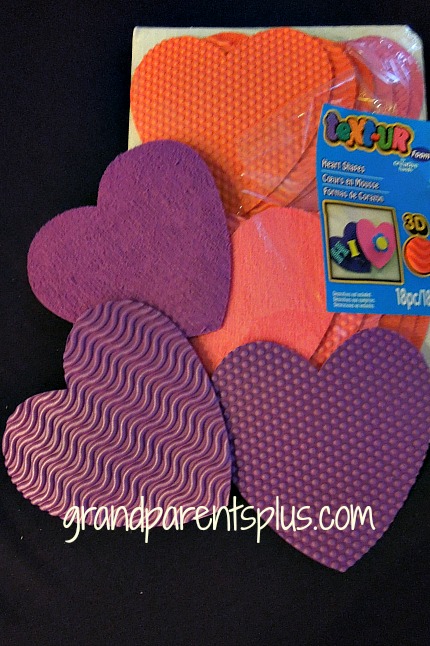 The colors included: purple, pink, red, and white!
Here are some fun things to do with these materials…..
1.  Stamping – Great for preschoolers!
With such fun textures, cut smaller valentines from the larger ones and apply a "handle" and let them stamp away! Good handles include large legos, bottle caps and jar lids. The stamps wash off and are usable again.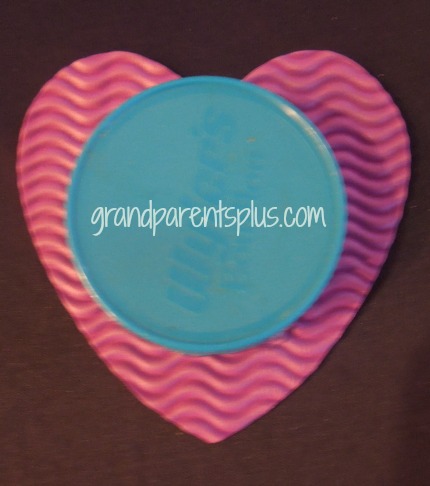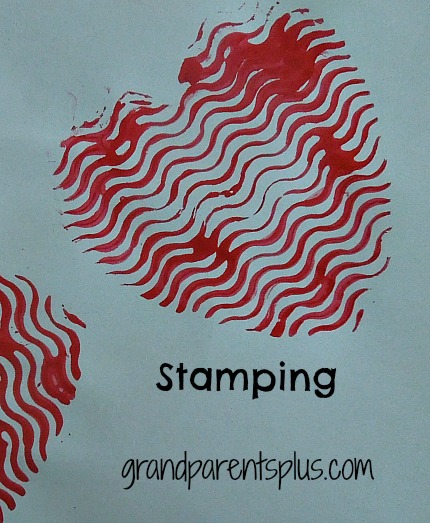 2. Crayon Rubbings – Great for preschoolers!
For younger kids, tape the hearts to the table and tape the paper over the textured hearts. Use a thick crayon and let them discover the patterns.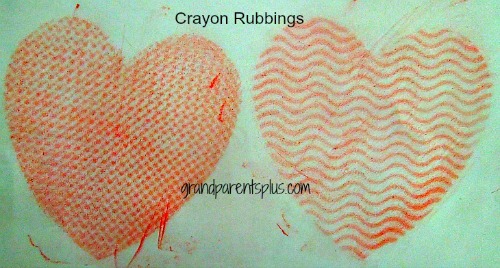 Cut the rubbings out and make Valentine Cards for loved ones.
3.  Combining Hearts to Hang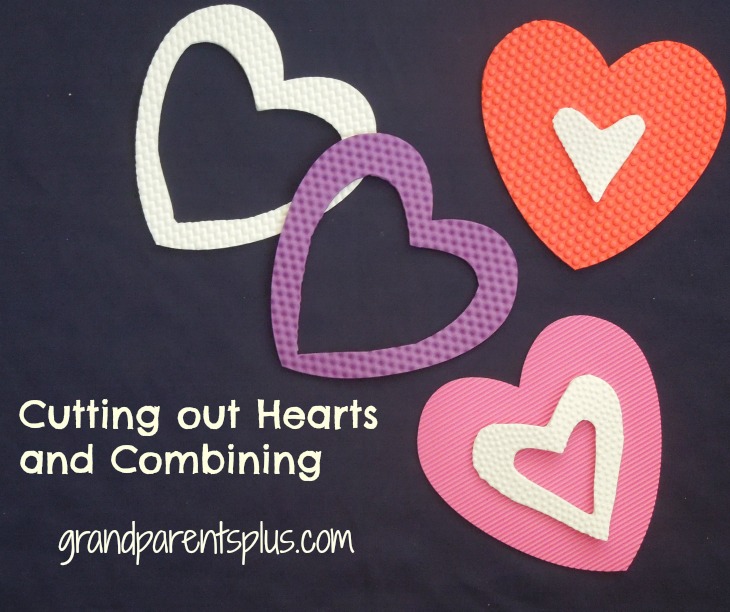 Cut out smaller hearts from the big ones and glue together or hang individually. The foam is easy to bend, trace a half-heart and cut out the design out. (Adults may have to help young children with the tracing and cutting.) Hang on light fixtures or from the ceiling in their rooms. Add sparkles and sequins to glam them up! Both sides can be decorated!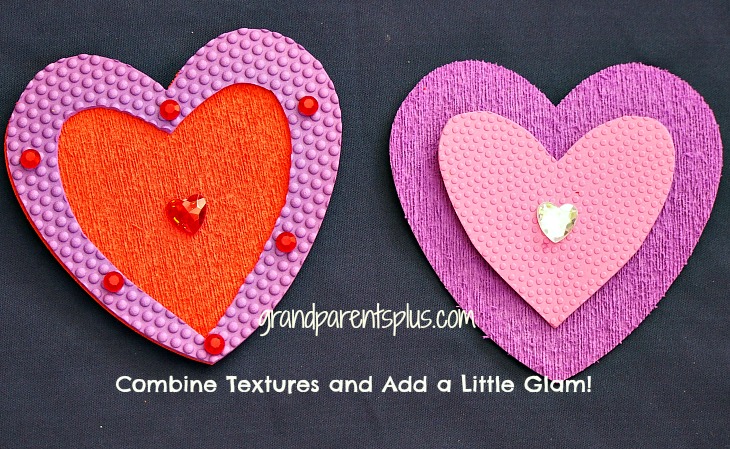 4. Make a wall hanging
Combine with sparkle foam or combine the colors and textures of the hearts together to create a wall hanging. Tie together with ribbon or fishing line. Use a nail or toothpick to punch holes in the foam hearts to string together.

Add some foam letters or use a cutting machine to make the letters.
5. Valentine Creatures
These Text-ur Foam Hearts make great creatures!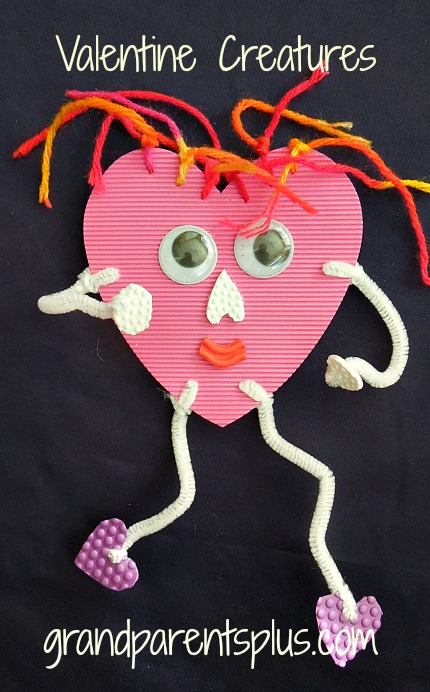 With the foam, you can make a hole using a toothpick and thread yarn through for the hair. The arms and legs are pipe cleaners. They are able to poke right through easily. Just twist and they will stay! Use these as puppets or hang from the light fixtures or bulletin boards in kids' rooms.
6. Valentine Butterflies or Bugs
The texture on this butterfly gives it a great look!  Let kids get creative and make their own butterflies and bugs. I added a few heart foam stickers for the body and wings. The antennae is a pipe cleaner.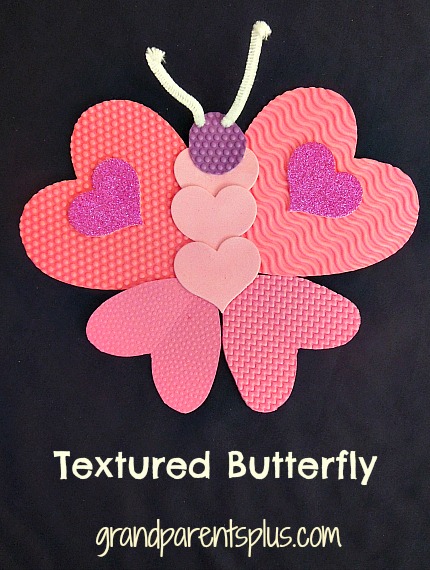 As I said, all the above Easy Valentine Crafts for Kids were made from one package of Text-ur foam! I still have this much left…..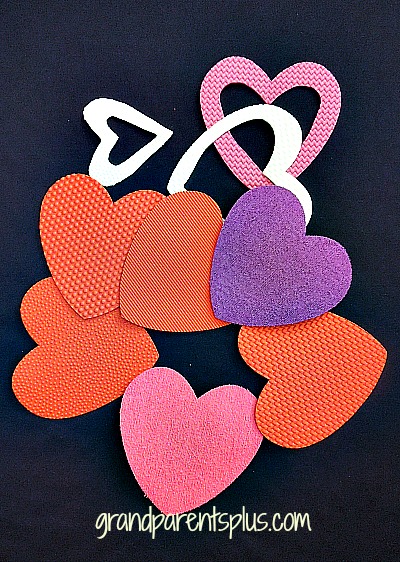 These projects are

inexpensive

!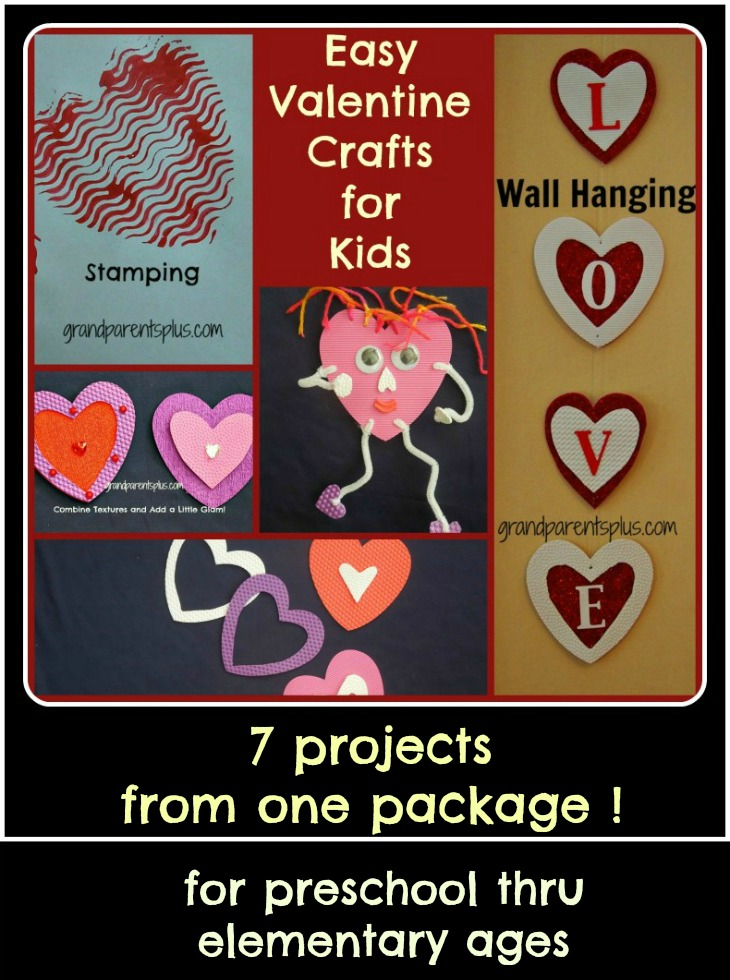 Just imagine the other project ideas  such as: Valentine wreaths, animals and picture frames, etc.!
Have fun! Hope I've inspired you for some Easy Valentine Crafts for Kids – all from one package of "Text-ur foam"!

Thanks for stopping by,
Phyllis
Be sure to subscribe to future posts!
This post is linked to the following parties……
Pin It