Fresh Blueberry or Strawberry Pie (No bake)
Yum! A favorite of mine!
Fresh Blueberry or Strawberry Pie
(No bake)
When berries are in season, I love to make a fresh blueberry or strawberry pie! This recipe (which was handed down from my mother) is for a no-bake pie.  I have no idea where it originated, but grew up loving it and have made it all my married life for my own family! I like it when the berries stay whole and the blueberry or strawberry sauce gently coats each luscious, plump berry. Add whip cream or ice cream and you have a fabulous dessert!
The crust is a cookie-like crust and goes so well with a fresh blueberry or strawberry pie. I like it better than a graham cracker crust. You mix this crust right in the glass pie pan. No need to dirty another dish!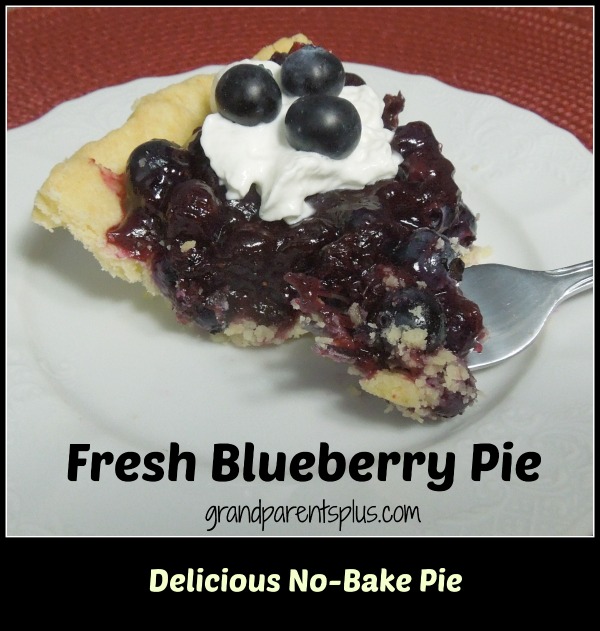 Crust Ingredients:
1   1/2 cup of flour
1   1/2 tsp. sugar
1 tsp. salt
1/2 cup vegetable oil + 2 Tbsp. milk – beat together
Crust Directions:
Add flour, sugar and salt into an ungreased 9 inch glass pie pan.( I always use a glass pie pan for all my pies! Your pies turn out better!)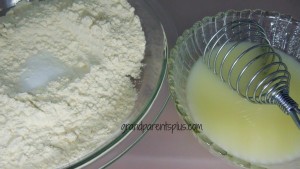 Whip vegetable oil and milk together and add to dry mixture in the glass pie pan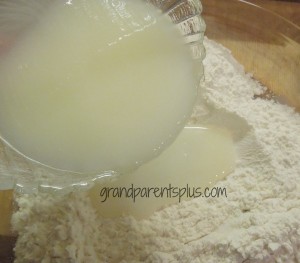 Mix with a fork (the consistency gets like soft playdough) and press mixture with your hands into a pie crust working the outer edges first.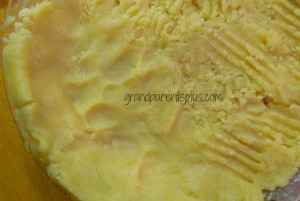 Prick pie crust with a fork  and bake @350 degrees for 15-20 minutes (this will stay very light in color)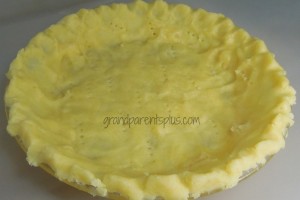 Let crust cool completely!
Blueberry Filling:
 Ingredients:
2 and 1/2 pints of fresh blueberries:     Rinse 1 dry pint of blueberries and shake water off. This is for the blueberry sauce.  Rinse off the other  1   1/2 pints of blueberries and let dry. (Save for pie)
1 dry pint of blueberries , rinsed

1 cup sugar
3 Tbsp cornstarch
Juice of one lemon  (approx. 3 tbsp of lemon juice if using bottled juice)
Directions:
Add 1 pint of washed semi-dry blueberries to a saucepan.

Add 1 cup of sugar, 3 Tbsp. of cornstarch and juice of a lemon.  Stir before placing on the burner.
With saucepan on the burner,  stir until bubbly and thickened. Be sure to stir vigorously and lower heat so it doesn't burn on the bottom! Use a double boiler if you can't stir it constantly! (Using a double boiler takes a lot longer, however.)

Cool thickened blueberry sauce until just slightly warm to the touch. (not hot)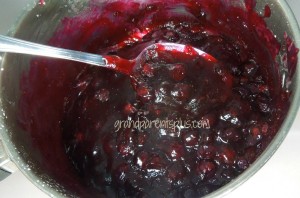 Place 1 -1/2 pints of berries into the cooled pie crust. Spoon blueberry mixture over the berries, slightly moving them so mixture covers the berries. Refrigerate until set for at least 3 hours.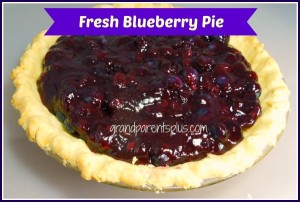 Serve with whip cream or ice cream!
Strawberry Pie – Please note one important difference!
This same recipe works with strawberries. Use the same ingredients, but just substitute strawberries  Be sure the strawberries are dry when placing them in the pie shell! (Note one important difference!) Use only 1 dry pint of strawberries for the cooked glaze. Strawberries come in quarts and not pints so be careful not to use the quart of strawberries for the sauce.  I always save a pint box so I can measure that amount of whole berries. If you use more, the glaze will be too runny! You can tell how old this recipe is because I remember as a kid that strawberries always came in a green plastic pint boxes or sometimes wooden boxes. (Maybe you can tell my age, too) The recipe says "1 box"of strawberries and if you use the quart, it won't turn out! Remember to adjust!!!

This makes a great 4th of July recipe, too! Make it red, white and blue by topping the blueberry pie with a strawberry or add a few blueberries to the strawberry pie! (Note: By adding strawberries to the blueberry pie, they don't show up very well with the blueberry coating)

Whether strawberry or blueberry, this pie is delicious!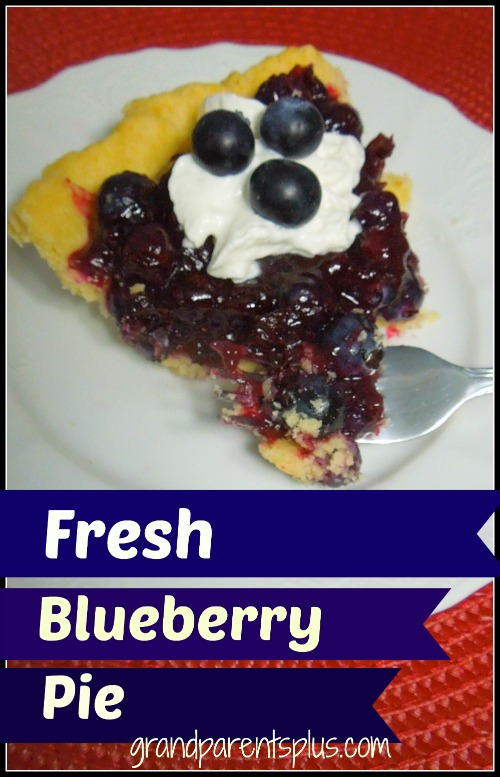 Enjoy!
Phyllis (Oma)
I invite you to subscribe to this blog, along with following on Pinterest and Bloglovin'
You'll find this post linked to the following parties….

Pin It