Hosta Haven
I enjoy sitting on my front porch in the morning gazing at my Hosta garden. I call it my little "Hosta Haven" as it is so relaxing with the multitude of textures and shades of green! There's not much else I can grow in this spot between the pine trees. It is very shaded with lots of roots from all the trees. Pine needles, from the White Pines, create a needle bed under the plants. At first, I thought they would never grow in such soil, but they find a spot and thrive among all those gnarly roots! They're tough and seem to like the acid pine needles!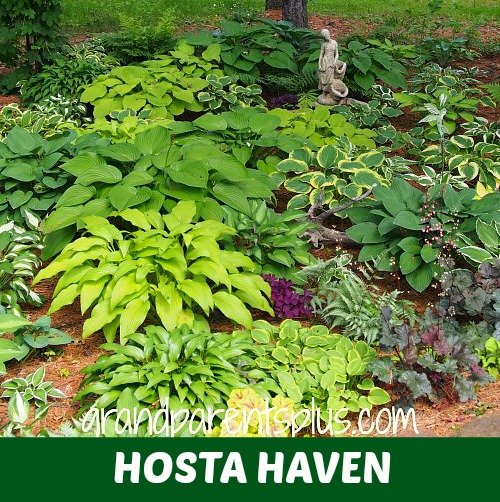 Scattered through the hosta are a few little pieces I've found to highlight the garden.  Of course, I have a windmill. Found it at a yard sale! Being of Dutch heritage, it fits perfectly!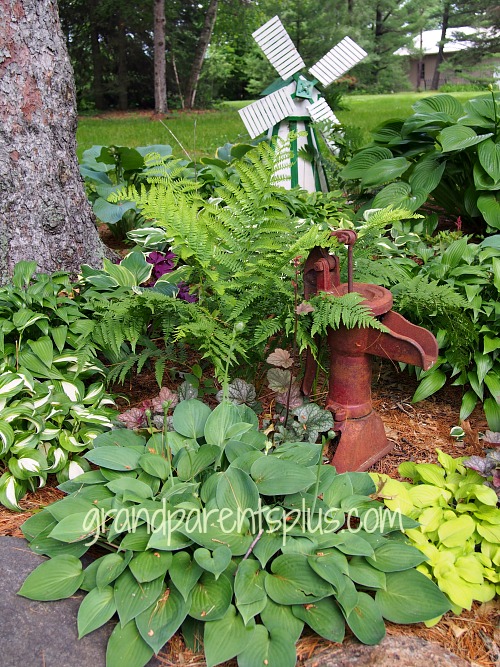 A few large rocks for interest….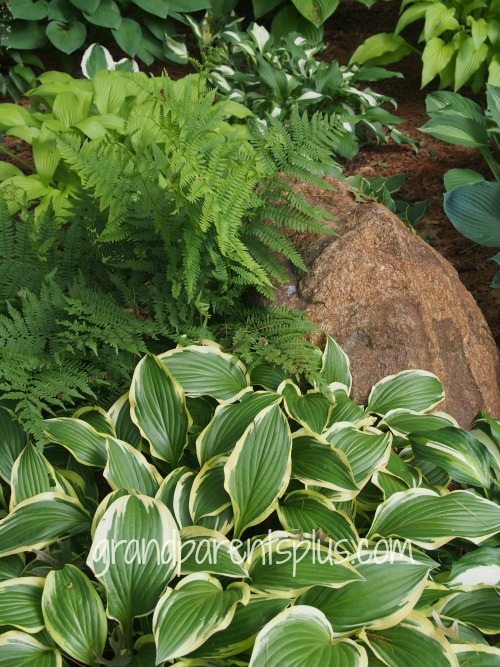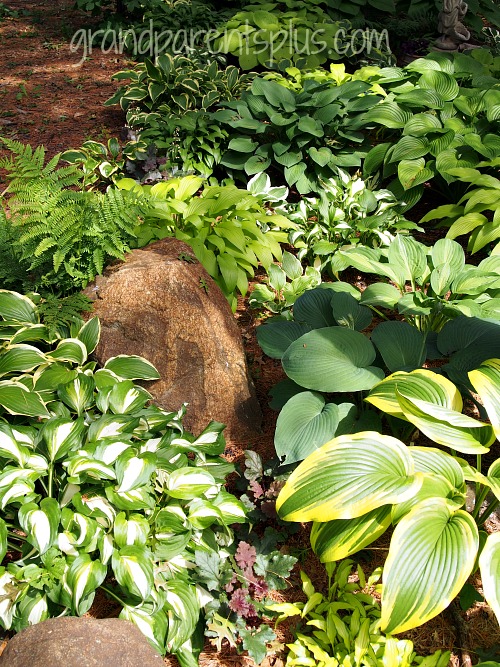 The different shades of green change with the sun throughout the day.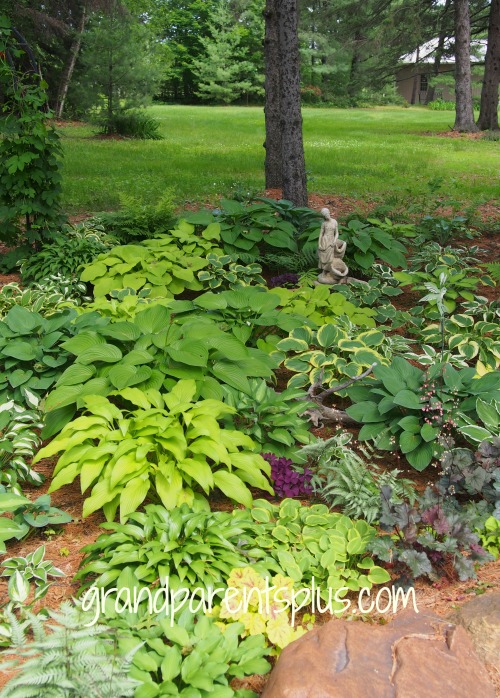 Each year it gets better and better as they mature and fill in little open spaces. Sprinkled in are Huchera, ferns, and a few other shade loving plants. I try to mix color, texture and size.
This grouping is right next to my front porch. I like the gradual decrease of sizes. The large hosta in back are Montana, next is Chiquita, Christmas Tree and finally Kabitan.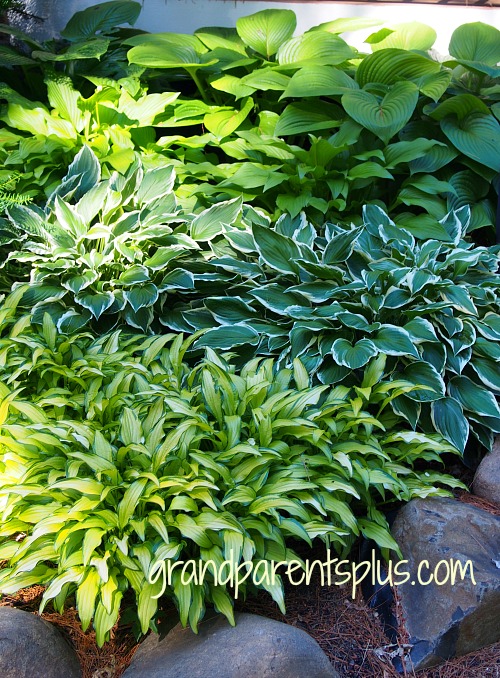 From the front porch, there are Guacamole Hosta, Red Salvia and Stella-de-Oro Daylillies .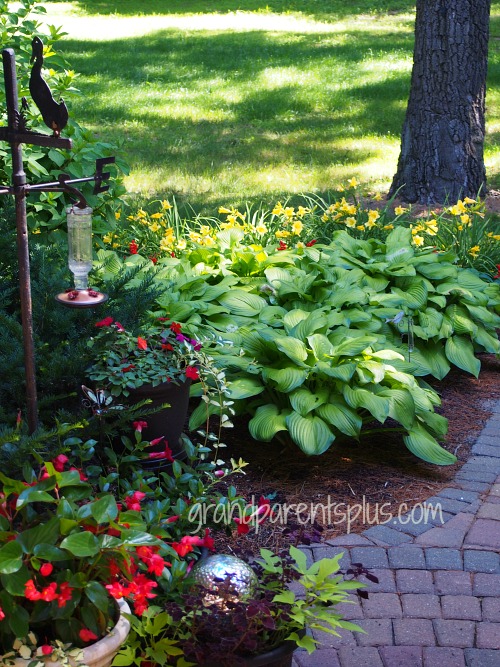 Coral bells, so delicate, against the hosta.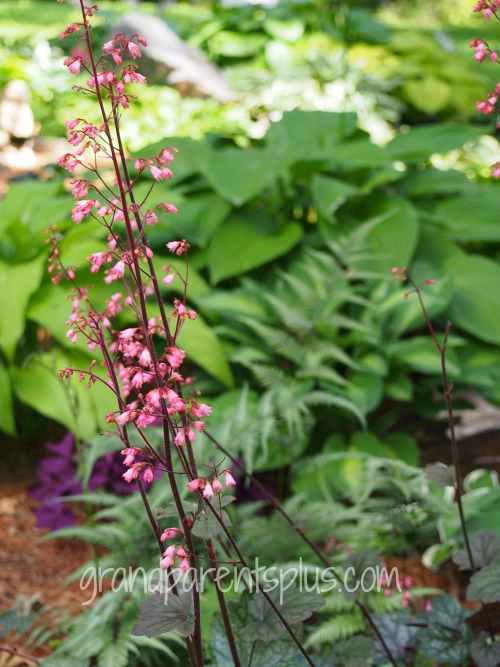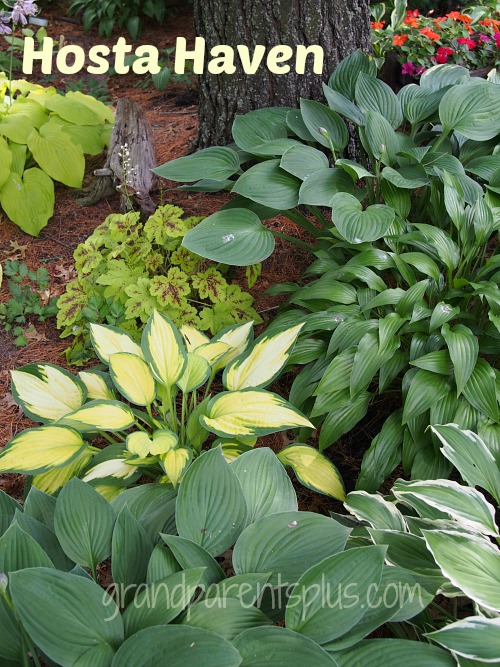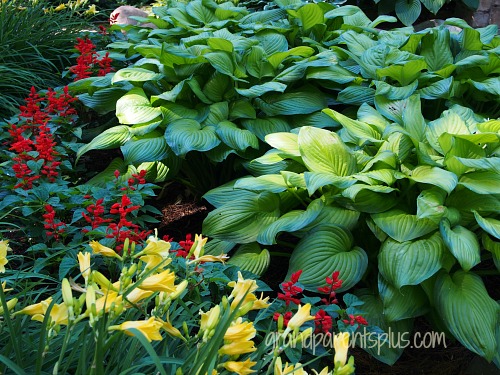 Throwing in a bit of color, with Impatients planted in a little cart, gives a striking contrast.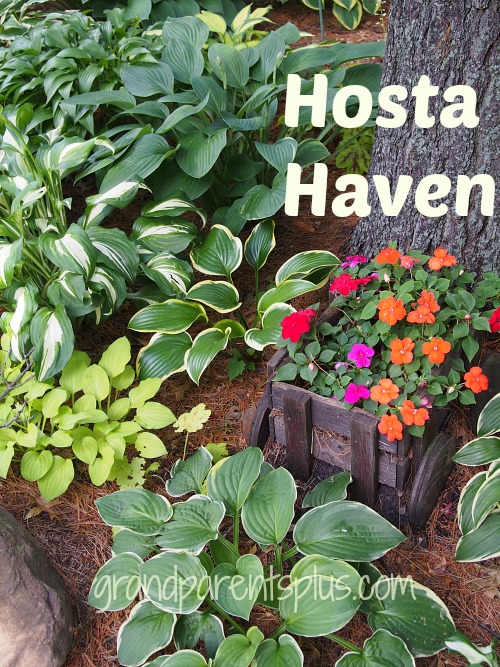 Even my little turtle enjoys the view!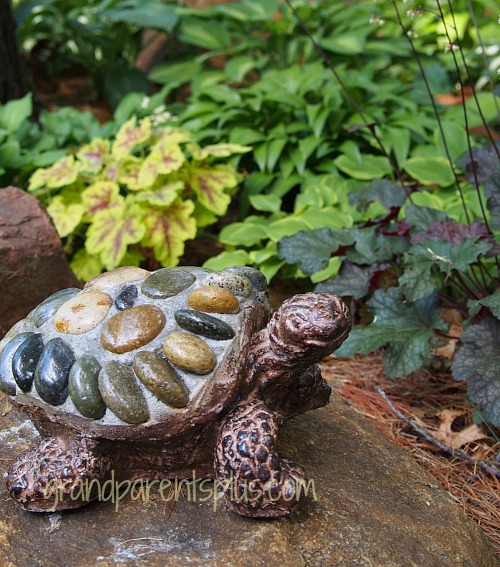 I like to divide my plants in the Spring just as they are coming up. That way, they never look like they've been touched. It is hard to distinguish one from another so in the fall, I place a red plastic knife beside the plants I intend to divide and write the name of the plant on the knife (both top and bottom). In the spring, I know exactly which ones to divide and what variety I have!
Hope you enjoyed my "Hosta Haven" tour. I have some hosta around a tree in the back, but this year the deer ate them all! I didn't get my Coyote Urine ( yes, gross!) deterrent on fast enough! Ugh!
How is your garden growing?
Phyllis
By subscribing on the sidebar, you won't miss future posts! Thanks!
Follow on Pinterest and Bloglovin, too!
This post is linked to many of the following parties…..
Pin It