My Bluebird Story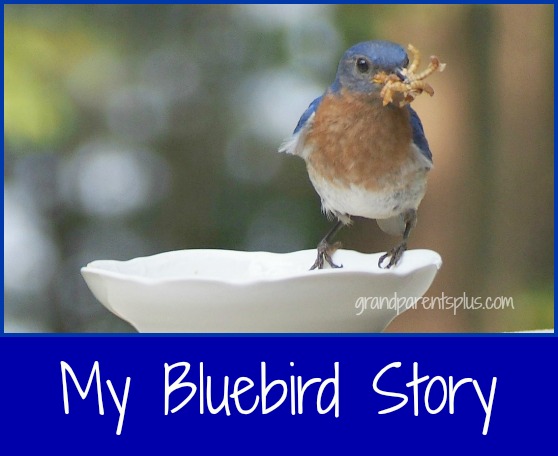 Over Memorial Day weekend, we noticed that there was a lot of Bluebird singing going on. It was pretty to hear, but didn't know the reason for it. The next morning we saw a bluebird sitting on the edge of my baker's rack right on our back deck. This baker's rack is under an overhang and I have decorative items displayed on it. I usually have some plants there,  but that was one of the projects that wasn't finished, yet.
On the top shelf, there's a cute decorative birdhouse with a heart-shaped opening. It has been there for a few years.  Upon looking inside the birdhouse, I found that there was the beginning of a nest! This certainly isn't the ideal spot for a nest. We have an outside cat and an occasional raccoon rambling by. This female must have had a creative streak in her because she certainly settled for "cute" rather than "location, location, location"!
The female was persistent and laid six eggs in her new home. My husband was afraid that a strong wind would blow it off the rack so he secured it on the edge making it so that the cat didn't have a place to sit and reach in. We, also, limited our use of the deck by using a different entrance. (Anything for the birds, right?)
Finally, the eggs began to hatch. I had to quickly take pictures while the parents were away getting food.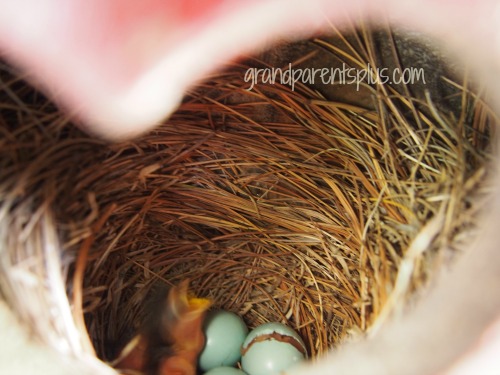 After about  1  1/2 weeks, we noticed that only two survived. Their eyes were not completely opened yet, but the blue feathers are now visible.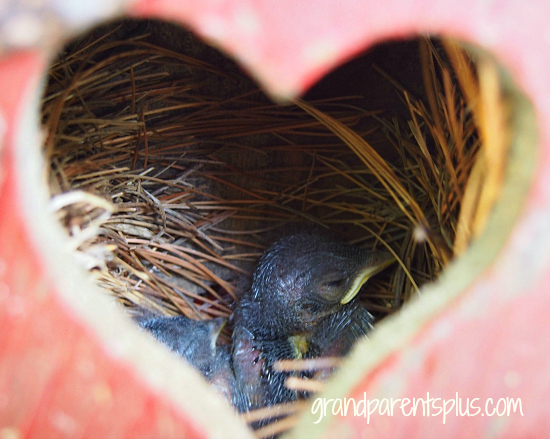 We began reading about these birds and found out that they really like mealworms. Well, where do you find mealworms?
After calling around, we found them. They are not cheap, but anything for our little Bluebirds! After putting them out in a dish, they saw those things and dug right in.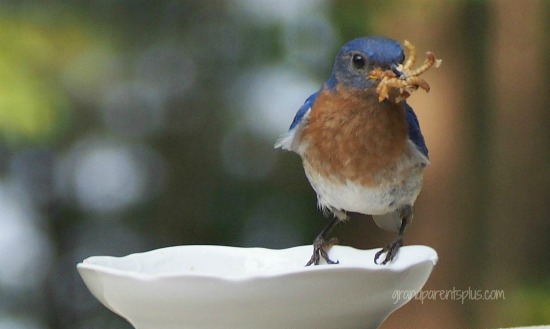 How many worms can a Bluebird hold in its beak?
It was so fun to watch them feed their young with them. They were not selfish about just keeping themselves fed.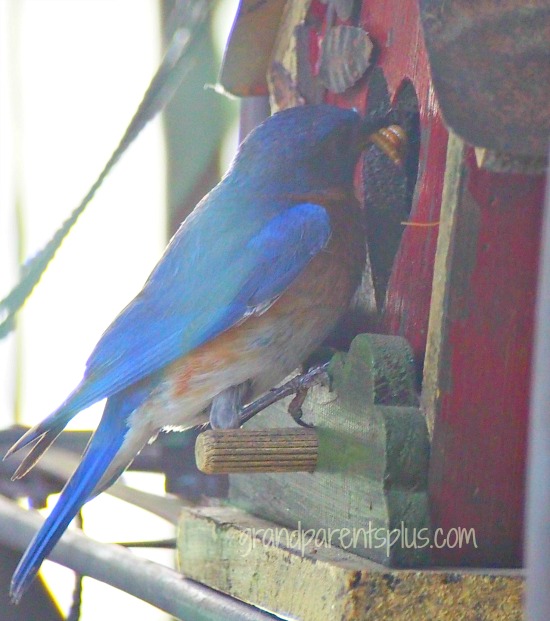 Just near the deck is a White Pine Tree. This is the place where at least one of the birds would guard the nest while the other hunted for food. I caught this picture after they fed their young. It looked like they weren't speaking to each other! Ha!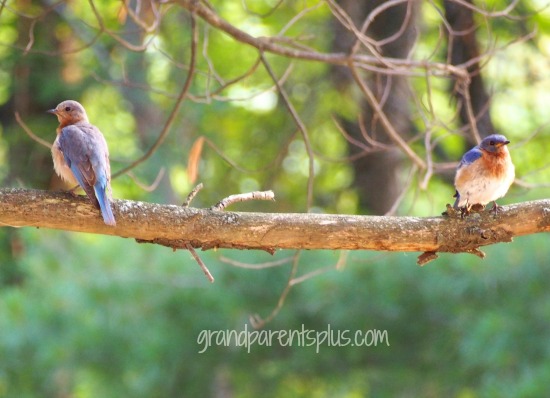 They were growing quickly and when I would go out to take their picture, they crouched down and wouldn't smile for the camera. One morning, I was going to try one more time for their picture, and they were gone! No good-bye or thank you! I did see flutters of blue in the woods. The parents are gone from their watch on the branch, too. I'm sure they are tending to their young and teaching them to find food on their own. It was fun to have them so close, but now we get to use the deck!
And…. that's "My Bluebird Story"! I marvel at God's beautiful creation, don't you?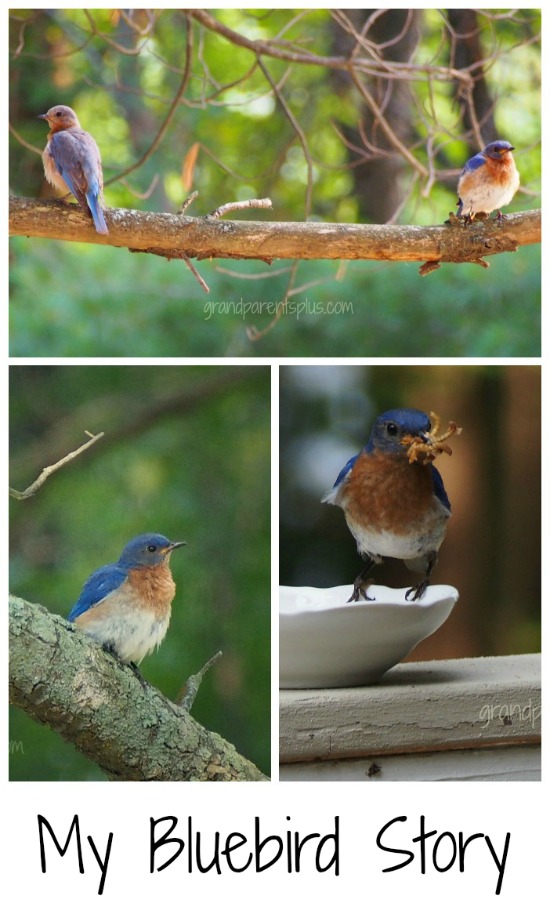 .
Thanks for reading "My Bluebird Story"!
Phyllis
Subscribe on the sidebar and know that your email is never shared or sold!
Follow on Pinterest, too!
Post linked to these parties…….
Pin It