Patriotic Tree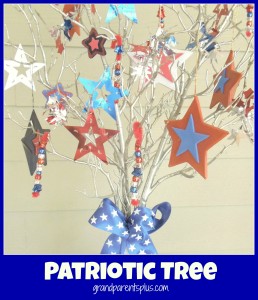 This post is part of the awesome Red White Blue Series over at Sugar Bee Crafts. I am pleased to be a part of this series of wonderful patriotic projects. Thanks to Mandy for including my Patriotic Tree as one of the featured projects. Buzz on over to Sugar Bee Crafts and see all the wonderful projects.
Patriotic Tree
You may have noticed that I have done a few patriotic posts from t-shirts to decorations. Now I'm presenting another one with the Patriotic Tree.
Did you know there are four holidays to use this patriotic craft? Memorial Day, 4th of July, Flag Day and Veteran's Day!  That's maximum use for your patriotic decorations! This tree does not use a "Christmas tree", but uses tree branches or a jewelry tree (which I happened to have and don't use ). Each of the decorations on the tree are easy for kids to make so let them have fun creating this project!
It's OK that every star is different!
Supplies:
Paper Mache' Stars (cost 67 cents) I found these on sale for 40% off!! Yea!
Star Beads with red, silver, and blue beads (these came together in one package)
Pipe cleaners
Small wooden stars (optional)
Foam sticker stars (optional)
Glitter, garland pieces and other patriotic decorations (ribbons & bows?)

Red, White & Blue Paint or colored markers for the wooden stars
Directions:
Paint stars or color with markers (both sides).  When dry, adhere decorations or foam stickers on the flat back side of the mache' stars.  Use glitter on top side or leave plain.
Decorate small stars with stickers, glitter or paint.

String beads on pipe cleaners  (Turn end over to secure beads and make a hook-like end for hanging) This is easy enough for a preschooler to do!

Use small pieces of patriotic garland for decorating the tree, too!
Find branches (no leaves),  place in a vase, and decorate with patriotic ornaments. Branches also look good painted white or silver!
This is my jewelry tree that worked well, too!

From small kids to adults, anyone can make something to add to this tree!
Have a great holiday!
Phyllis (Oma)
Love to have you subscribe for notices on my new posts!
Follow on Pinterest or Bloglovin'!
This post is linked to the following sites……..
Post is featured on…
.
Pin It