Purple Wedding Shower
The color of purple has become very popular this year. I really like all the beautiful shades of purple. Another niece is getting married and the bridesmaid dresses are purple so I gave a Purple Wedding Shower on her behalf! This was my second wedding shower to give within a month's time!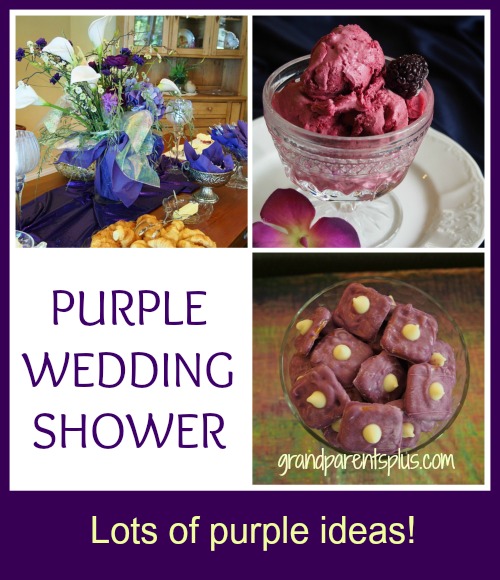 As I got into planning, the  purple ideas kept coming. Here's the list of purple things I did….
Purple Corsage:
Three artificial pansies with a few greens and a purple tulle ribbon made a cute corsage for the bride to-be. I couldn't find my floral tape, so I hot glued the pieces together and it worked!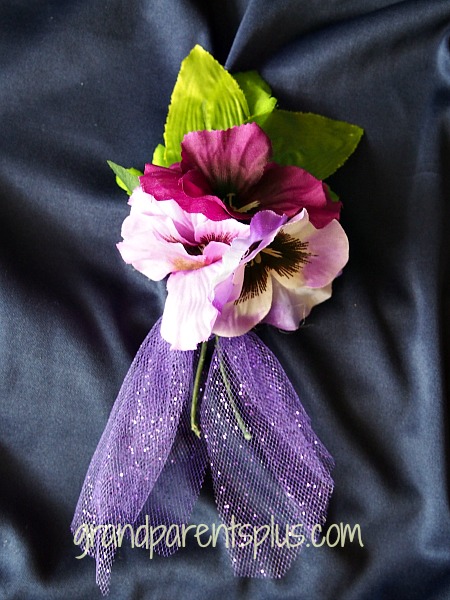 Purple Centerpiece:
I can't take credit for this beautiful centerpiece as I borrowed it from a friend. It was a gorgeous addition to my table. On either side, I had glass candle holders. They're quite large so they complimented the size of the centerpiece.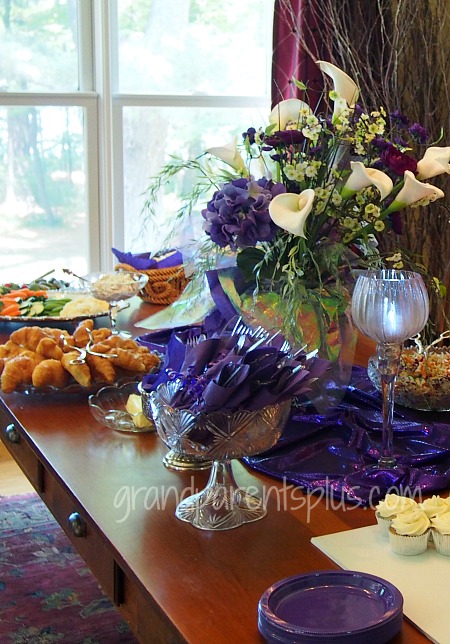 Purple Candies:
These were so quick and easy to do! I used square pretzels and dipped them in lavender candy melts (Wilton). They looked a bit plain so I added a white chocolate chip in the middle.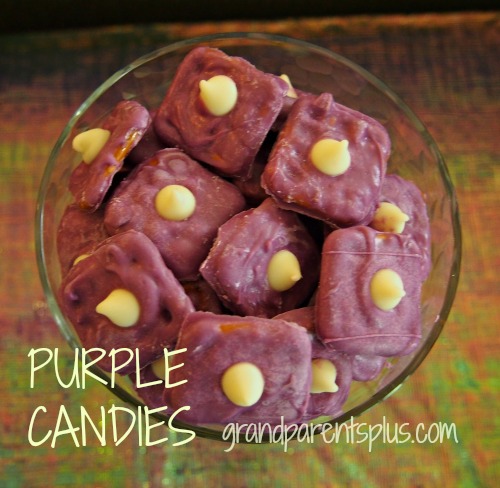 I also had purple salt-water taffy. At the grocery store, they had bulk taffy and I stood there and picked out the purple ones. No prep on this one!
Purple Punch:
This was a non-alcohol lunch so I took the recipe of my Holiday Punch and changed it by using blackberry juice! I tested it out, first, and it tasted good so it worked!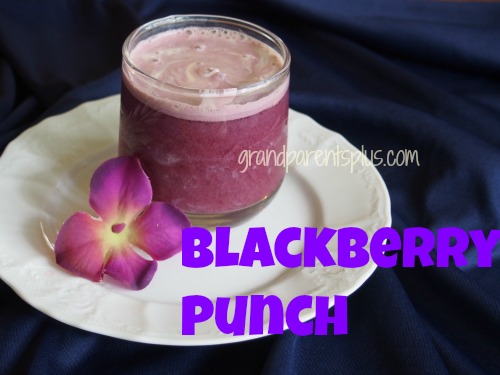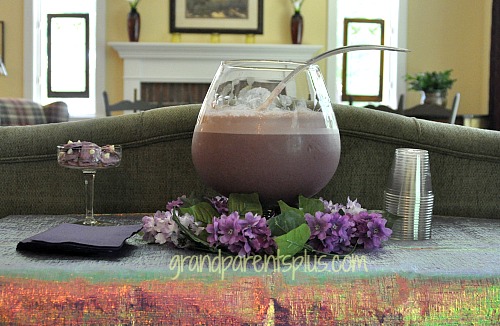 Cake:
For the bride-dress cake, I used a white cake mix to make the cupcakes. You've probably noticed this Wedding Dress Cake on Pinterest. It is pretty easy to do. When I first did this for a shower, I was really worried it wouldn't turn out as I've never done any cake decorating before! The link to a great video tutorial is on Youtube.

OK, you may wonder if I served a purple cake. Well, I didn't think the entire cupcake would look good colored purple so I took a little batter out (a half cup or so) and used the cake icing colors of red and blue until I got a shade of purple and added it to the small bowl of batter. When filling the cupcakes, I put a teaspoon of white batter and then added a teaspoon of purple batter and then finished with white batter. I used a toothpick to swirl the two colors together (don't mix too much) and got a pretty swirl of purple through the white cupcake. It wasn't noticeable until you opened it up.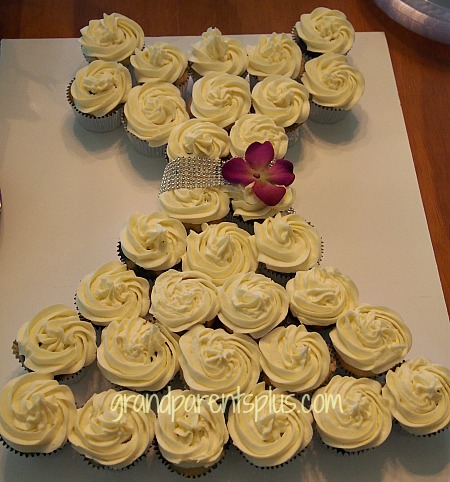 Inside……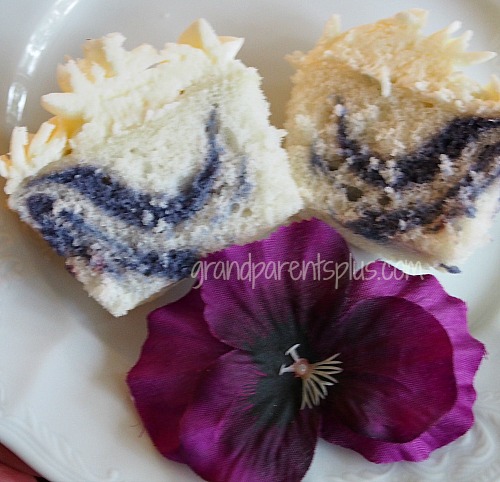 Blackberry Ice Cream (Purple):
What's cake without ice cream?  I researched where to buy some purple ice cream (blackberry or blueberry), but didn't find anything that was local. Also, I didn't have an ice cream churn – another hurdle to overcome. I found a recipe online of a Blackberry Ice Cream that didn't need churning. I had some frozen blackberries and decided it was worth a try. It turned out fantastic!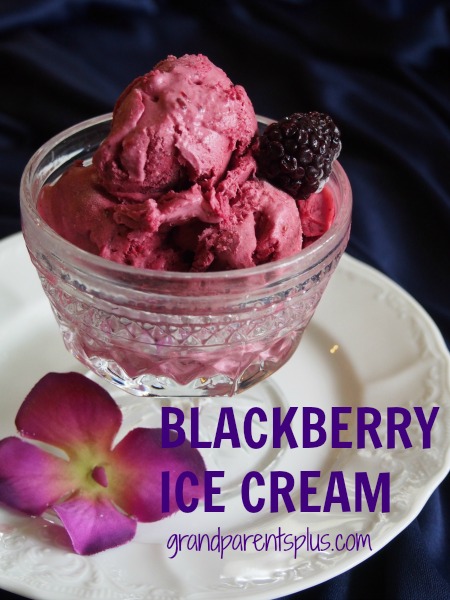 Knife, Fork and Spoon wrapped in a purple napkin….
Just another colorful touch is to wrap the eating utensils in the napkin and tie with a bow. Place them in a bowl and not just on the table. I like to have them at the end so they don't have to hang onto them when dishing up their food.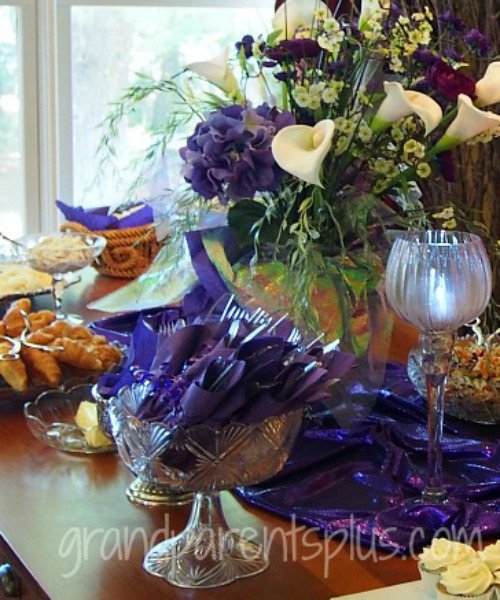 Here is the menu I served….
Oriental Cole Slaw  (with lots of red (purple) cabbage)
Veggie Platter and Dip
Mini-Croissants
Potato Chips
Blackberry Ice Cream and Cupcakes with Buttercream Frosting

While this was a "Purple Wedding Shower", the ideas are easily changeable to any color for any wedding shower or party!
Thanks for stopping by and viewing my Purple Wedding Shower Ideas!
Phyllis
Would you like to be notified of future posts? Subscribe on the sidebar!
Follow on Pinterest and Bloglovin, too!
This post is linked to many of the following parties……
Pin It