Redo a Damaged Frame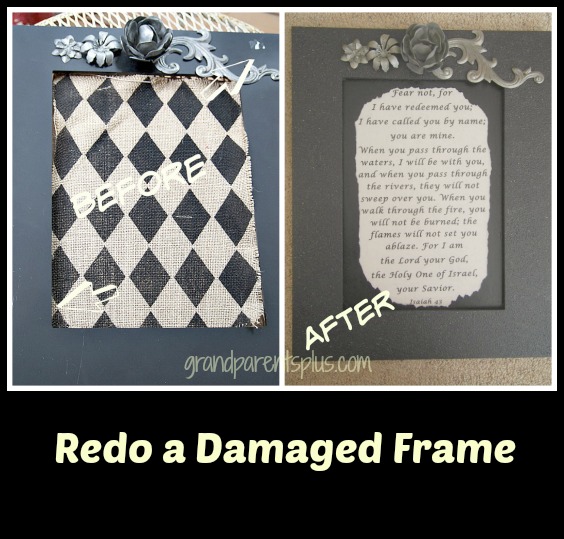 This frame was a bargain for $4.00 at Hobby Lobby! Yes, a real find, but I needed to "Redo a Damaged Frame"  on this one. The frame was unique with some metal work on it, however, the front of the frame was badly damaged along with the ugly burlap for a picture!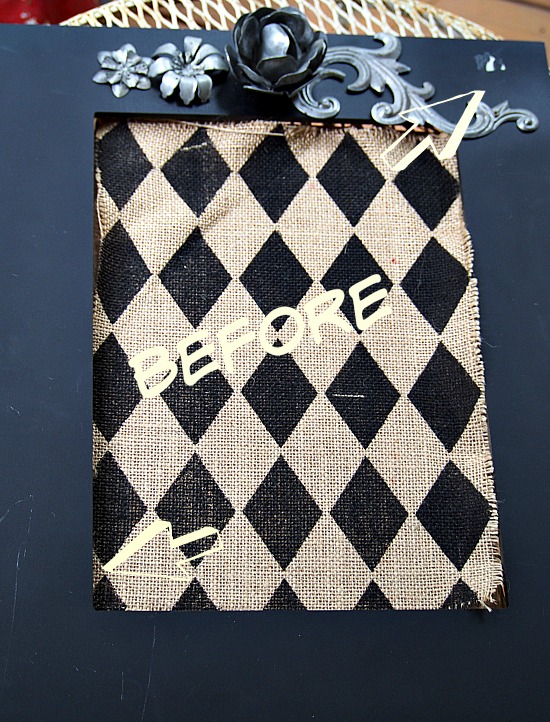 First, it was deeply scratched in several places. Because it is black, it is a bit hard to see. Also, there was a gouge in it where the sticky price tag had been. (along with some residue remaining). Lastly, the ugly printed burlap just didn't do anything for it.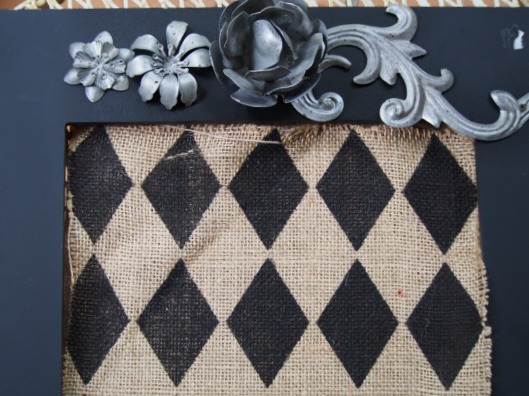 I removed the inside board. The burlap was glued on and tore off quite easily. I sanded it down and spray painted it black. That was easy, so I thought I could do the same with the frame. No problem, right?
Wrong!
After using goo-gone on the sticky stuff, sanding it down, and painting it. I still could see the flaw in the corner. Also, the scratches were very noticeable. I did it a second time and it still wasn't perfect. 
If it wasn't going to get perfect, I thought I'd try to camouflage it by doing a little sponge painting in a slightly lighter shade, but that looked bad! It looked like I was trying to hide something which is just what I was doing.
Finally, I got some black Textured Spray Paint. When I started to cover the metal with tin foil to protect it from the spray, I discovered some little screws and easily took the metal off the frame. That made it so easy to spray it. Just one nice coat of that spray and everything was taken care of. No scrapes, gouges, or mistakes showed through! Yea! Finally, the finish was textured and looked great! 
I decoupaged a verse on the inside board, mounted it, and now it is off to a fundraiser for the Children's Shelter of Cebu. It took a few tries, but now I know how to redo a damaged frame! Next time, I won't need to go through all those steps! Now, after reading this post, you know how to redo a damaged frame, easily, too!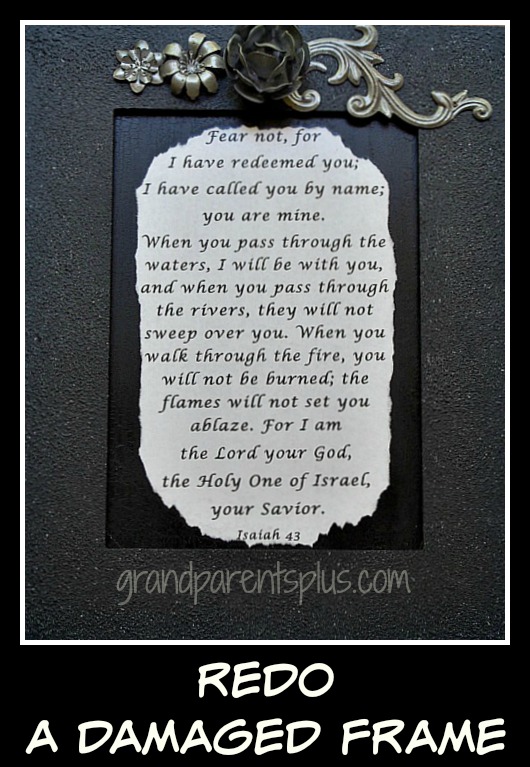 Thanks for stopping by!
Phyllis
So you don't miss a post, subscribe knowing that your email is never shared or sold!
post linked to these parties…