Snowman Gift Bag
This Snowman Gift Bag is a unique way of wrapping any small present. It's a gift that will get noticed for sure! This DIY project is simple enough for kids to make, too! Use it as an art project in the classroom or a fun craft to do at home.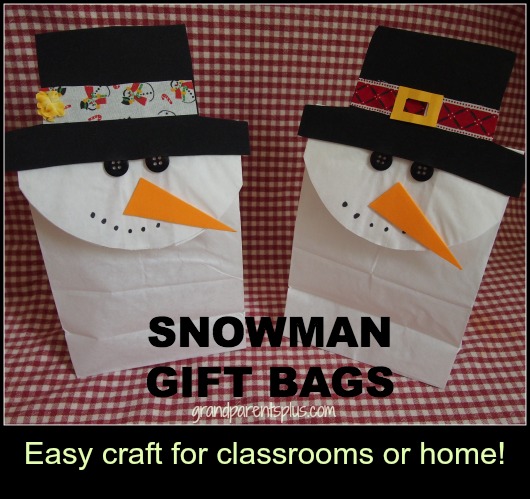 Do you give friends homemade candy at Christmas time? No need to buy those tins! Use these cute Snowman Gift Bags instead!
The materials are inexpensive and easy to find.
Materials:
White bakery bags or white lunch bags (I found these at Walmart next to the brown lunch bags – 50 bags for under $2.00)  The white lunch bags are slightly smaller than the bakery bags, but I'll give you the adjusted sizes for each bag.
Orange and Black Fun Foam or Construction Paper (Fun Foam looks better, but either works)
2 black buttons
1  or 1  1/4 inch wide ribbon any color
1 small flower or yellow construction paper for a buckle (optional)
Permanent Marker or black crayon
Directions:
Fold the bakery bag down 3 1/2 inches. (Lunch bag size – fold down 3 inches) The top of the bag has one side that has a notch in it. Fold that notched side down so it is on the under side of the fold.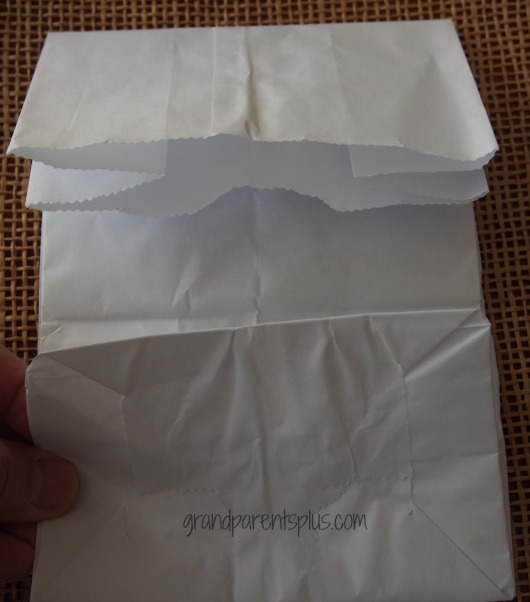 Curve the folded bottom edge to look like the bottom half of a circle.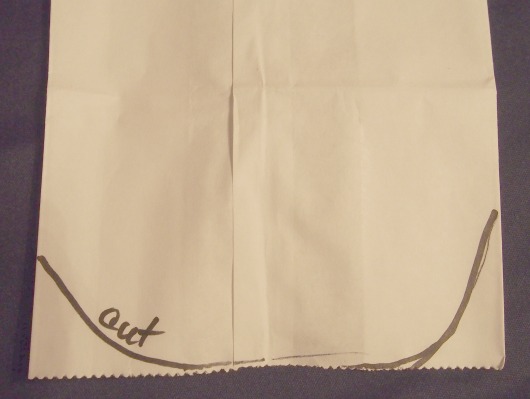 For the hat, cut a black rectangle about 6  3/4 inches wide and  3  1/2 inches tall. (for the bakery bag)  For the lunch bag, make the rectangle about  5  3/4 inches by 3  1/2 inches.
Leave a brim of about 1  1/4 inch.  Cut in about an inch or so to form the top of the hat.
Add ribbon to the hat along with a flower or buckle.
Glue hat on top of the folded part of the bag.

Glue buttons on for eyes or draw black circles.
Add black dots with a permanent marker for the mouth.
Cut an orange triangle for a nose and add last.
Your bag is done!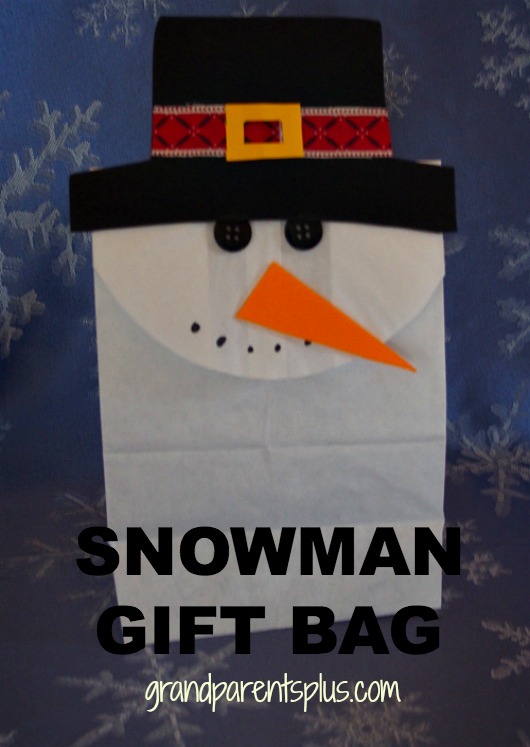 By making templates for the hat and nose, kids can easily handle this craft!  If using for a classroom project, drawing black circles for eyes cuts down on the cost of buttons.

Now, bag your homemade goodies in this cute Snowman Gift Bag and take to a neighbor or relative! These cute bags make great treat bags for a winter party or place a gift in it for a special child.  Whoever receives it, will be delighted!

Enjoy! 
Phyllis
This post is linked to the many of the following parties…..
Pin It