Spaghetti Salad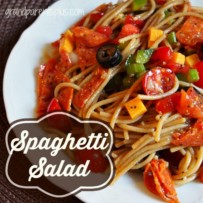 This Spaghetti Salad recipe makes a huge amount. So, if you're making it just for your family, you may want to cut the recipe in half. It is a hearty salad and one which you can add just about anything to it. I'll give lots of optional additions, but you can pick and choose the ones your family will like.
You do need to plan ahead and make this the day before. It needs to be in the refrigerator overnight to soak up all the flavors!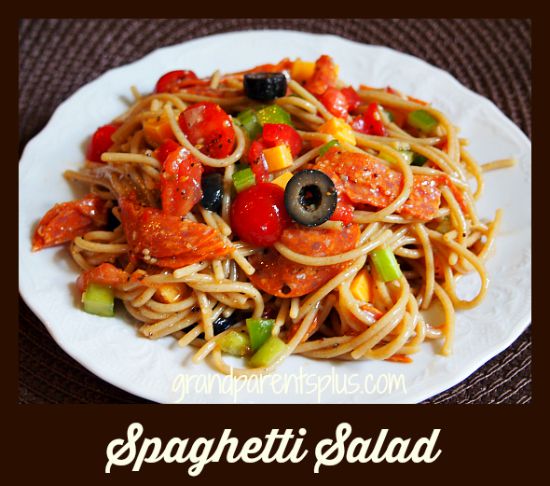 Spaghetti Salad
Prep time:
Cook time:
Total time:
This Spaghetti Salad is hearty and delicious. Lots of ingredients with a zest of Salad Supreme spice.
Ingredients
1 -1 lb. box Spaghetti (regular or whole wheat)
1 16 oz. bottle of Italian Dressing
Red onion chopped fine
2-3 tomatoes, seeded and chopped
McCormick's Salad Supreme seasoning
Cheese (Colby or Cheddar)
pepperoni or salami, cut into small pieces
Celery – diced
Optional items:
Cucumber, seeded and diced
Sliced black olives
green pepper, diced
marinated artichoke hearts
Instructions
Prepare Spaghetti according to package directions
Drain and run under cold water.
Place spaghetti in a large bowl.
Pour Italian Dressing over the spaghetti
Add 1/2 jar of McCormick's Salad Seasoning ( I add just a little more)
Mix with spaghetti
Add onion, celery, pepperoni or salami, and tomatoes
Add optional ingredients of choice
Combine all ingredients, cover, and refrigerate overnight.
This recipe never had amounts of each ingredient so I just add according to what I like. Toss well before serving to get all the goodies from the bottom of the bowl. This salad keeps well for a couple of days in the refrigerator.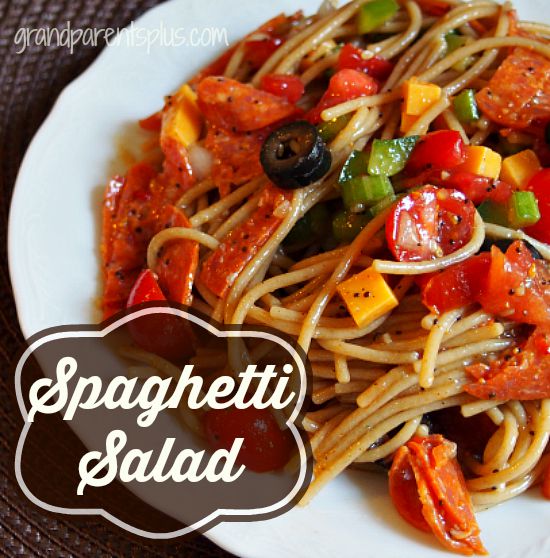 Enjoy!
Phyllis
By subscribing, your email is never shared or sold!
Follow on Pinterest, too!
Post is linked to these parties…..