Spring Decor Idea House 2017 Part 2
Part 2 of the Spring Decor Idea House has just as many ideas as Part 1.  You'll want to go back if you missed it! The trends are vintage pieces repurposed (especially ladders and shutters), galvanized metal items, and reclaimed wood. You'll get ideas of what to look for at garage sales this summer!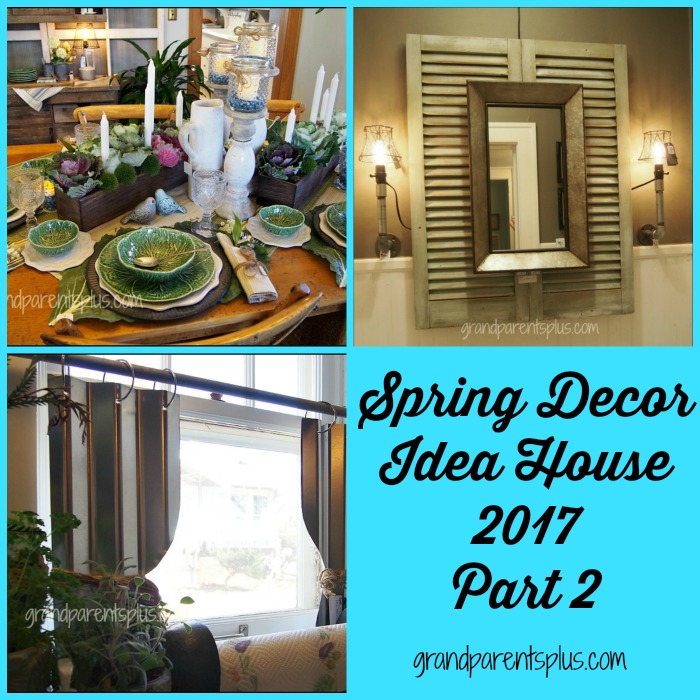 At the entrance, an old ladder becomes a focal point. With the addition of the hanging mirror and arrangement on the table, the ladder becomes the backdrop and lifts your eye upward.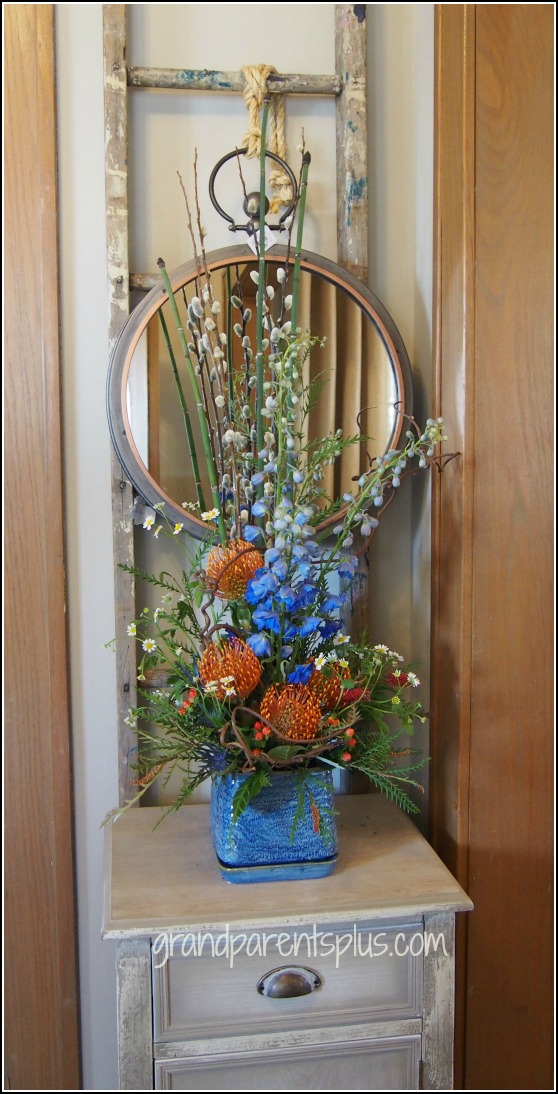 Ever thought of using dish towels on your dining room table? Yes, they are used as a table runner and placed at an angle! Nobody knows they are just dish towels. With dish towels, you have access to a variety of colors, stripes, and floral patterns, too! Try it!
Permanent cabbage leaves serve as placemats. The napkin is folded as a utensil holder with Lilly of the Valley permanent stems inserted and decorated simply with twine.
Wood planter boxes decorated with taper candles,  permanent cabbage, and moss are placed at an angle. In between the boxes, floral vases and candlesticks give height. Beautiful table!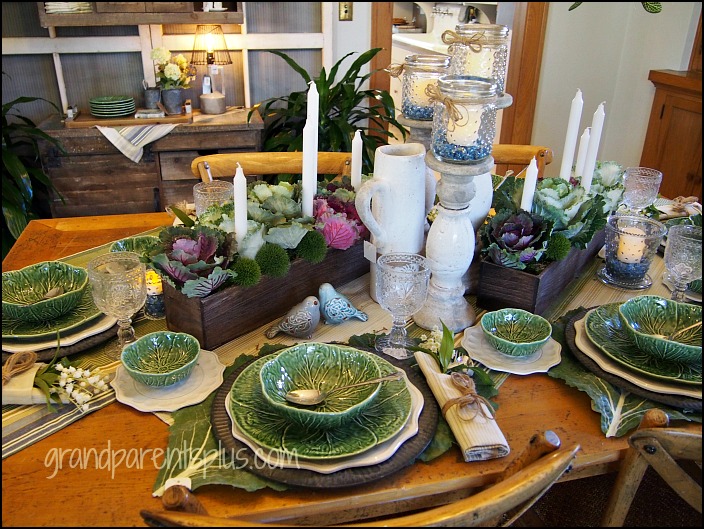 This is simple to do, but looks great!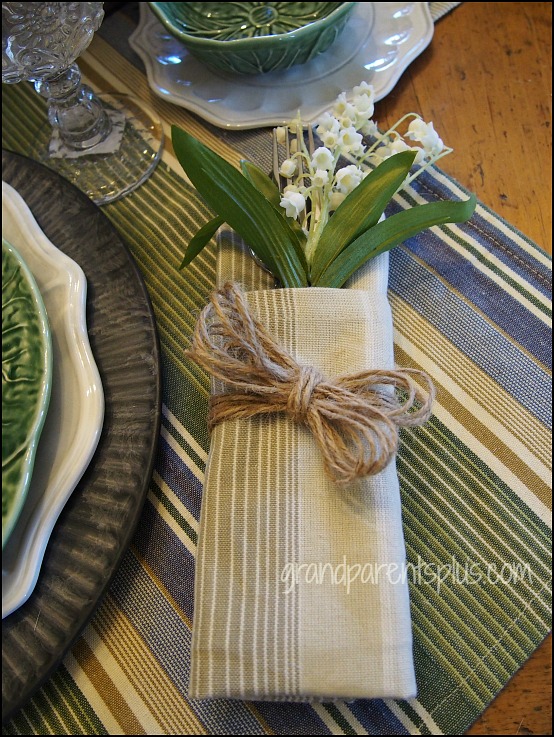 Two vintage screens from a stable, make a dramatic backdrop for the vintage pieces. Plants on each side give balance and are in galvanized metal containers.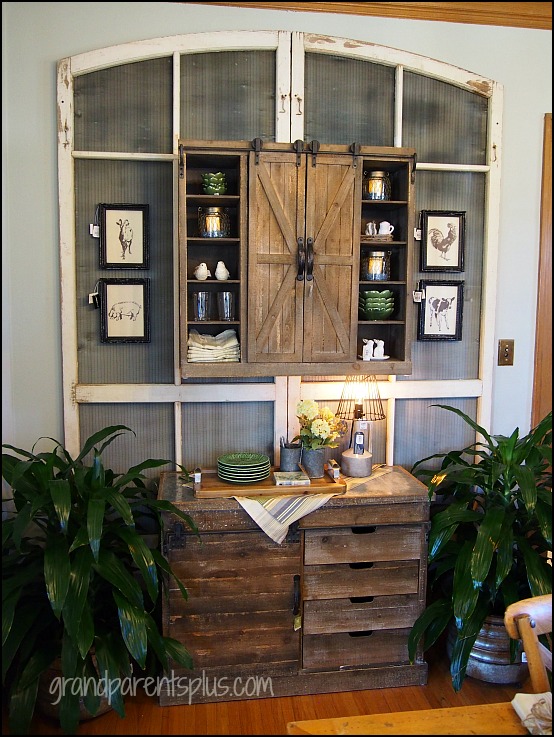 In the vintage style kitchen above the stove, they used vintage lighting kits along with garden hooks for the pendant lights. A wire basket serves as a cookbook holder.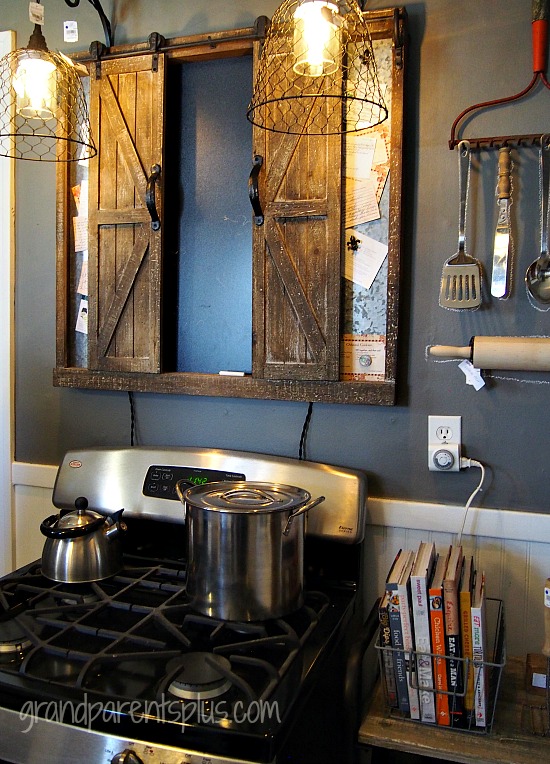 The walls are painted in chalkboard paint with old rakes turned into utensil hooks.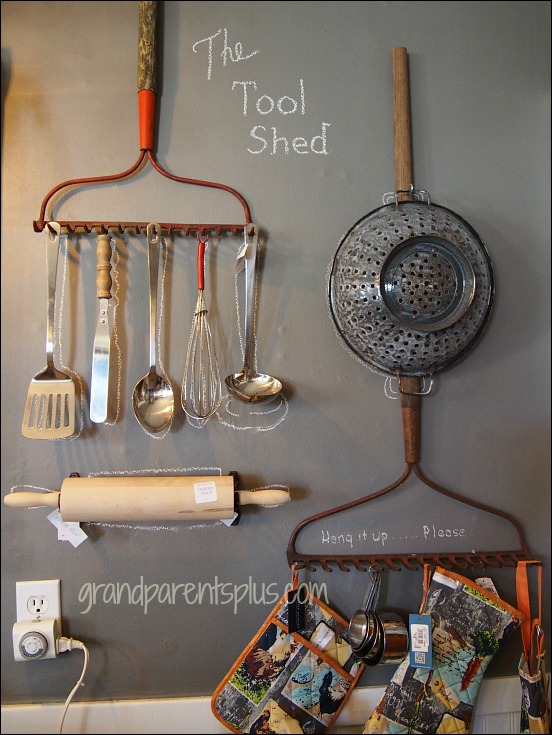 Interesting "curtains" are made from corrugated metal. They used binder rings to hang them and twine as decoration. Have you ever thought of this?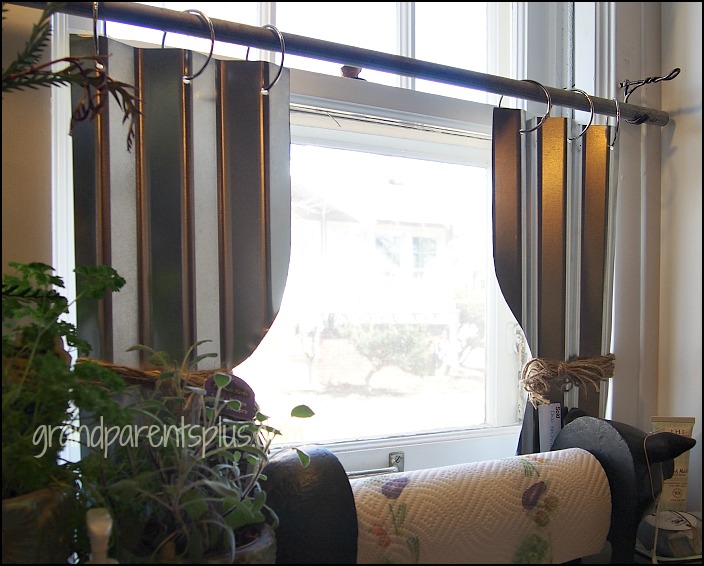 More use for shutters….. by adding a couple small shelves, it makes a cute wall hanging.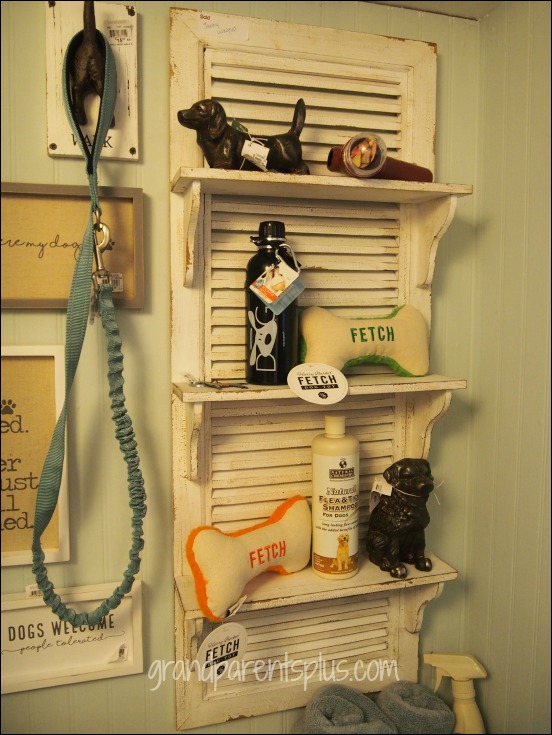 The downstairs bathroom uses shutters behind a mirror as wall art.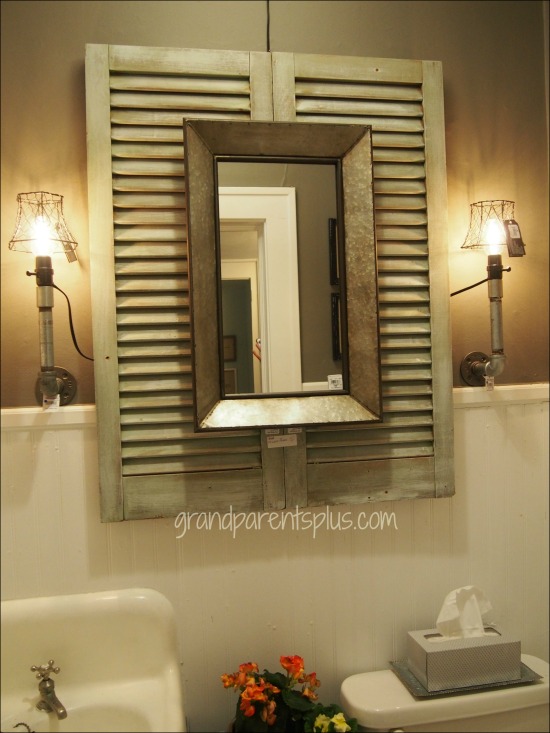 A piece of salvaged pipe is turned into a unique toilet paper holder.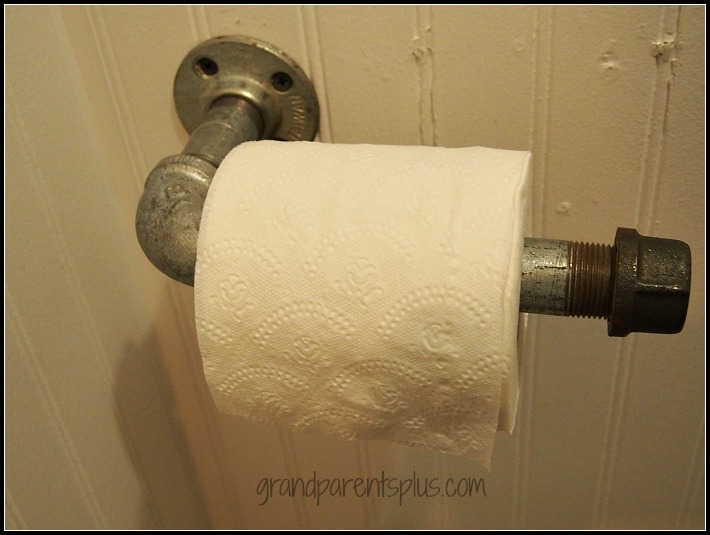 On the wall in the bathroom, a salvaged rake becomes an interesting hanging vase holder!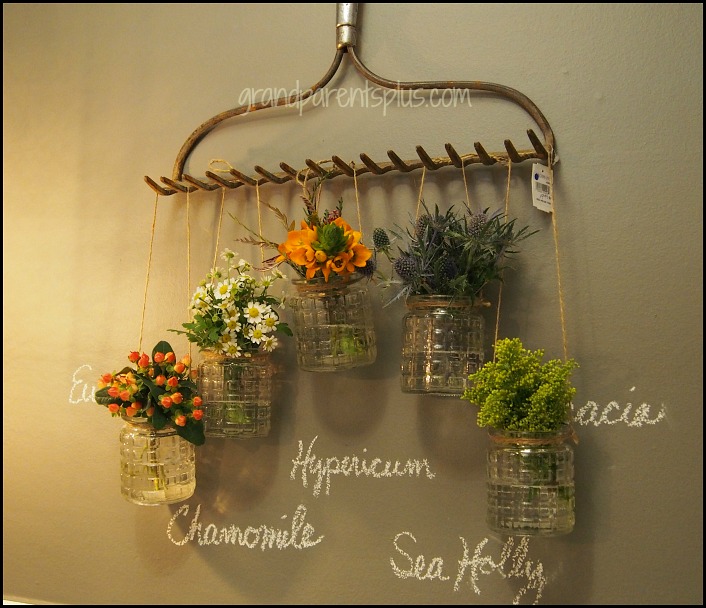 In the hallway hangs another vintage wood ladder with wicker baskets filled with permanent stems! Various vintage frames hang in an overlapping mass creating wall art.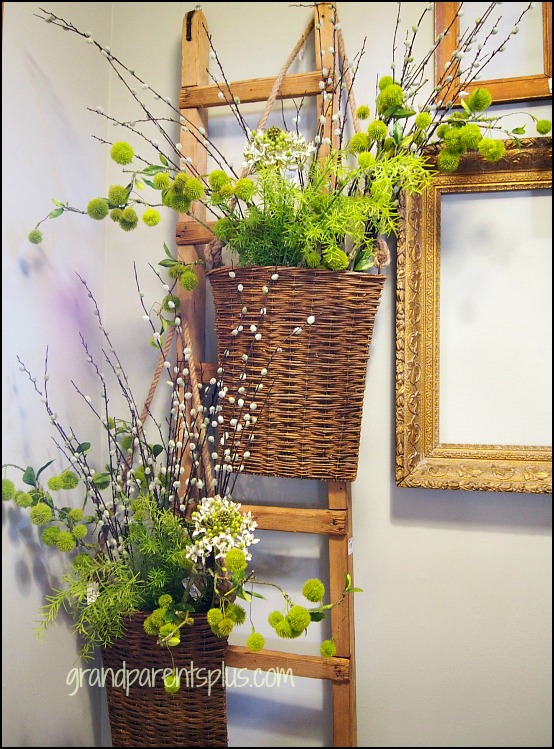 Chicken wire is added to some frames for interest.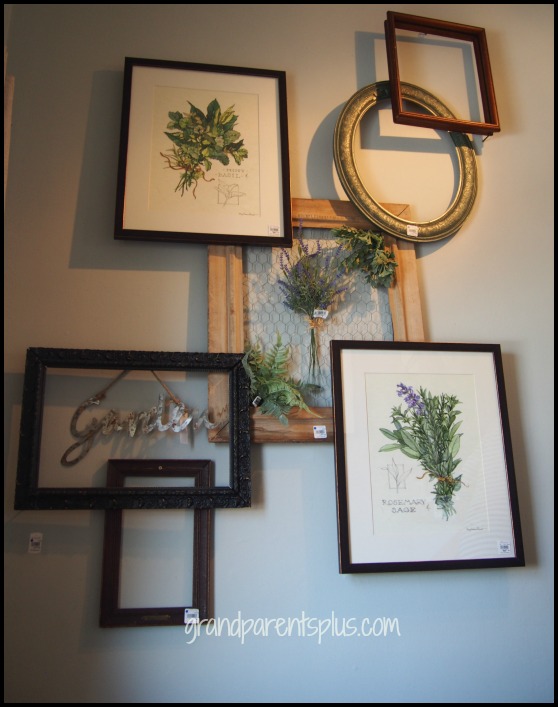 Looks like ladders and shutters are used anywhere! Oh, don't forget the rakes! What was your favorite idea?
Be sure to check back at Spring Decor Idea House 2017 Part 1!
Now, watch for Part 3 coming up!
Phyllis
Don't miss a post! Subscribe on the sidebar and know that your email is never shared or sold!
Linked to many of these parties…..
Pin It