Spring Idea House 2014 – Part 3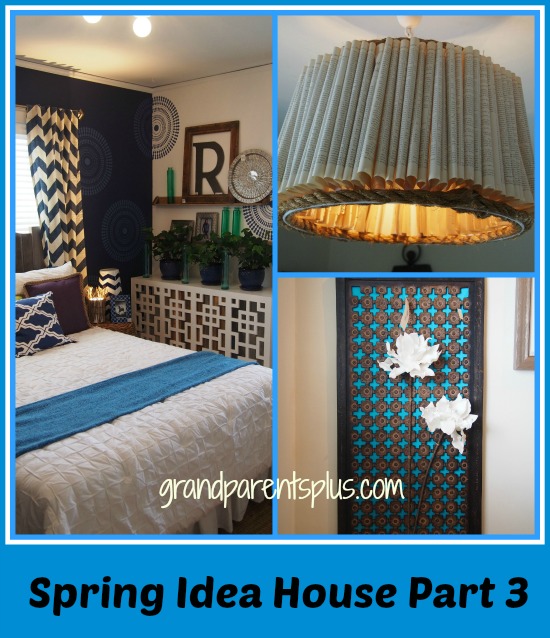 Come with me for a peek into the Spring Idea House Part 3, where we enter a bedroom, den/reading room, hallway, and small bathroom. Many of the ideas, the decorators used, have the ability to be incorporated into your own home.  I know you'll be inspired by their beautiful rooms.

Walking up the stairs to the bedrooms and den, the decorators  hung  framed wall panels backed with teal colored fabric and embellished with large artificial flowers. Very striking, don't you think?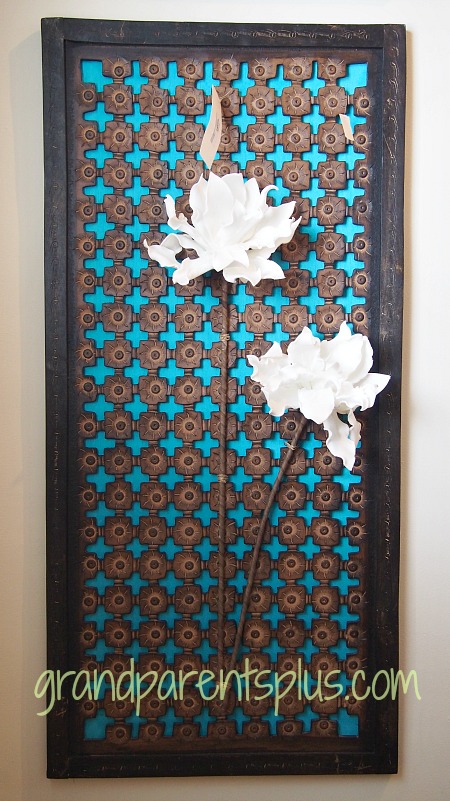 At the top of the stairs is the Reading Room/Den with many re-purposed vintage items.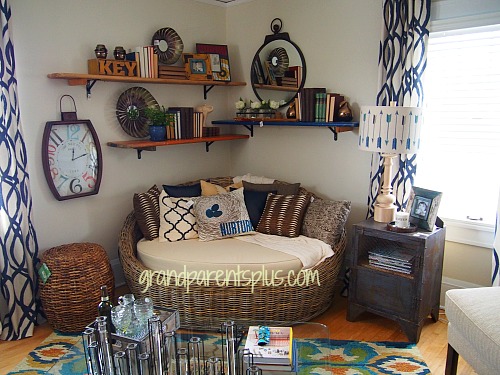 The shelving is made from re-purposed gym benches.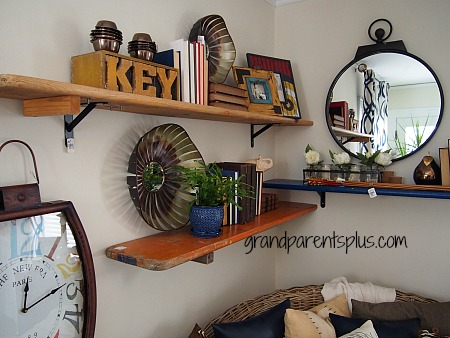 This lighting fixture was one of the most unusual ideas. They took a plastic lampshade and cut slits all around the outside. At each slit, they pushed in a folded book page. Perfect for the "reading" room!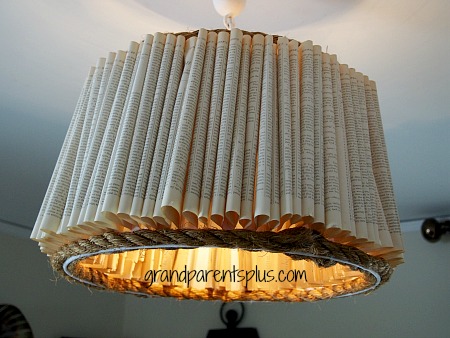 Here's a better look at the inside….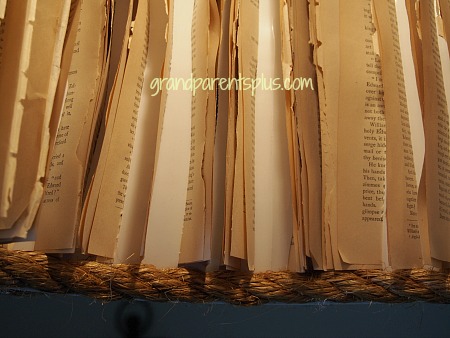 You need to make sure the bulb is a safe distance from the pages!
The coffee table in the room is a re-purposed industrial cart!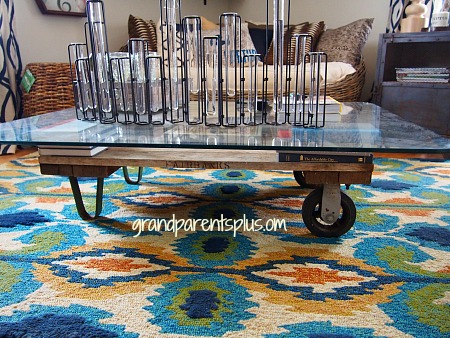 Have a shadow box that you don't know what to do with? Fill with artificial succulents! Succulents look artificial anyway, so no one will really know! This makes an  interesting wall accent!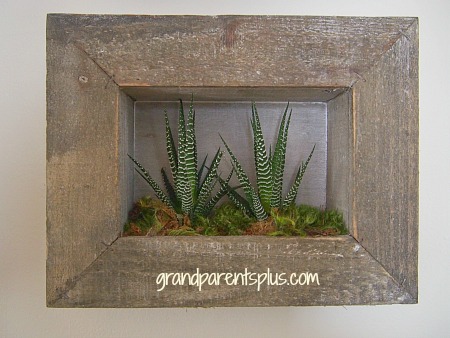 The master bedroom color scheme is navy blue, white, teal, with an accent of the bright green! The main wall is dramatic when painted navy blue. The stencil  goes right around the corner. Half of the stencil is painted as a blue shadow against the navy background. Great look!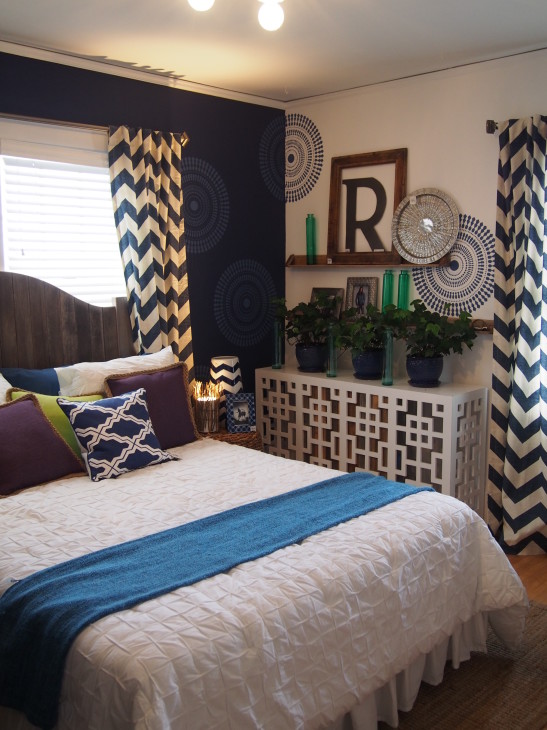 Here's a closer picture showing the stenciling. Love the chevron drapes, too!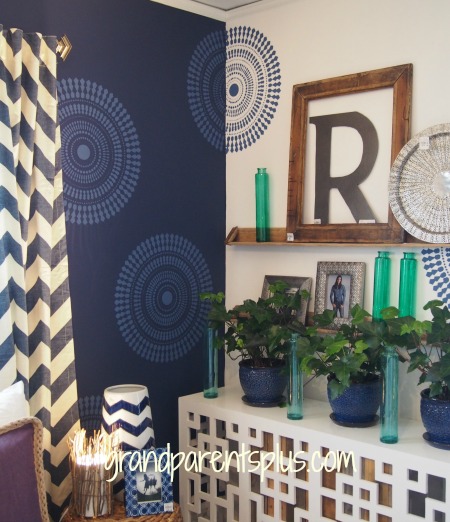 Next, is the spare bedroom……
The wall pattern is repeated many different ways in this room. Look for the repetition.

I may be showing my age, but before computers, we used these metal stands for typewriters. It now serves as a night stand.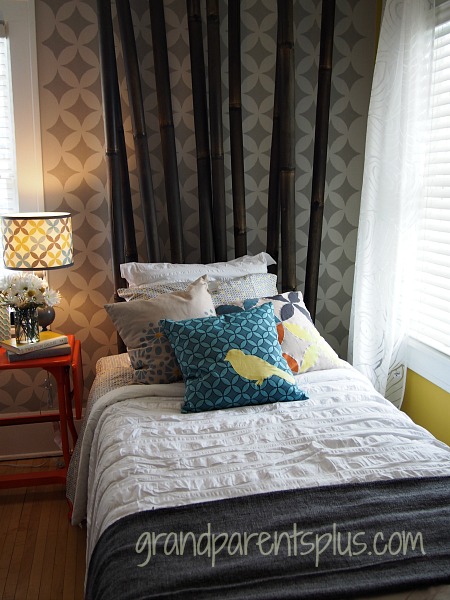 Look at how a vintage luggage or mail cart is re-purposed as a bench/coat rack with storage below.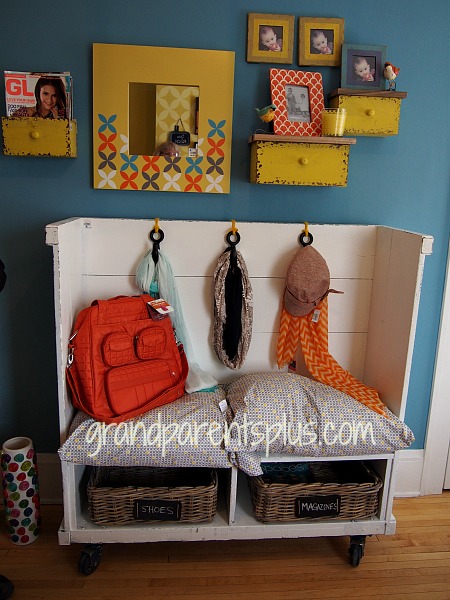 Because of this house being very old, there isn't a large master bath. However, the small bathroom always has some unique ideas.
The decorators used a bookshelf as storage for towels and various bathroom items. Also, a piece of driftwood makes a "one of a kind" wall shelf!
When the ice is off the lakes, I'll be looking for that perfect piece of driftwood to use in my home, too!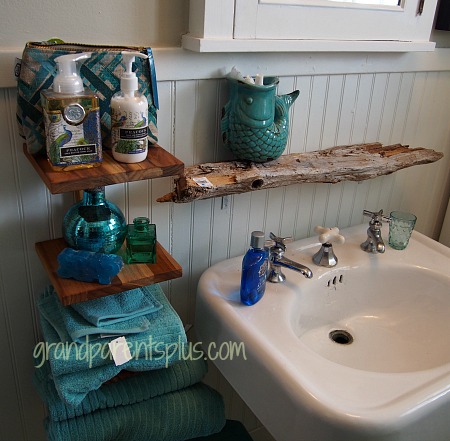 A dish towel with a napkin ring highlights the small bathroom window.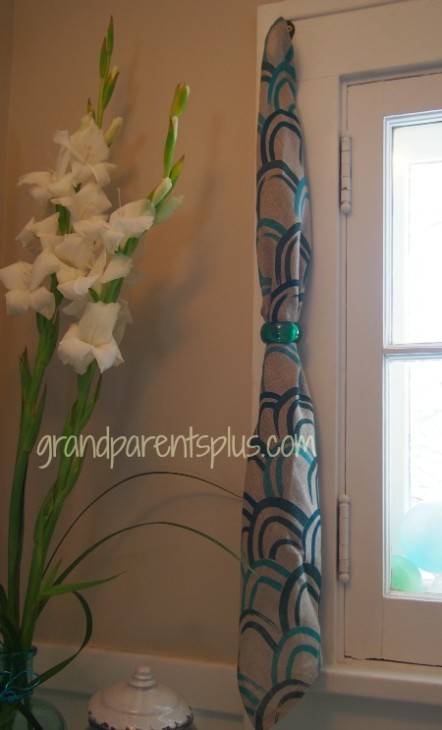 Now, that's easy to do for a small window! Do you remember the kitchen windows in Part 1? This is a variation of that  idea.
I have a small kitchen window in our cabin where this treatment would look great! Just need to wait for warmer weather to get there. Until then, I'll be looking for the perfect kitchen towel to use.
Did you get some decorating ideas from the Spring Idea House Part 3? Well, there's more good things to come! Be sure to subscribe to be notified of future posts.
Thanks for stopping by and happy decorating!

Phyllis
Follow on Pinterest, Bloglovin and Facebook, too!
This post is linked to many of these parties…..
Pin It