Spring Idea House 2016 Part 2
Part 2 for the Spring Idea House is another glimpse into the ideas and new trends for decor using both new and vintage finds. This house is prepared by a team of decorators that come up with new ways to incorporate unique items into your home decor. If you missed Part 1, you'll want to check that out, too!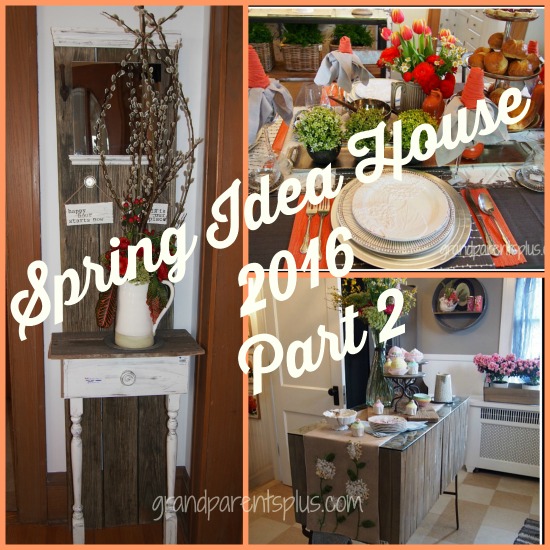 Right as you enter the main part of the house, a small vintage table is highlighted and made more important by the added salvaged wood pieces placed behind it. The added mirror and drawer pulls also add interest. The beautiful tall arrangement gives it color and height. When a small piece of furniture doesn't work, add something tall behind it!
Now, as you enter the dining room, the table is set for an elegant party! Grey, the new neutral, becomes the base with pops of coral accents in the flowers, napkins, and table runners. The bottom layer of the table is actually wallpaper that looks like vintage ceiling tiles.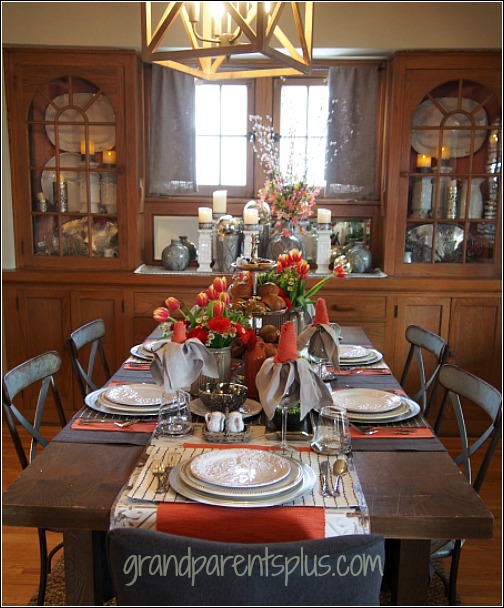 The same wallpaper makes an accent behind the four mirrors above the sofa table. I actually thought the tiles were actual ones until I touched the wallpaper. They carefully attached the paper with staples instead of hanging it.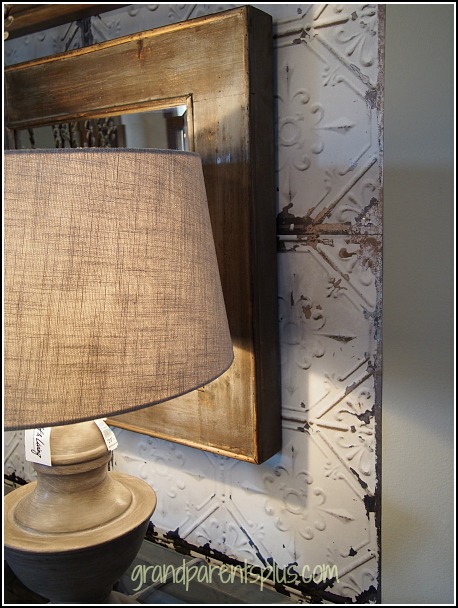 Back to the dining room table…… Such an interesting and fun way to use color and drama with just a napkin! Placing it in the wine glass adds height and certainly shows it off!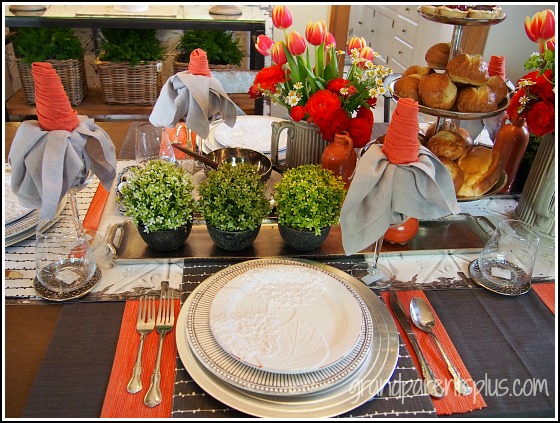 The buffet has an assortment of gray vases, white chunky candle sticks, and a dramatic spring arrangement of coral flowers and pussy willows.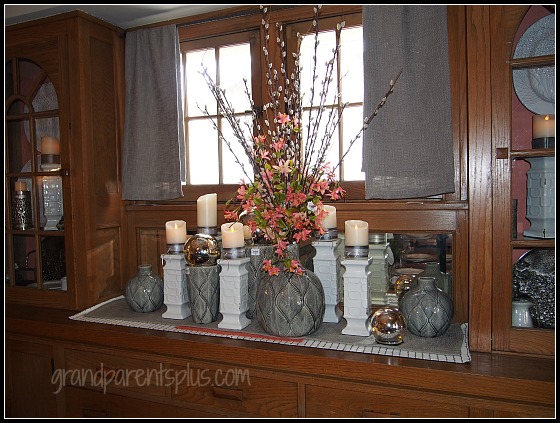 While the kitchen is small, it doesn't lack for decorating ideas. Vintage blocks, placed on a metal industrial frame, form a unique work island. The top is covered with glass for easy cleaning. 
On the far wall, a vintage sifter, with an added shelf inside, makes a perfect accent for the wall.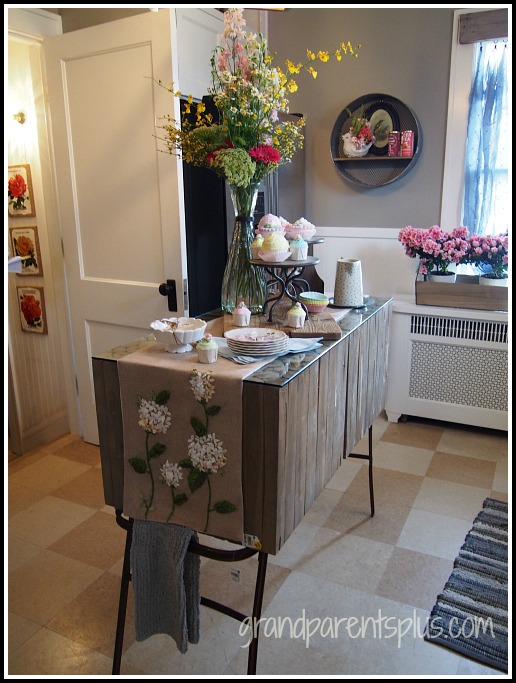 Repeated square metal serving pieces, with decorative inserts, fit perfectly in this little cove in the kitchen. 
The clock is mounted on top of an old wire rack.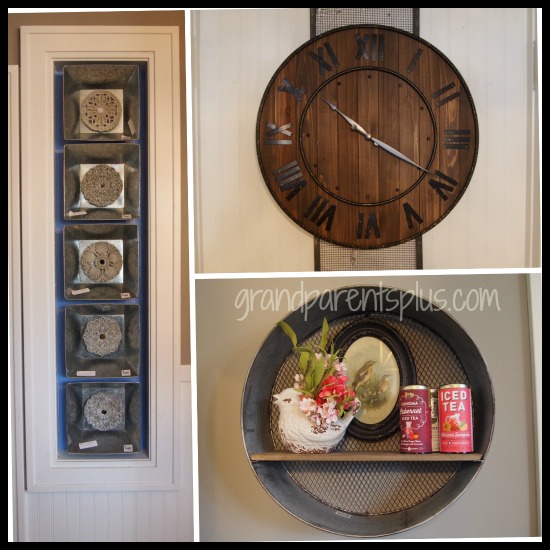 Over the stove, wall art certainly makes this area beautiful.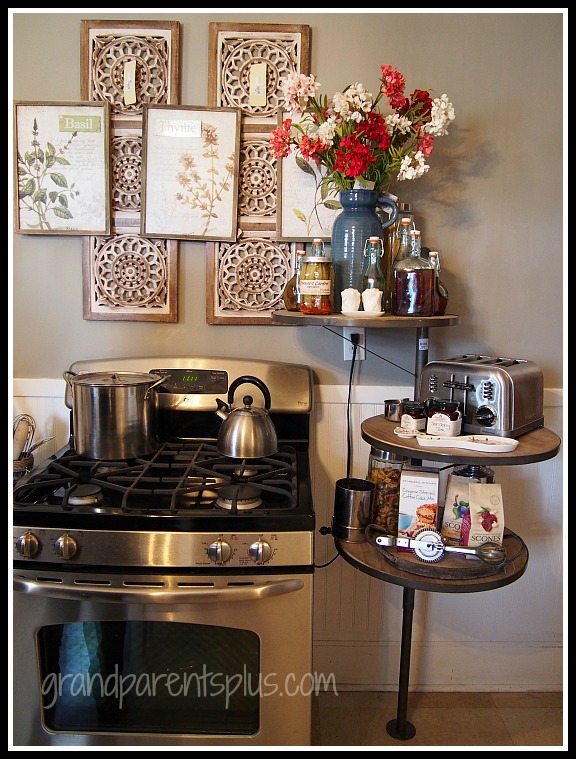 A small bathroom has a farm (cows and chickens) flavor. Over the sink and stool, an old wire gate with an added shelf, looks amazing while a clothes line holds hand towels. 
The vintage sink has a skirt of chicken wire and fabric to hide the plumbing.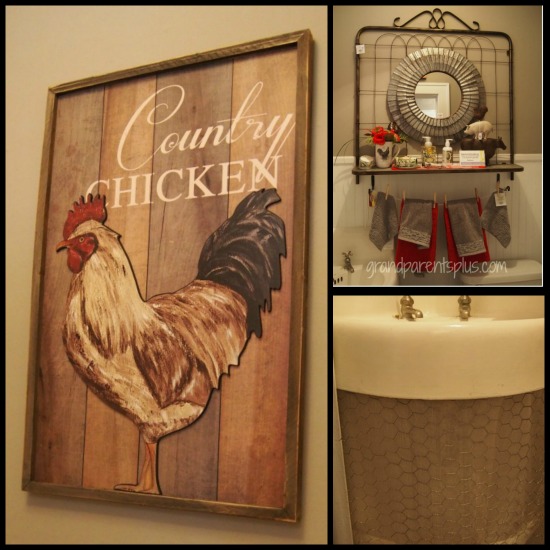 How's this for a unique toilet paper holder?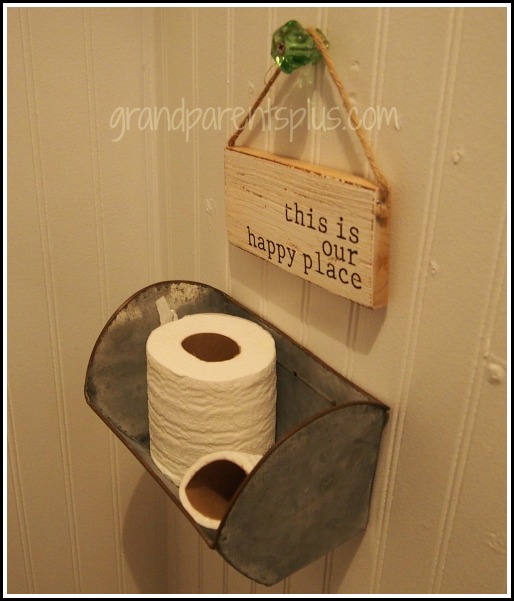 Finally, a mounted metal rake serves as a place to hang your purse or scarves as you enter the back door.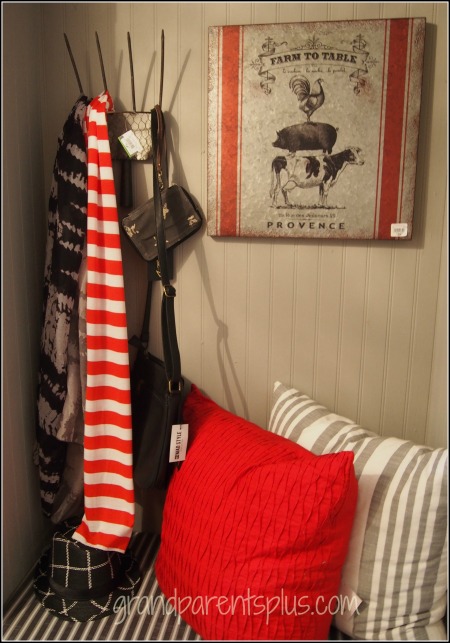 What a variety of decor ideas! Some are easy to do while some will take finding just the right object. Perhaps you have some of these objects stored in your garage and now the inspiration comes to you on how to make it into something special! That's fun! 
Don't forget to come back for the next two posts for more decor ideas! Can't wait to show you!
Hope you enjoyed the variety of ideas. 
Phyllis 
Subscribe so you don't miss a post! Remember, your email is never sold or shared.
Follow on Pinterest, too!