Spring Idea House 2016 Part 3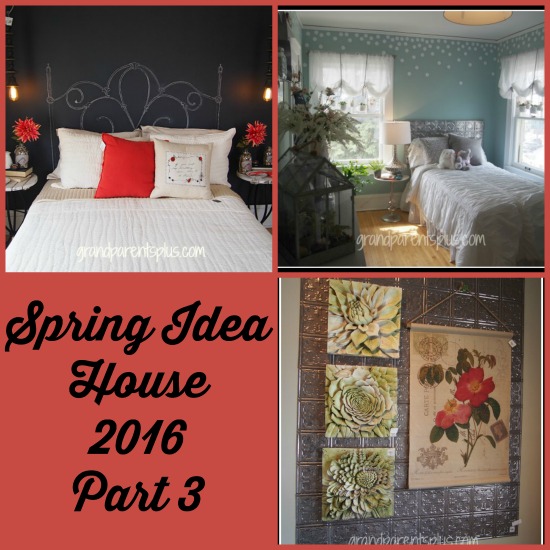 Don't you love new ideas for your home decorating? Well, this Spring Idea House 2016 Part 3 brings a lot more ideas that are easy to merge in your own home. As I've stated in Part 1 and Part 2, this home is decorated by a group of designers and uses new trends and products along with many vintage finds. I'm sure you'll find lot of inspiration here!
First, when you have a large area on a wall to decorate, but just don't have something that makes it look right in proportion to the space, use this idea. The background looks like vintage tin tiles, but it a product called Fasade. It is available at Home Depot or Menards. You can buy and adjust the size to your needs. Then, hang smaller pictures or decor to balance the space. Doesn't this look fantastic? Just wait until you see another way it is used. Keep reading….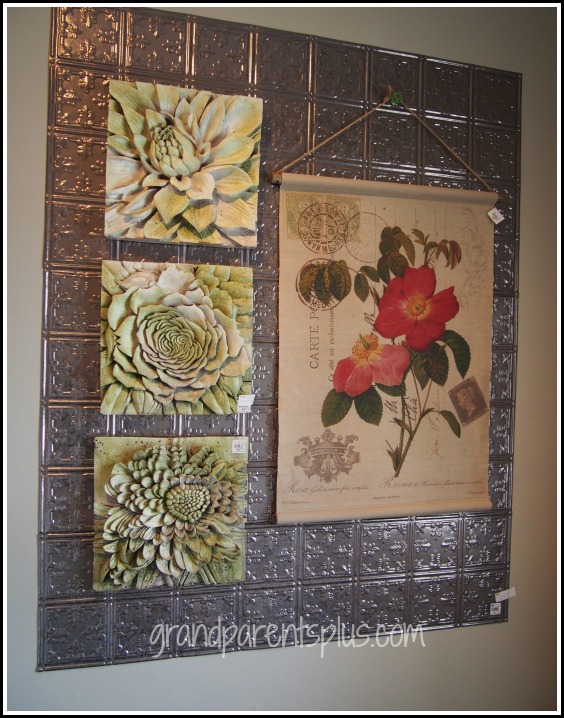 At the top of the stairs at the landing, three rustic lanterns hang. All are filled with flowers instead of  candles.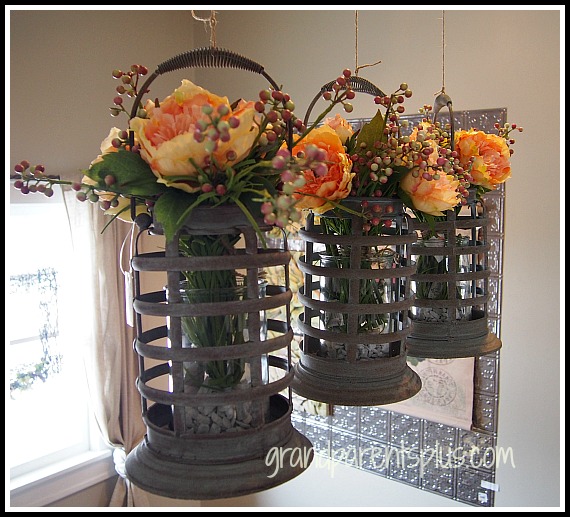 One of the upstairs bedrooms is decorated with polka dots! These are all stamped out of an adhesive paper and applied to the wall. I love this look, don't you?
Notice the polka dots painted on the lamp beside the bed.
Also, did you notice the headboard is made with the same Fasade as you saw in the hallway?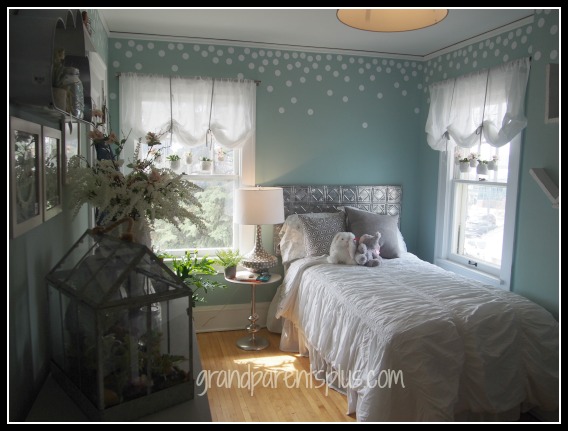 Here's a closer look……   Now, that would be easy to do. Just apply it to a piece of plywood.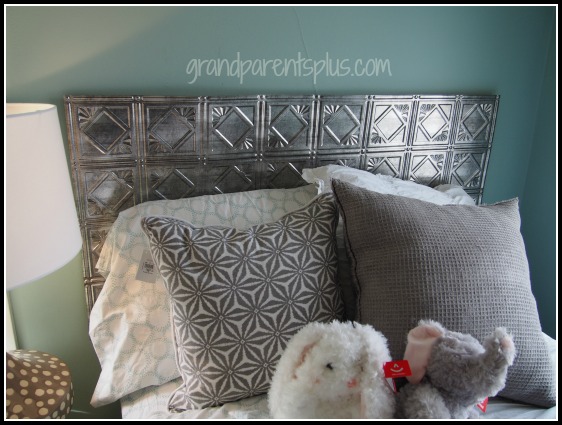 The curtains have small polka dots, too!  Small milk glass pieces with flowers hang down from the rod.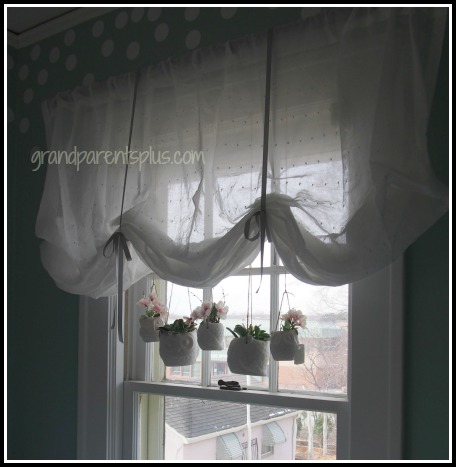 More polka dots here!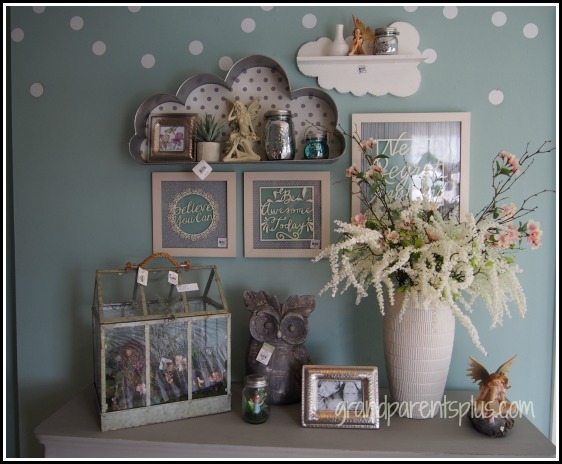 The glass terrarium has a fairy garden inside…..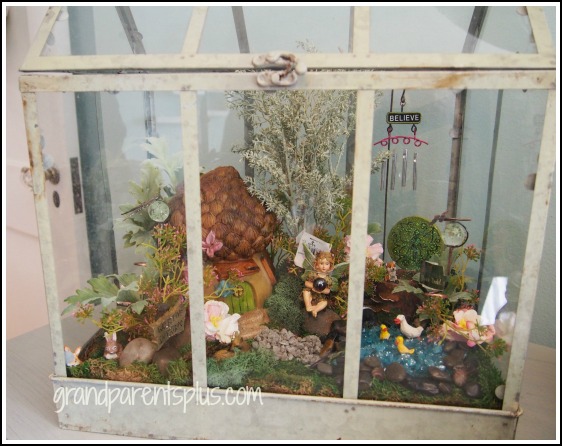 A vintage piece placed on top of a table creates a one of a kind desk.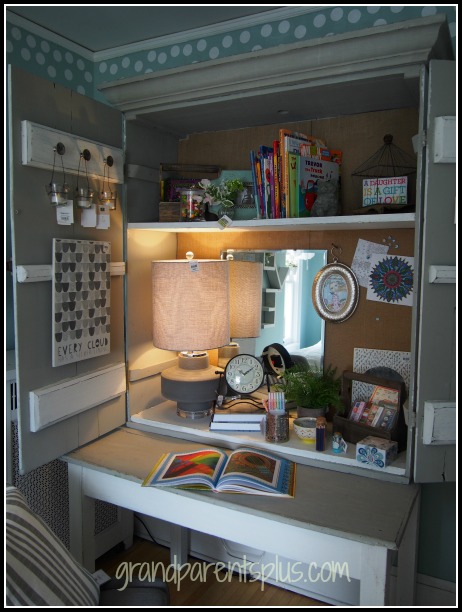 This "LOVE" shelf is so cute and certainly wouldn't be hard to make for a room.  Great idea! This is one to save for later!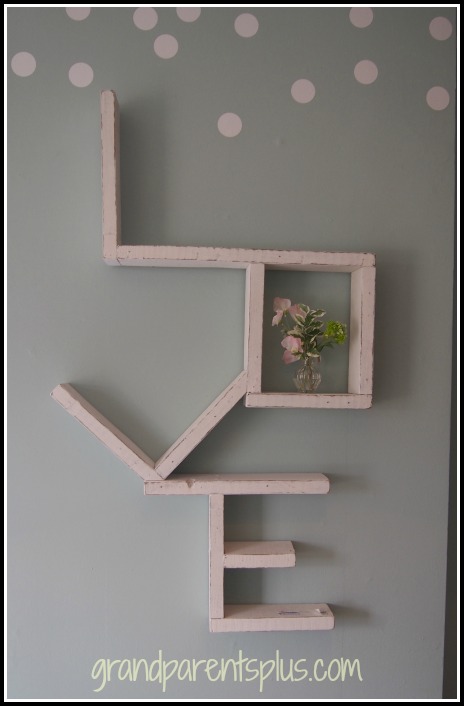 The next room is a garden room. The garden gates hanging on the wall make a lovely way to display beautiful cards.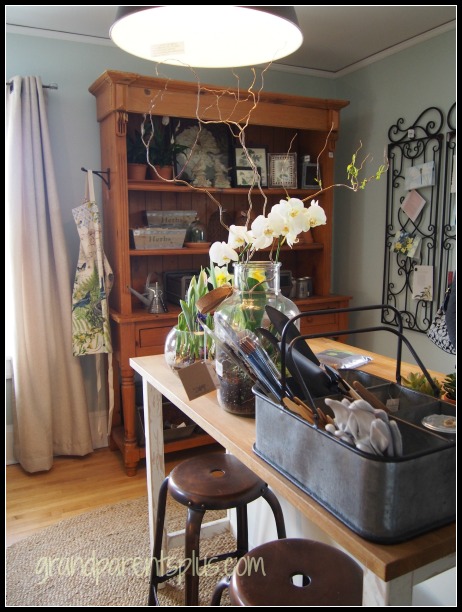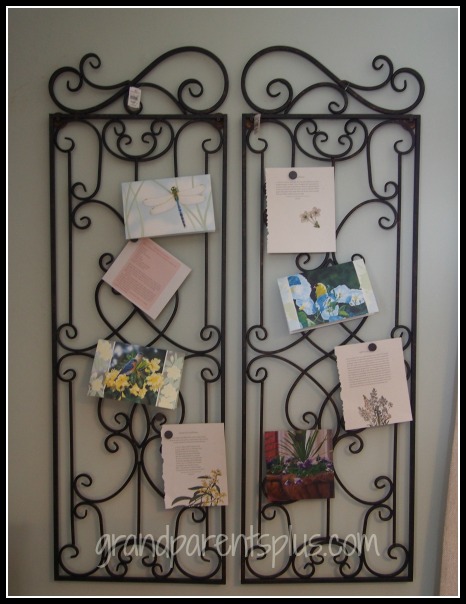 This is an easy idea and great addition to your decor. Take fern fronds and press them into a frame using a black background. Now, you have instant wall decor for a garden room.
So many fun ideas packed into a few spaces! I'm sure your creative juices are flowing and now you'll want to remember many of these ideas for use in your own home.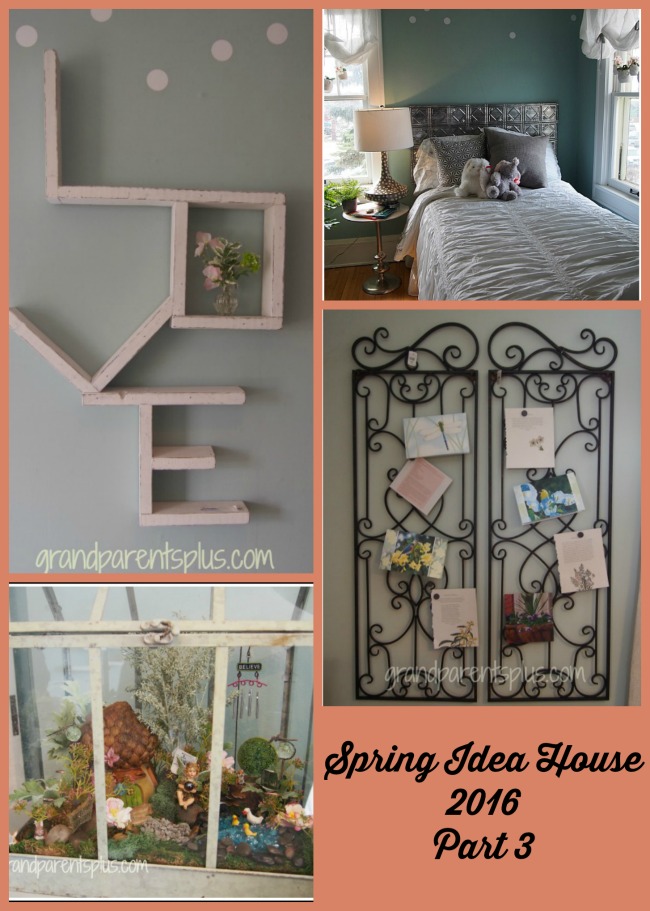 Thanks for stopping by to view the Spring Idea House 2016 Part 3! Don't forget to go back and view Part 1 and Part 2! 
Be sure to stop back for Part 4 for more great ideas!
Phyllis
Subscribe on the sidebar so you don't miss a post!
Follow on Pinterest, too.
Linked to these parties….
Pin It