Spring Idea House Tour 2015 (Part 3)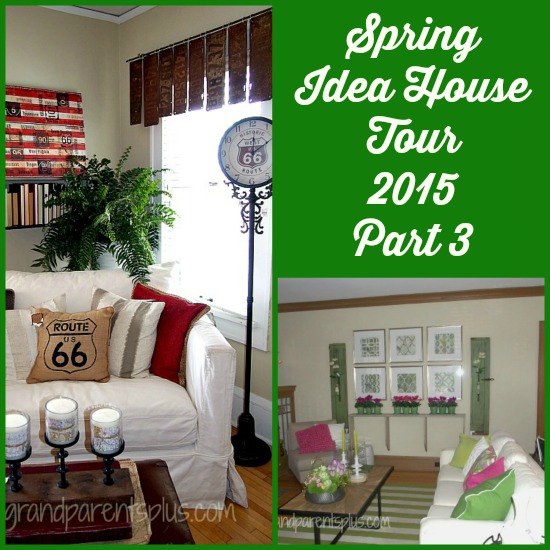 This is the third and last post in the series of the Spring Idea House Tour-2015. Several designers completely overhaul this house three times a year to showcase decorating trends, new products, re-purposing vintage finds, while giving loads of inspiration for your own home.
The first room is called a "Backroads USA Lounge" highlighting the famous Route 66 . The theme is carried out in so many unique ways. First, look at the valance of old rusty license plates. Is that cute or what?  Also, the USA flag has highway numbers stenciled on it.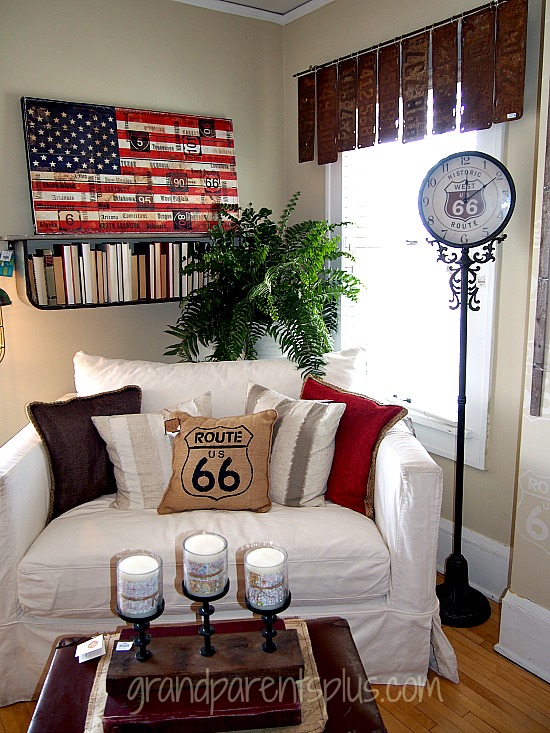 Here's a closer look at the license plates. Sorry for the glaring sun! I hate when I'm taking pictures and there's nothing that can be done about the sun shining in the windows so brightly. I like cloudy days for picture taking, but this should give you an idea of how they are attached to the rod.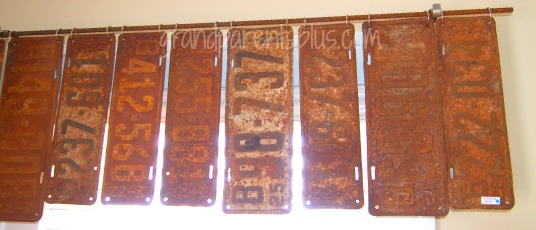 US highway maps decorate one wall and the closet door.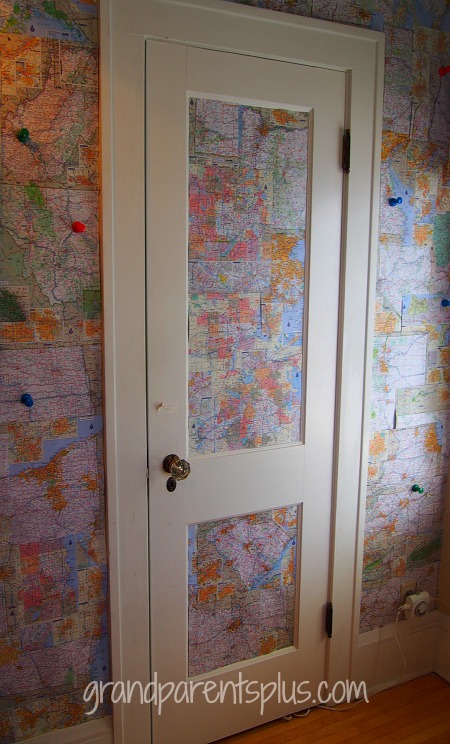 This barn door attached to the wall, holds Americana wall art.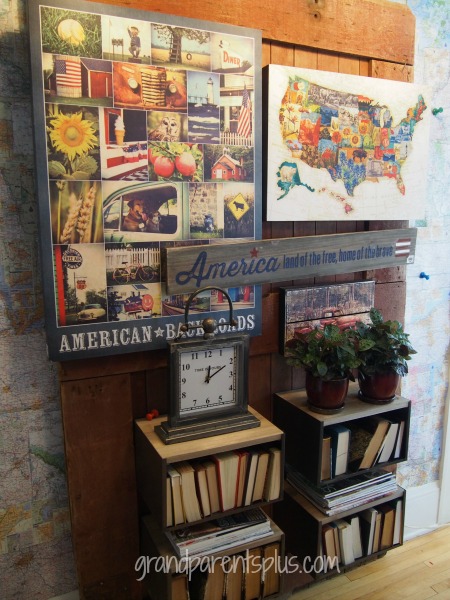 Salvaged wood and wire make a postcard display against a stenciled wall.
Several vintage accessory finds  such as an old odometer, small suitcases, and hubcap, create more travel-themed interest on the shelving unit.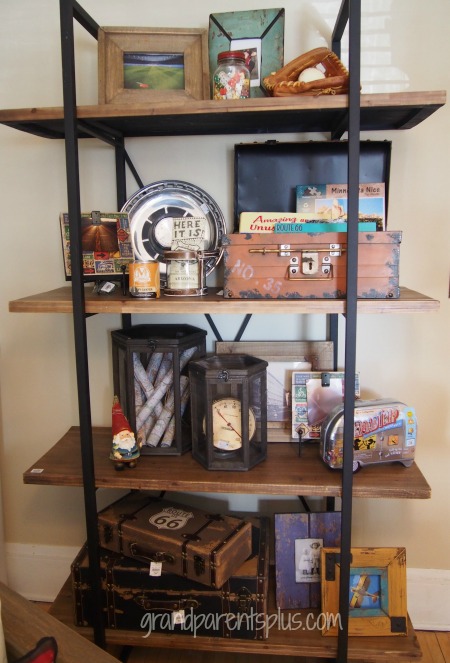 The lampshade is stenciled with Route 66!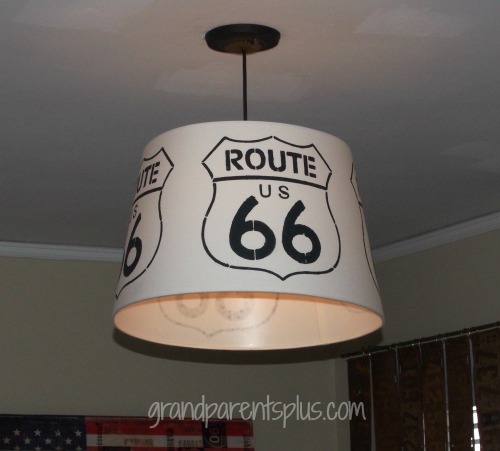 Old suitcases, used as a coffee table, serve as storage. The candles on the suitcases are wrapped with maps and twine.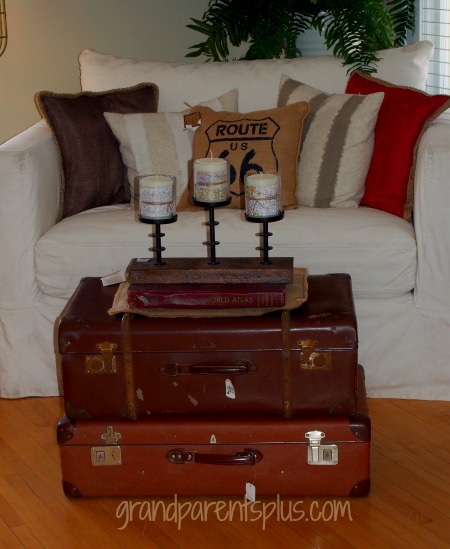 Don't you think this is a fun theme for a boy's room or recreation room?
Next, is the main bedroom done in black and white. Garden stakes are grouped together on the wall to form an unusual, 0ne-of-a-kind headboard. The bed has lots of black and white pattern with a splash of orange.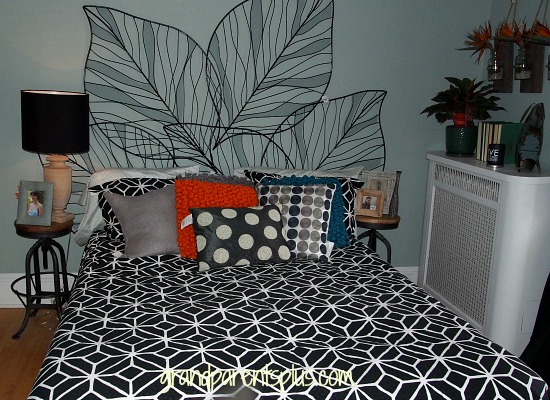 Vases grouped in "3's" give an additional punch of orange color.
Black floral wire adds dimension and design to plain wood frames.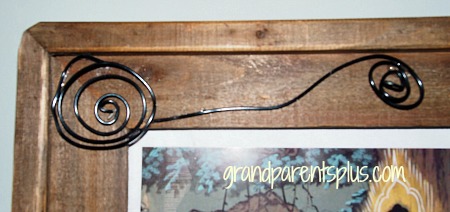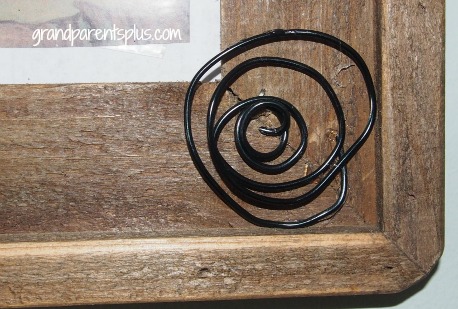 On the inside of a vintage cabinet, metal radiator paneling makes a great place to hang jewelry. It is simply painted a glossy black and attached to the inside of the door.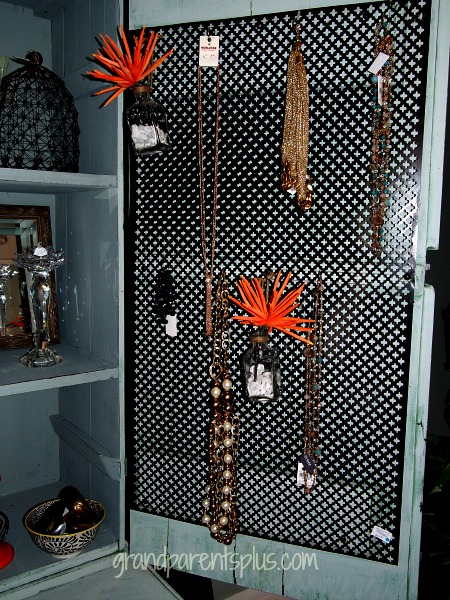 The same radiator paneling is cut and used as a backing for wall art.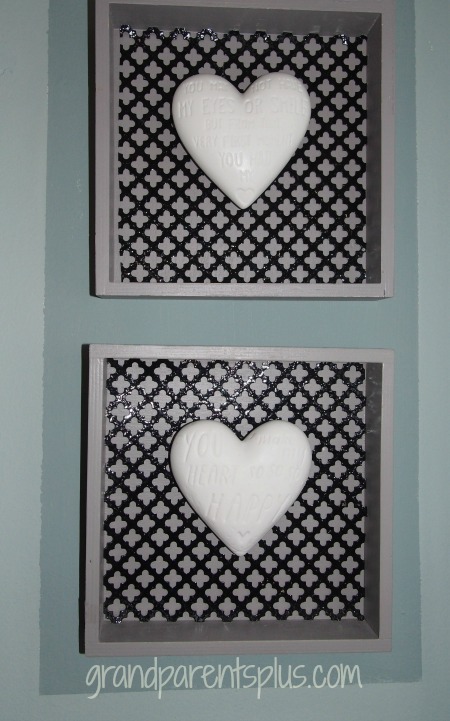 Now, onto the living room and sunroom decorated in green and pink.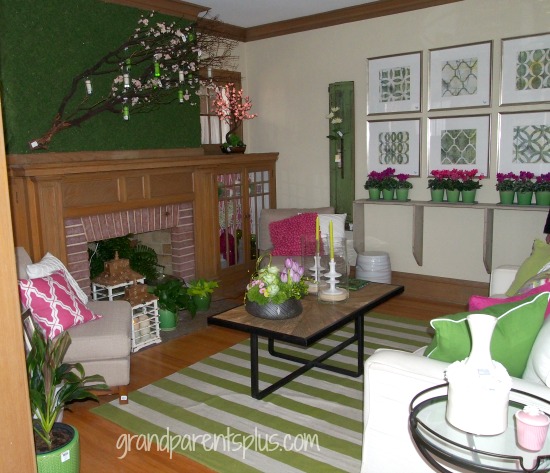 Above the fireplace, strips of sheet moss is woven together to make the background. A Manzanita tree branch is mounted with artificial pink cherry blossoms. Small hanging lantern candles complete the look.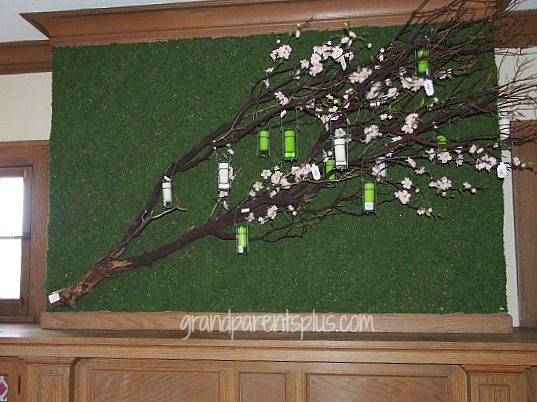 Salvaged doors, turned into wall art, really accent this grouping.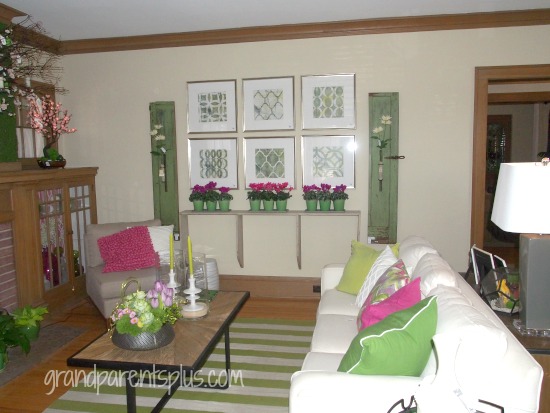 A closer look at the salvaged doors…..

 Additional seating in the living room area…..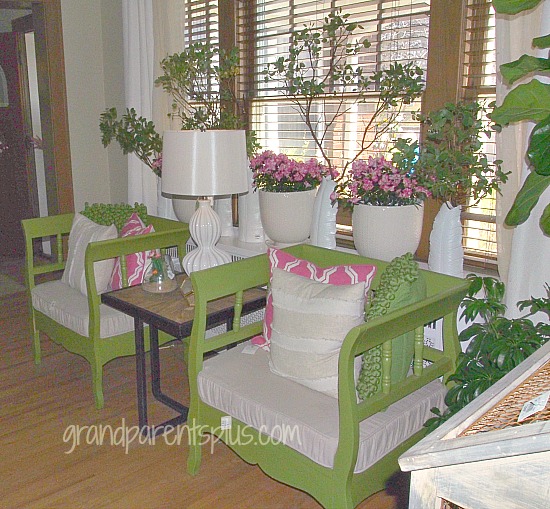 A beautiful arrangement on the coffee table uses colored wire as an accent.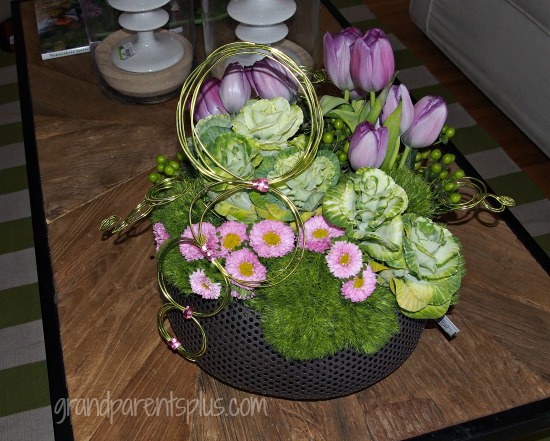 In the sunroom, various terrariums fill this table.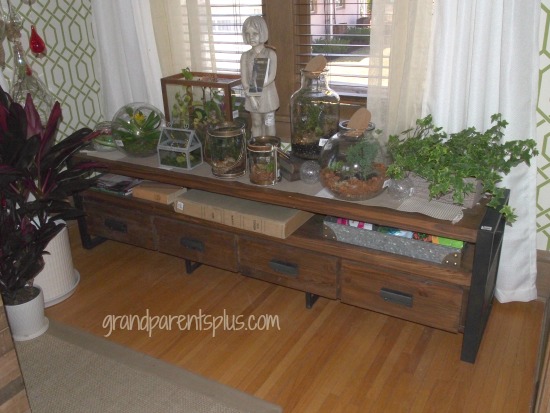 In the corner, decorative glass creates hanging art.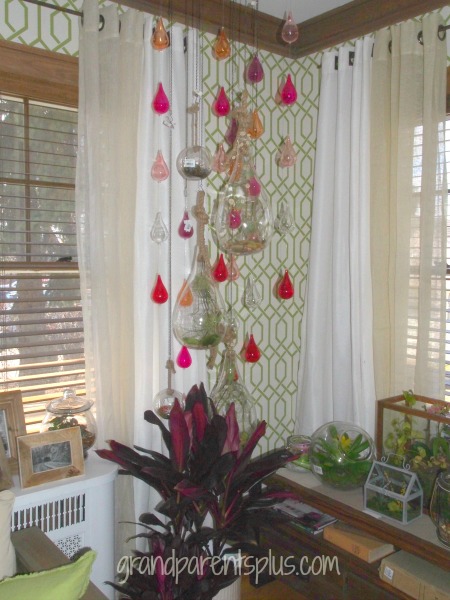 Anyone know what this is? Note the arrow pointing inside!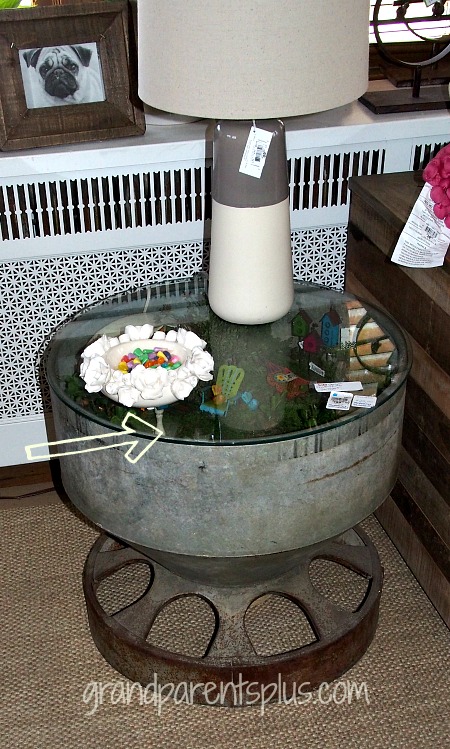 This is a watering bowl for pigs! What an unusual piece for a side table! The inside is filled with a miniature garden scene. Please excuse the sun glare again, but I wanted you to see the inside setting. So cute and what a conversation piece!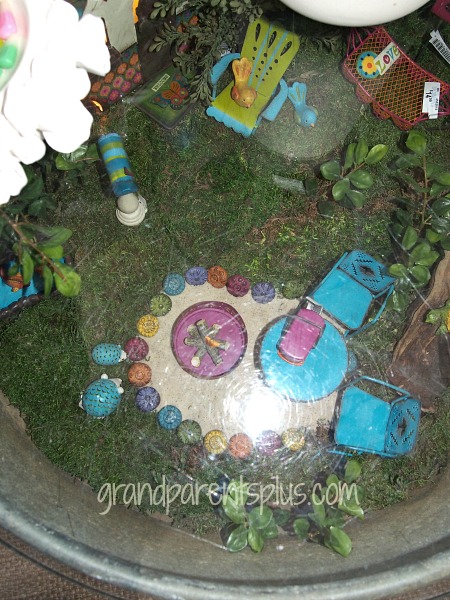 Hope you enjoyed this tour of the Spring Idea House. If you missed a part, here they are….
Spring Idea House Tour 2015 Part 1    and    Spring Idea House Tour 2015 Part 2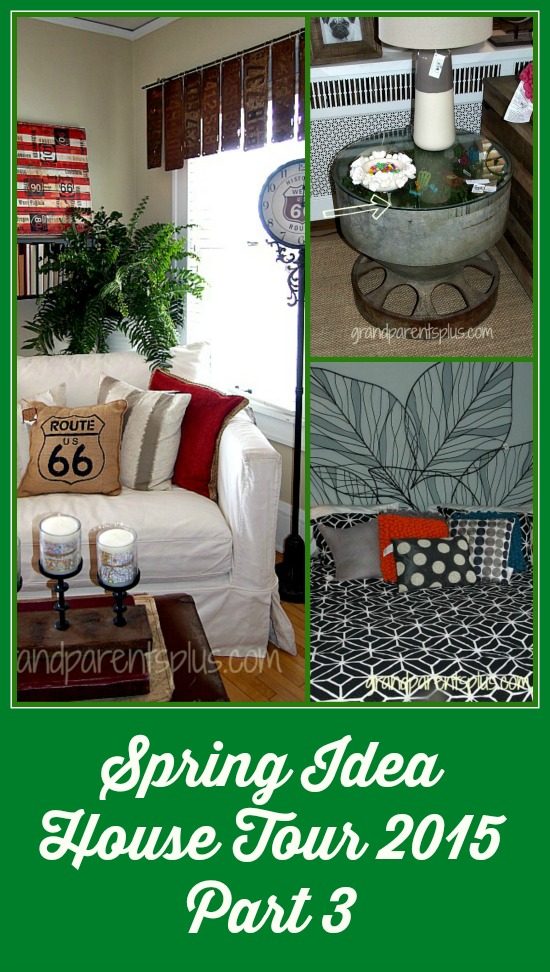 Thanks for stopping by and hope this tour gave you inspiration for your own home. I've been looking for a pig watering bowl, but haven't found it 🙁

If you missed the first two parts of the Idea House Tour 2015, here they are…….  Spring Idea House Tour 2015-Part 1  
and Spring Idea House Tour 2015- Part 2
Phyllis
Lots more fun posts ahead so subscribe on the sidebar…
Follow on Pinterest and Bloglovin, too.
This post is linked to many of the following parties…..
Pin It