Strawberry Bread Recipe
This Strawberry Bread Recipe comes from the Rose Mountain Manor Tea Room in California. I've change it just a bit so it has enhanced strawberry flavor using a bit of strawberry jello. The recipe makes one 5 x 9 loaf. It may not be strawberry season, but don't worry as this recipe uses frozen strawberries which are easily available at your grocery store.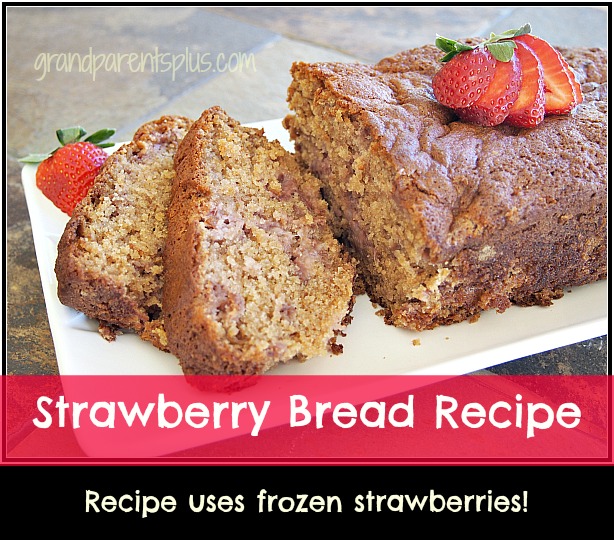 Ingredients
1/2 cup butter, softened
1 cup sugar less 2 Tbsp.
2 Tbsp. strawberry jello (my addition)
1 tsp. almond extract or imitation strawberry extract (my addition)
2 eggs, separated
2 cups flour
1 tsp. baking powder
1 tsp. baking soda
1 (10 oz.) pkg. frozen strawberries, thawed
Instructions
In a large bowl, cream together butter, sugar, jello and extract. Add egg yolks to butter mixture, one at a time, until light and fluffy. Sift in flour, baking powder and baking soda and mix well.
Drain juice from strawberries saving 1/4 cup juice. Add the juice to mixture and fold in drained strawberries. In a separate bowl, beat egg whites to stiff peaks. Fold egg whites into mixture and spoon mixture into a greased 5 x 9 loaf pan. Lightly drop pan to release any air bubbles.
Bake 50-60 minutes at 350 degrees. Bake until a toothpick inserted in center comes out clean. Remove bread from pan after 20 minutes.
Let bread cool completely before slicing.
http://grandparentsplus.com/strawberry-bread-recipe/
Be sure to click the "YUM" to save to your recipe board.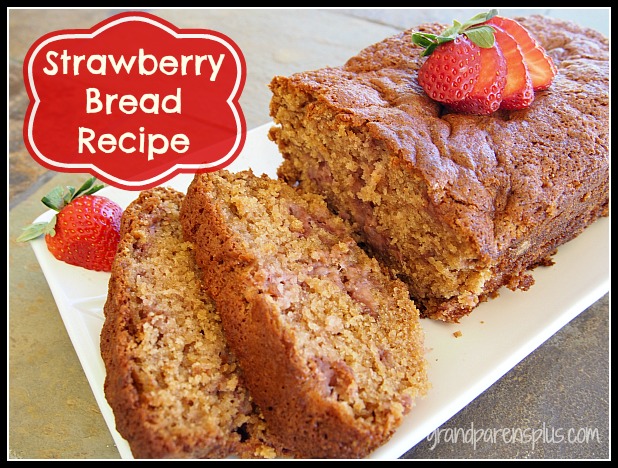 This recipe freezes well. It's great to have on hand for a quick addition to breakfast, afternoon tea, brunch, or snack. Add a cup of coffee or tea and you have a wonderful, tasty afternoon break!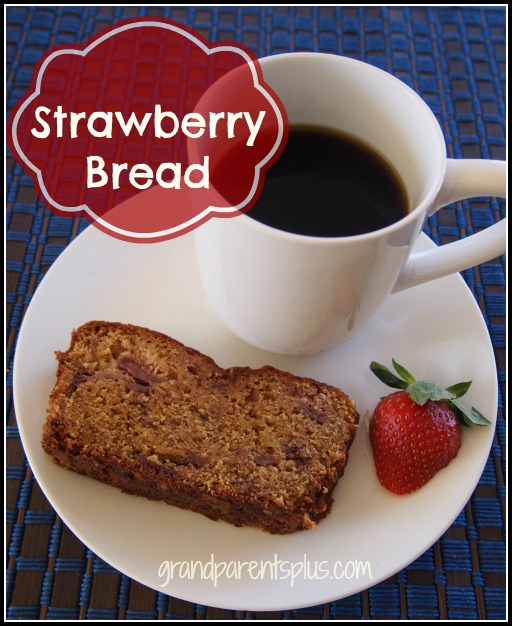 If this bread is good enough to serve at a bed and breakfast, you know it will be a great recipe to try. 
Enjoy!
Phyllis
Subscribe so you don't miss a post. Know that your email is never sold or shared.
Follow on Pinterest, too.
linked to these parties….
Pin It