Summer Hockey Game
I made a Summer Hockey Game – "Slip and Slide" version for the grandkids. It was one of the fun events for our Oma and Opa Camp 2014. (Grandma & Grandpa Camp) The kids are ages 5-10 and this was a hit for all  ages.  The older kids really liked playing it fast, but it was easy enough for the little 5 yr.- olds to take part, too!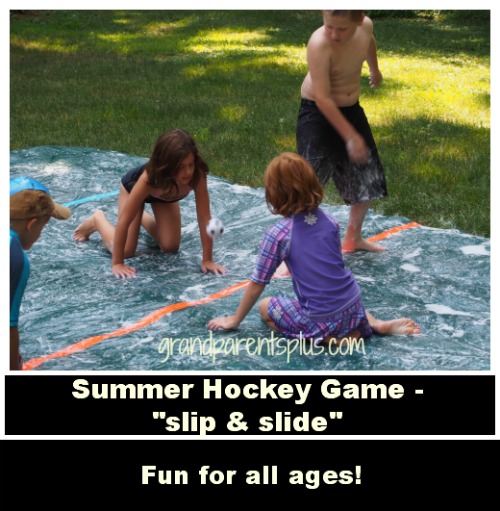 Materials Needed:
Large tarp – I used a 10′ by 20′ tarp.  Make it bigger, if you have two players on each side at one time.
Duck Tape – any 2 colors
1  – 3/8″ dowel – 4 feet

2 pool noodles
Landscape Fabric Pegs – find these at Home Depot in the nursery department

2 rubber balls (I bought these at Dollar Tree – 2 balls for $1.)
Directions:
Use duct tape to tape a center  line on the tarp.
Use the second color to tape a line about 3 feet in front of the goal.
Cut dowel into four 1 foot  sections.
Use Fabric Pegs to secure tarp down on the lawn by placing them in the rivets and hammering them down. Make sure pegs get pounded level with the ground to prevent injuries.
On each end, pound dowel sections in two of the rivets ( approx. 3 in. down). Bend pool noodle and insert ends over the dowels for the goal.
Spray water all over the tarp and then squirt with soap (no-tears shampoo – if it gets in their eyes)
Add more water and soap as needed throughout the game!

Rules of the Game:
These are the rules we played…
Players could not go over the middle line. They had to shoot and play from their side.

No goal tending.
Players must be on their knees or slide around seated.
Balls must be hit with their open hand; not thrown. Balls could be caught with their hands, but then place down and hit with an open hand to score.
Vary play by using two balls at a time. Using two balls makes the Summer Hockey Game a lot faster. Extra kids not playing acted as ball runners.
With lots of kids, rotate them in.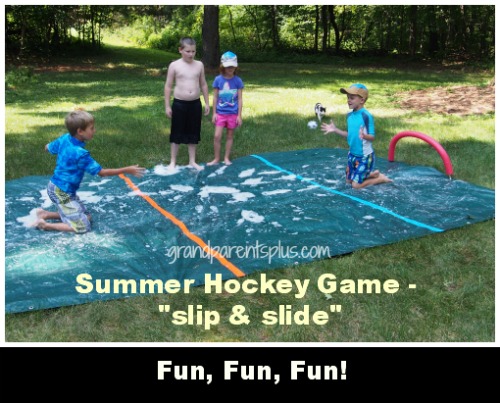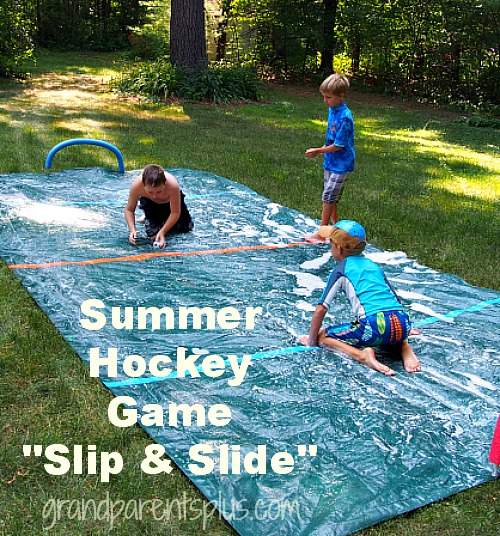 This is a very "clean" game!! Rinse the kids off and no bath needed!  HA!
Have fun! I know your kids or grandkids will enjoy this game!
Phyllis
I'll be posting the complete Oma and Opa Camp 2014, later.  So much to include!
You may want to subscribe on the sidebar so you don't miss future posts!
Follow on Pinterest and Bloglovin, too!
This post is linked to many of the following parties….
Pin It