Tequillaberry Salad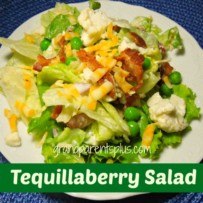 Tequillaberry Salad?
Such a strange name for a salad! Well, the name comes from the Tequillaberry Restaurant in Coon Rapids, MN, which served this salad. It is no longer in business, but the salad lives on. The name is very different and has nothing to do with the ingredients or taste! A better name would be Cauliflower, Bacon and Parmesan Salad, I guess, but people know it as Tequillaberry Salad. Yes, a unique name, but a delicious salad!!
I'm not sure that this is the authentic original recipe, but it is quite similar! I have found a few variations around, and I sometimes add a couple of additional items as well just for more color.
I recently served this Tequillaberry Salad at a family gathering and not a bit was left! Everyone loved it!
Ingredients:
1 head of iceberg lettuce torn into pieces ( I mix iceberg with romaine and sometimes endive for added color or just using iceberg is fine, too.)
3 cups (approx.) of cauliflower (chopped) I made a large recipe and used a full head of cauliflower
1 lb. bacon, fried and crumbled (or more)
1 or 2 bunches of green onions or 1/2  med. red onion, chopped
3/4  cup shredded Parmesan Cheese (or more)
Green Peas (Optional)

Dressing:  Mix 2 cups of Mayo, 1/2 c white sugar and 4 tbsp of milk    Mix this early and place in your refrigerator  so the sugar melts. If you have extra dressing, it will keep in the refrigerator for a week.
Directions:
Add all ingredients in a large bowl.
Add dressing just before serving and mix well.   Top with more shredded Parmesan Cheese
Optional: Sprinkle with shredded cheddar, add thawed frozen peas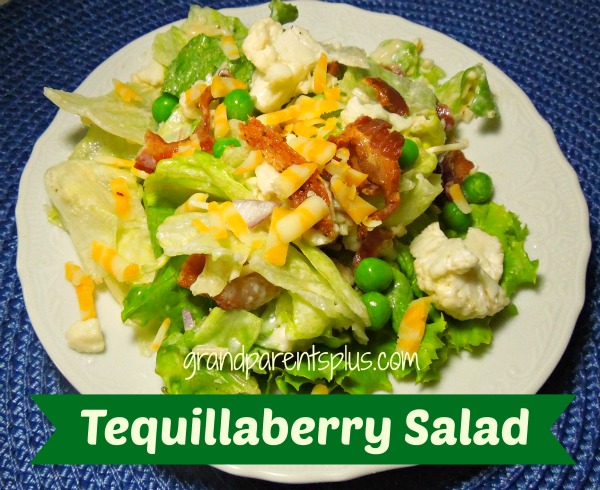 This is one of my favorite salads!
Enjoy!
Phyllis (Oma)
This post is linked to the following parties….
Pin It