Thanksgiving
When Thanksgiving is at our house, we need two tables. One table is for the adults and one  for the grandchildren. They are now old enough to manage by themselves and they are within reach if help is needed. The kid table is set with them in mind.  I use either butcher paper or white paper and tape it to the tabletop. At each child's place-setting, I use a dessert size plate and trace around it (circle) and add a turkey head, feathers and feet. At each place, there are color crayons to decorate their turkey as they wish.This keeps them busy while waiting for their food and when they are done, they can continue coloring. It gives the adults time for their meal.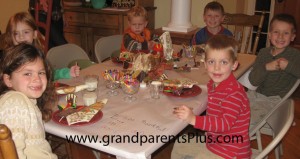 Colorful turkey Tootsie pop holders were made by my daughter. They were at everyone's place. Directions can be found on the Turkey Tootsie Pop Holders Post.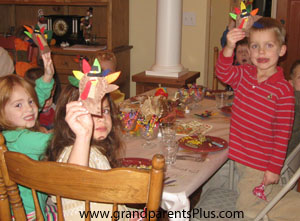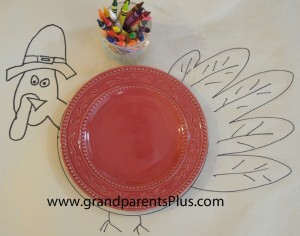 This was the place setting for each child.
Dessert consisted of the usual pies, but also turkey cookies which the kids had help me make before the meal. We used fudge-striped cookies and small peanut butter cups (actually they were from Wal-Mart and had carmel inside but they were the same shape). Items used were: candy corn for the beak, red hots for the eyes (or a small cherry chip) and  a small piece from Twizzler Pull-Aparts for the wattle. Everything was "glued" with melted chocolate chips as it sat on a chocolate star drop. The kids age 5 and up were able to put these together.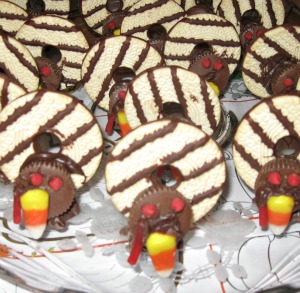 Turkey Game:
After dinner we had a "Turkey Feather Toss". I got this idea from the Family Fun Magazine. It said to tape a weight to the end of the feather. My husband taped a nail that had a head to the end of the feather and it worked great! All ages could take part in this one. We just moved the basket a little closer for the younger children.

If you don't have turkey feathers, use pheasant. (probably available where they sell artificial flowers).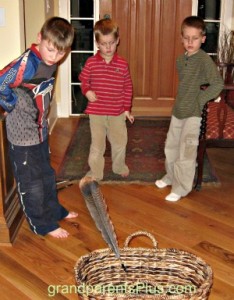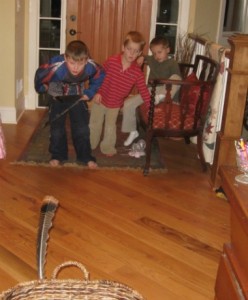 Of course, I captured memories via photos and made a photo book of Thanksgiving.  I sent one to each child at a later date. It was a wonderful Thanksgiving together and perhaps some of these ideas could be used by you at your celebration of giving thanks to  God!
Pin It