Valentine Scones (quick and easy)
Scones are sometimes tricky and hard to make tender and delicious. This recipe will make you an expert. It is quick, easy, and the scones turn out delicious. There is a simple trick to making them tender which I'll share with you so stay tuned…..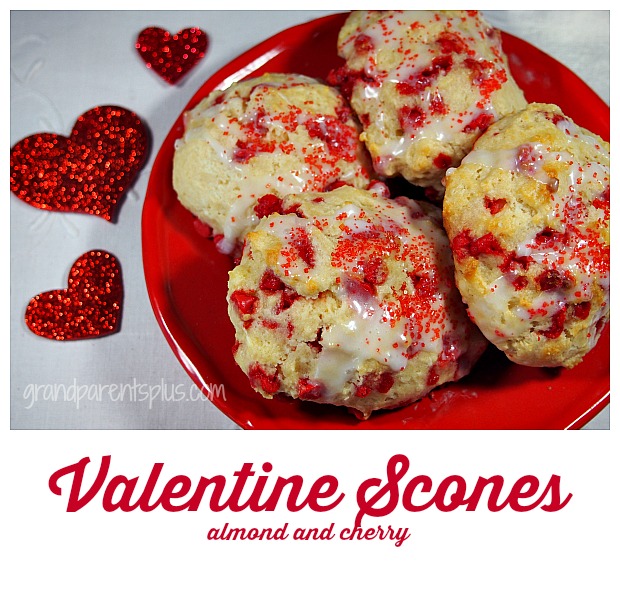 These Valentine Scones are almond flavored with mini cherry chips in the batter. They're perfect for a Valentine tea or just a breakfast or afternoon treat.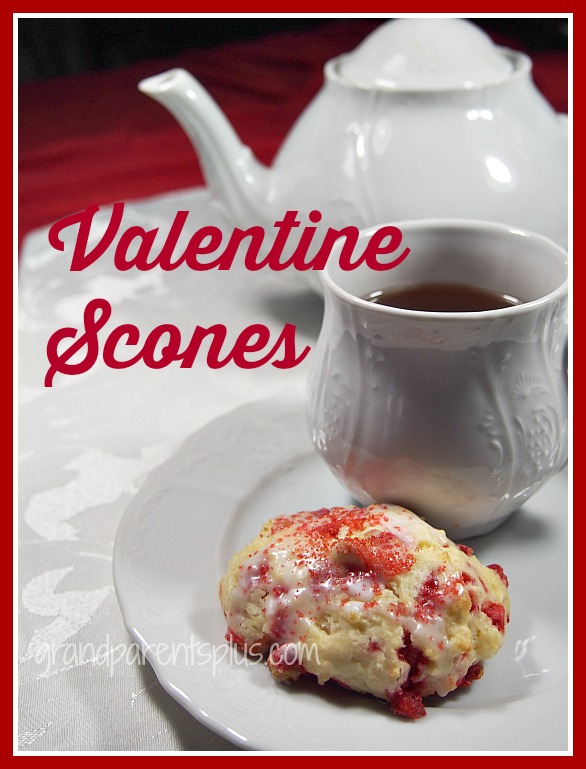 Valentine Scones (quick and easy)
Cuisine:
American, English
Prep time:
Cook time:
Total time:
Light, tender, and delicious scones. Vary the flavors and what you add to them for serving anytime.
Ingredients
2 3/4 cups flour
1/3 cup sugar
3/4 teaspoon salt
1 tablespoon baking powder
1/2 cup cold butter
1 cup to 2 cups chopped dried fruit, chocolate, cherry, or other flavored chips, nuts, or a combination,(optional)
2 large eggs
2 teaspoons vanilla extract or the flavoring of your choice (I used almond extract)
3/4 cup half and half or milk for free-form scones
Topping:
2 teaspoons milk
2 tablespoons sparkling white sugar or cinnamon, or colored sugar
Instructions
Whisk together the flour, sugar, salt, and baking powder.
Cut in the butter until the mixture is crumbly. It's OK if there ar a few larger lumps.
Stir in the chips, fruit or whatever you're adding to the dough.
In another bowl, mix eggs, milk ( or half and half), along with flavorings
Add the egg mixture to the flour mixture and stir until moist.
Line a baking sheet with parchment or use greased pan Sprinkle a little flour on the parchment or pan.
Drop approx. 1/4 to 1/3 cup of dough on to baking sheet for each free-form scone.
Brush top of scone with milk and sprinkle sugar on them
Place in freezer for 30 minutes.
Remove and bake in 425 degree oven for approx. 20-25 minutes. Watch closely as this time depends on the size of your scones.
Remove from pan and cool on rack.
When cool, frost with a powdered sugar glaze and sprinkle with red colored sugar for Valentine Scones (this is optional)
These scones are easy to" prepare for any occasion. Use dried fruits, nuts, or chocolate chips, too.
Ok, did you catch the secret? It's the 30 minutes in the freezer that relaxes the gluten, makes them tender, and rise higher. It, also, chills the fat which makes them flakier! Did you know that fact?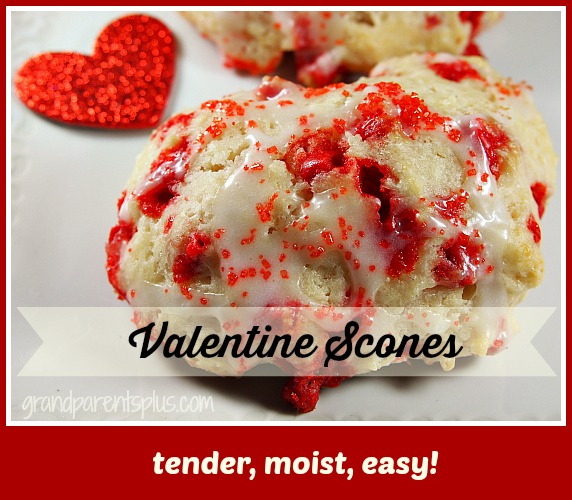 The free-formed scones are so much easier to make and they taste the same! If you decide to freeze them, don't frost until you thaw them out. 
Serve with Devonshire cream and lemon curd, if desired.
Devonshire Cream
1 C. heavy whipping cream
1/2 C. granulated sugar
1 tsp. vanilla
Beat the cream, sugar, and vanilla together until whipped cream consistency.
Fold in 1 C. sour cream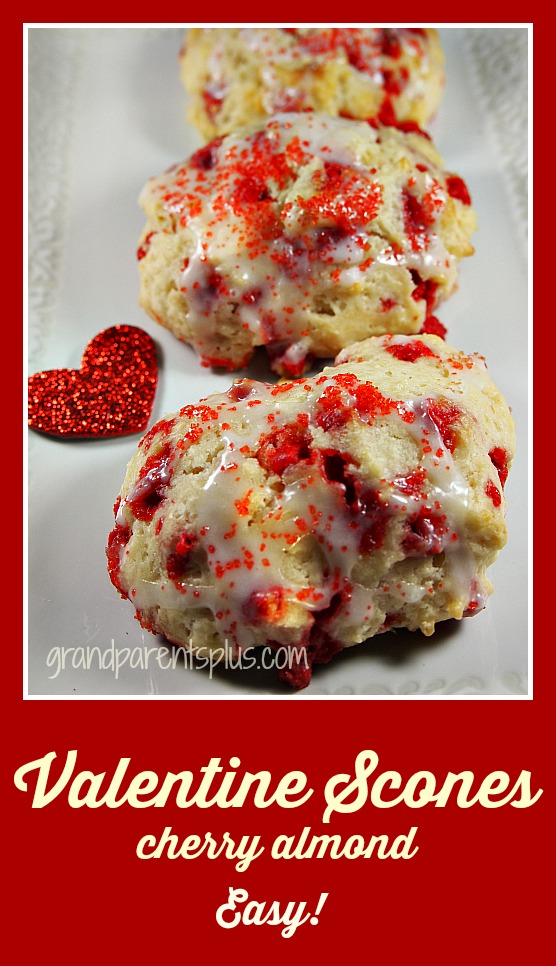 You might enjoy the Best Valentine Cookies – Flavor Cookies, too.
Enjoy!
Phyllis
If you choose to subscribe, your email is never shared or sold.
Follow on Pinterest, too.
linked to these parties…
Pin It