Vegetable Centerpieces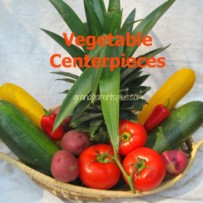 Vegetable Centerpieces
Usually we  think of mainly flowers and decorative items as centerpieces. Well, making Vegetable Centerpieces is something different and certainly spectacular with color, texture, and form! Gardens are now producing wonderful fresh vegetables which gives you the makings for your centerpieces right in your backyard! If you don't have a garden, a quick visit to your local farmer's market or grocery store will give you all the ingredients you need.

When using vegetables as a centerpiece, they are spectacular for your party and still usable the next day. Flowers wilt and die, but there is no waste with using vegetables.
These large Vegetable Centerpieces are beautiful on any buffet table!
They make a gorgeous display for fall or Thanksgiving tables.

I love the different textures and colors! By using an elongated dish or basket for the base, just arrange and change around as desired until you like the way it looks.  The center is higher while mixing the colors and textures on each side.  Items used are red and green pepper, cucumber, eggplant, zucchini, pineapple tops, asparagus, summer squash, and tomatoes.
You don't need designer talent to do this! It is such an easy centerpiece for any occasion! I also like that everything is  still edible, too!
A smaller version for your table….
Hint: To make vegetables stay in a certain spot, use a toothpick and insert in each one to hold it.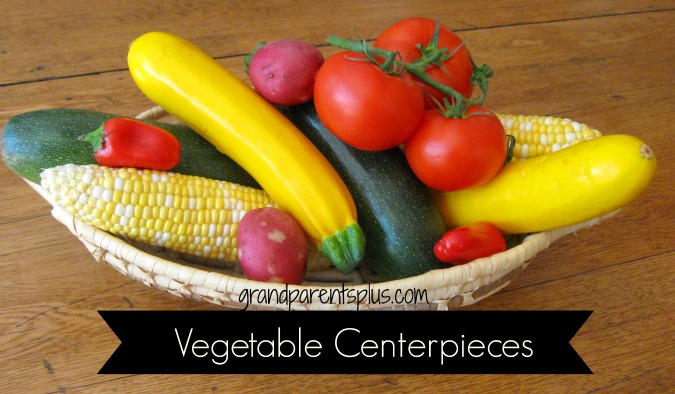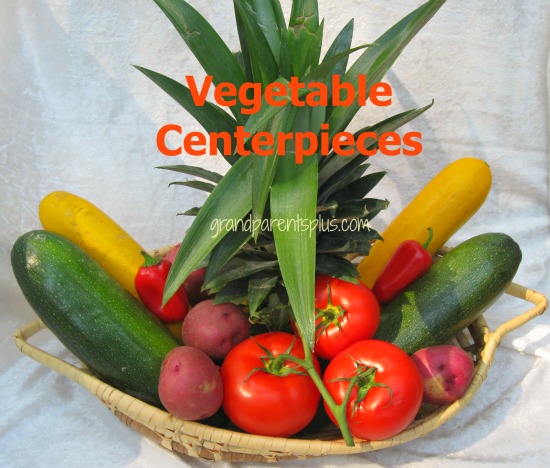 By the way, I found an oval tray and an oval basket at the thrift store! Great deal!
Thanks for visiting! I enjoy your comments and answer any questions!
Please subscribe to future posts on the sidebar. Also, follow on Pinterest!
Phyllis (Oma)
Post in linked to these Linky parties…..
Pin It