Western Craft Ideas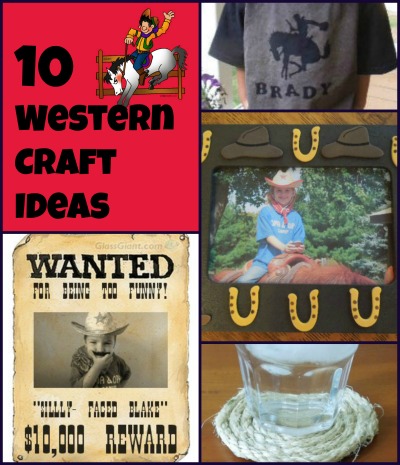 Western Craft Ideas
With a Western theme for our last Oma and Opa Camp (Grandma and Grandpa) ,  I tried to make the Western Crafts appeal to both boys and girls. Not everyone did all the crafts which is just fine.  Sometimes kids just like to play and have fun! So, I don't make them do each Western Craft. It is their choice!
I like ideas that are easy to do, cost friendly and appeal to both boys and girls !
1. Wanted Posters
I bought fake stick-on mustaches at the dollar store. They came several to a package for $1. With two packages, I let them pick out the one they wanted. Wearing a cowboy hat, mustache (for the boys), and a red western bandana around their neck, I took each of their pictures with a "mean look" against a blank wall and printed out individual wanted posters. I gave them some possibilites of why they were "wanted" and they chose the one they wanted for the poster. They loved them! They took them home at the end.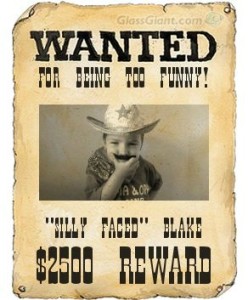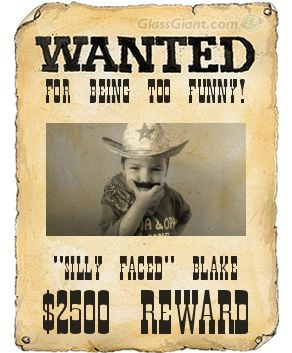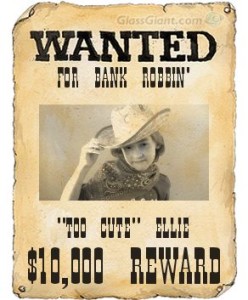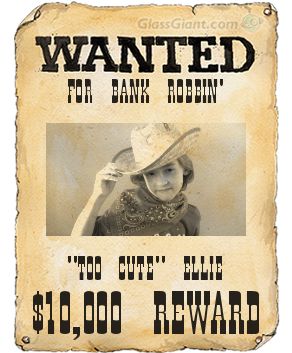 Go to Glass Giant to make the wanted posters.
Another option is to decoupage these posters onto a piece of wood to hang in their room.
2. Rope Coasters
Supplies Needed: Sisal Rope, Felt, Hot Glue Gun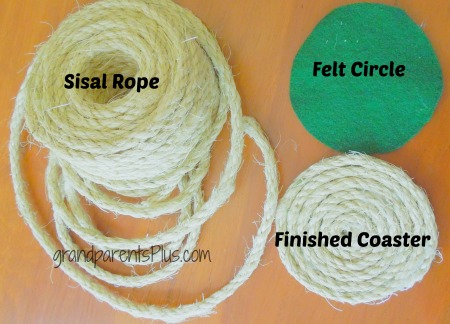 Cut felt circles. I made them 3 1/2 inches in diameter.
Start by hot gluing the beginning of the rope to the middle of the circle (adult needs to do this part).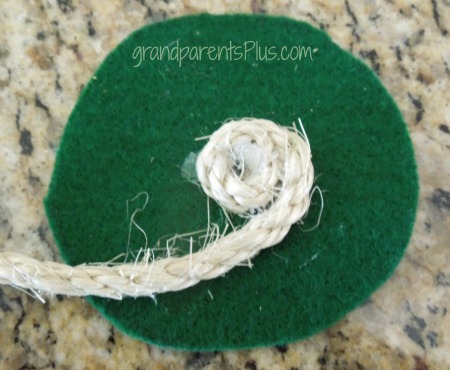 Next step is to put hot glue onto the edge and pull sisal rope to stick to that glued area. I found it easy for kids to pull the rope around while I did the hot glue and then hold it in place with a metal spoon. That way they didn't get burned by the hot glue.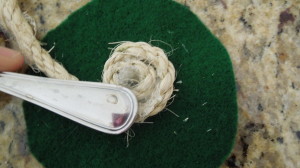 Continue around gluing about 2-3 inches at a time and holding the rope in place. It only takes about 10-20 seconds for the glue to hold it.
When completed, trim off any felt edges that show.
An adult should secure the end with plenty of hot glue.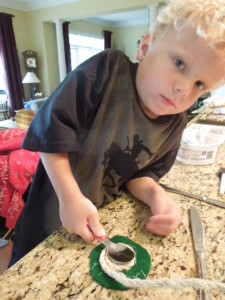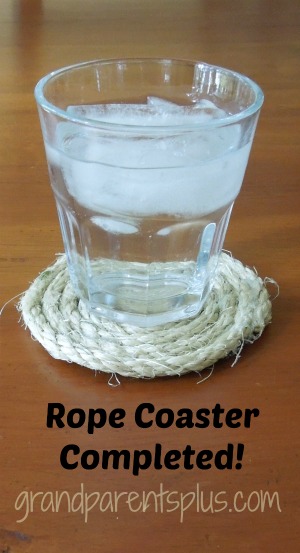 3. Painted Snakes
I found a kit of a wooden snake at the craft store. It was sectioned so you could straighten it or coil it. The kids painted them and we used them for the Snake Tic-Tac-Toe Game ( see post on Western Games)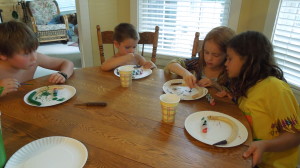 Another variation for the snakes is to make them out of  a flexible molding compound found at craft stores. The snakes would remain either straight or coiled, however.
4. Western Frame
While we were at the horse ranch, I took pictures of each child riding the horse. I printed a 4×6 picture out on the computer.
The frames I found at a  craft shop for $1.  They were wooden and came without glass (which was just fine for this project).  Due to lack of time, I spray painted them all a basic brown. The kids then decorated them with Western Foam Stickers (also found at the craft shop). The picture was inserted and they turned out cute to put in their room.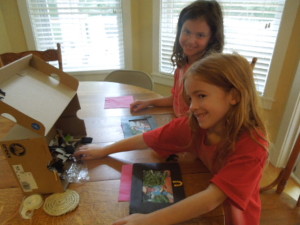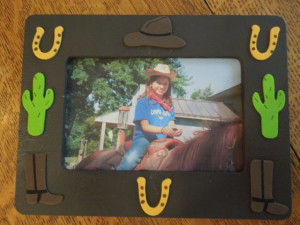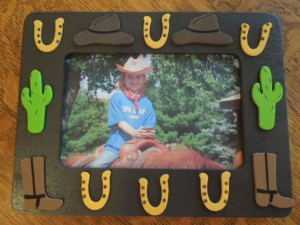 5. Western Themed T-Shirt (Bleached Method)
Using a stencil as a pattern, I cut out a cowboy riding a bucking bronco from freezer paper. We also used western foam stickers. Each child decided what they wanted on their shirt. Some chose the large cowboy cutout and others wanted the smaller western stickers. I also had alphabet foam stickers so they could spell their own name or"cowboy" or "cowgirl".
Using a washed t-shirt ( we used black and red ones as dark colors work best), adhere the stickers or iron the freezer paper cutouts onto the front of the shirt. Make sure the edges are stuck very well to the shirt.
Place newspaper or plastic bags in the shirt so the bleach doesn't go through to the other side. I folded the sleeves back so the bleach didn't touch them.
In a spray bottle, put bleach and add water (ratio 1 bleach to 1/2 water). Lay shirt in the sun and spray lightly – don't soak!  Repeat spraying until desired lightness. Let dry in between spraying so the sun does its work. When completely dry,  remove stickers.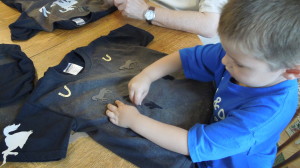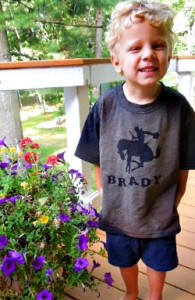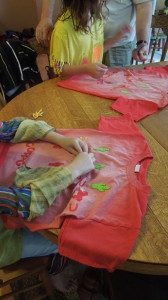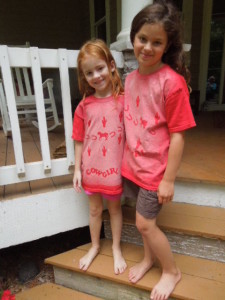 I found other ideas that I didn't do, but are extra ideas to have on hand……
6. Horse pictures made from a footprint: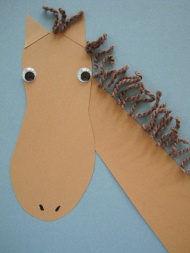 Go to busybeecrafts for complete instructions!
This is more for younger children!
7.  Desert Pictures
This site also has ideas for sand pictures!
8.  Horseshoe Craft
Go to this  Pinterest 
If you a lucky enough to find horseshoes, this is a good option for older kids.  Shrinky-Dinks using Western shapes makes a cheaper option rather than buying lots of charms. Check out various free clipart options online for patterns.

9. Leather Crafting
Just buying a kit is rather expensive and hard to do with multiple kids.  Making this with a couple of kids is doable, but needs supervision.  Smaller kits with one tool are available at craft stores. Leather bracelets or bookmarks are some options.
10. Western Melted Bead Suncatchers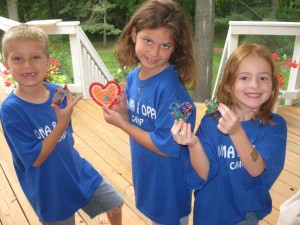 We didn't use this Western Craft idea because we did it another year with a different theme and I like to do something new each year.  The melted beads work with any theme as long as you can find the metal cookie cutters.  Using western metal cookie cutters (boots, cactus, etc.) is another great option for a western craft.
Go to Suncatcher-Melted Beads for complete directions
I know there are lots of other options, but don't over-plan!  If you do a Western Party with many kids, the crafts go smoothly if you have "stations" where one adult supervises and helps kids, but they can pick which station to go to.  With our 7 grandkids, we gave the options one at a time spacing them out through the 3 days of Oma and Opa Camp!
Hope these Western Craft  ideas help with your party!
Enjoy!
Phyllis (Oma)
Posting other Western Food Ideas and Western games, too,  so subscribe so you don't miss future posts. Also follow on Pinterest or Bloglovin.
This post is linked to the following parties….
Pin It