Western Game Ideas

This year the theme of our Oma and Opa Camp was a Western Round-Up! I used many of these Western Game ideas during the time we had all the grandchildren at our house.  Thought I'd share them with you!
1. Snake Tic-Tac-Toe Game
Using two bags of Dollar Store snakes, divide by color. Half of the snakes were mostly green and half were orange. I used my square coffee table, but this could be placed on the floor or use an old sheet and tape off a Tic-Tac-Toe Board. I made a slight variation in the game in that each player had 3 tries to land their snake on a square. Sometimes it landed on the wrong square, but it had to stay there. After 3 tries and if the player didn't make it onto any square, the other person had a turn. This made the game more fun rather than the "cat" always winning.
Outdoor variation:
Play this western game outdoors on the sidewalk or driveway by chalking a tic-tac-toe board.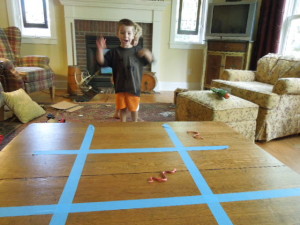 2. Round -em Up!
Put several animal crackers in a bowl. (Find cows or horses or any animal cracker will do.) Cover the crackers with whipped cream (from a can). They have to "round up" the animals by eating them without their hands and digging into the bowl face first!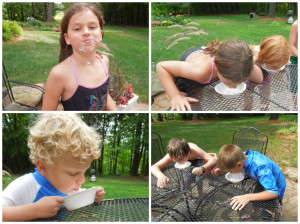 3. Snake in a Boot
First, I found wooden snakes at a craft store and the kids painted them. They used their snakes for this western game.  Have a cowboy boot on the floor. Place a chair by the boot and have the kids stand on the chair to try to get the snake in the boot by dropping it. Set a height of where kids can drop it from – this can vary with the ages of the children.  They get a set amount of tries (I did 5) to see how many times they make it in the boot!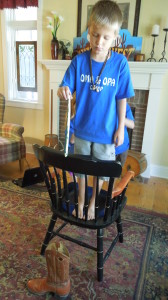 4. Round Up or Barrel Racing!
Blow up several large balloons.  Kids have to kick or maneuver their balloon through set course. Place objects that they have to move around ("barrels") and come back to the starting line. You may time this or just let it be for fun! (Also used as a relay if you have lots of kids.) This game is best played in a large area on a calm day or indoors, otherwise the balloons are too hard to control.
5. Pin the Mustache on the Outlaw!
Draw or blow-up a clip art picture of an outlaw. Kids take turns trying to place  the mustache on the outlaw while blindfolded. Another version is to use a picture of them and try to stick the mustache on their picture while blindfolded!
6. Rattle-Skee-Daddle!
Using the plastic snakes or any ones that you may find. Kids throw the snakes trying to land them in a basket placed a distance away.  Give them a set amount of tries ( 5  or 10?).
7. Cowboy Lasso
Using a hula-hoop, tie a fairly long rope to it and have the kids try to get it around a play horse. If you have a rocking horse, this works well. Otherwise, making a simple wooden horse or an adult playing as a horse will do!
8. Target Shooting
We live in a rural area so B-B Gun shooting is fine, if supervised. My husband being a hunter is very careful about teaching gun safety. Set up a target of tin cans. Let kids try to hit the target.
If you are not in an area where you can shoot a B B Gun, use balls to try to "shoot" the target. Make a pyramid of cans and see if they can knock all the cans down in one "shot".
Another version is to "shoot" small paper cups off the table with a squirt gun. Use bathroom cups and the fastest time to accomplish shooting all off the table, wins!
9. Yee Haw Slide
If you have a hill, you can do this activity. While it isn't exactly a game, make it one by seeing who can slide the farthest.
Buy 6 mm plastic and cut to desired length. We used 8 1/2 ft. wide plastic. Place garden pins on the edges of the plastic to hold in place. Set sprinklers all along the length so they wet the surface constantly. To make it "Western", take a run and slide and say Yee Haw! (I know that's a stretch on the Western theme! Ha!) It was fun, though!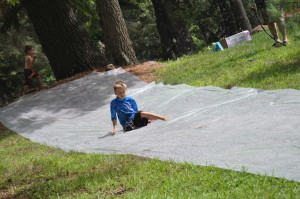 10. Water Pistol Tag
This game is played like tag, but you are " it" if hit by water. Use cheap water pistols so they don't shoot so far and  kids have a chance to get away.
Have fun with these Western Games! Yee Haw!
Phyllis (Oma)
Love to have you subscribe, follow on Pinterest and Bloglovin'!
This post linked to the following sites……
'
Pin It