Why Cruise?
Just recently my husband and I took  a Caribbean Cruise. This winter has been so cold that we needed a warm getaway. The only compensation I was given for this post was Internet time.  We paid for the cruise on our own and all opinions are completely mine based on our experience.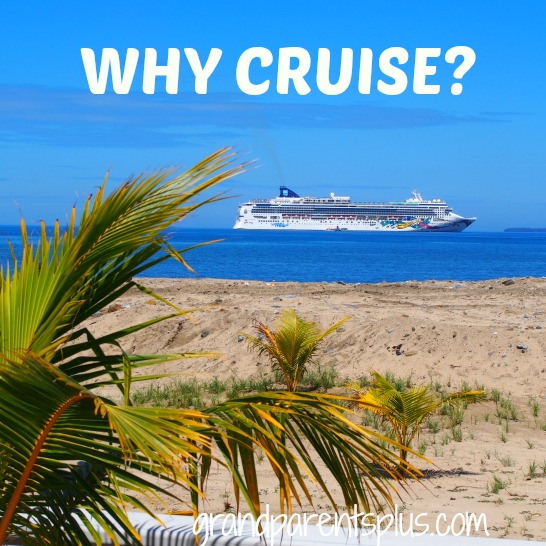 We chose Norwegian Cruise Line because we had been on another cruise with them and enjoyed it very much. We cruised for a week on the Norwegian Jewel that left out of the Houston, TX port.  The ship went to Cozumel, Belize, and Trujillo, Honduras. If you're looking for a wonderful vacation, a cruise may be  perfect for you and your family. Here is why you might want to cruise and what to expect on Norwegian Cruise Lines.
First, it is like an all-inclusive vacation. You have several restaurants with 5 star menus available to choose from each day. If you want to go more casual, there's a Garden Cafe Buffet with more choices than you can imagine. Not enough? Well, there's  good old  hamburgers and hotdogs with all the fixings at poolside. Also, there are specialty restaurants that are also available for an additional charge. Other additional charges are for alcohol and soft drinks. Milk, tea, coffee, lemonade and flavored waters are free. Norwegian does allow you to bring on cans of soft drinks as long as they are unopened.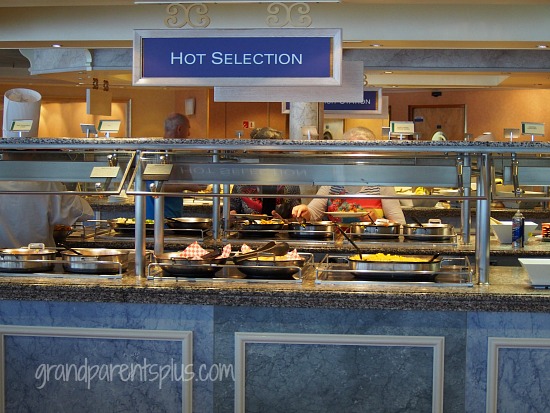 The Garden Cafe had specialty nights, too. Mexican, Caribbean, and Asian were some of the evening specials. Pictured above is only one small section of the Garden Cafe.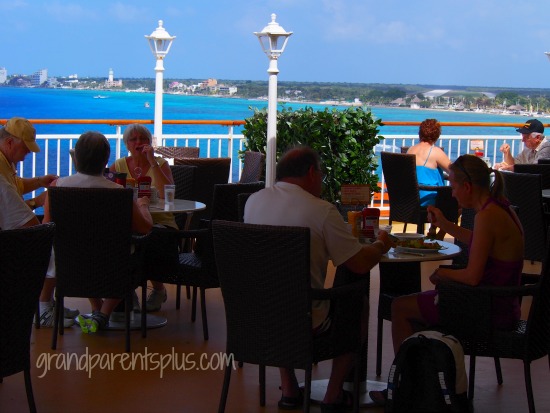 At the back of the Garden Cafe, they have an open area for dining. In the morning, this was our favorite place to have breakfast! There were so many choices for breakfast! There was made-to-order omelets, eggs benedict, eggs any way you choose, bacon, sausage, juice, breads, rolls, sliced cold cuts, fruit, yogurt, along with cereals (hot and cold).
Now, in the evening, we liked to dine at the Tzar restaurant. It was beautiful! Norwegian Cruise Lines has a policy of what they call "Freestyle". This means you choose what to do and when you want to do it. This includes dining! You are not assigned to a certain time to eat, but can choose when and where you want to eat. You are not assigned to a certain table, either. The dress code was merely wearing long pants (including jeans) for the men. No shorts for women, but capris were fine or many chose to dress up, too! Again, it is your choice!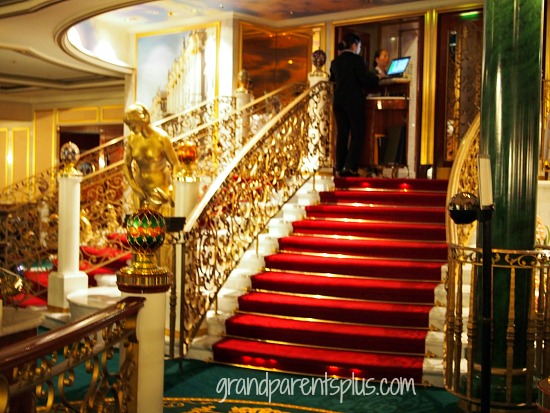 Grand entrance to the Tzar Restaurant
We have been on other cruise lines where you're assigned to a late 8:30 dinner. For us, that is way too late for a big meal so we liked that we could choose when to eat.
Now, on to the second point…..   If you cruise as a family, there are lots of kid's activities, too. There's a club for young kids so adults can enjoy some free time as well as a teen area. Everyone can find something to do on the ship or you can just relax and chill out at the pool. Because there are so many directions of where to go, it makes it easier to keep track of everyone by bringing walkie-talkies.  Texting will cost you extra as you need to sign up for Wi-Fi minutes.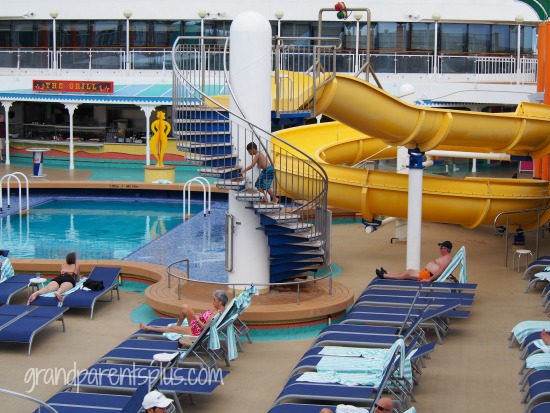 The ship's ammenties are great! Above is only one of the pool areas on a port stop day. If you choose to stay on ship, you can enjoy the pool without many people there.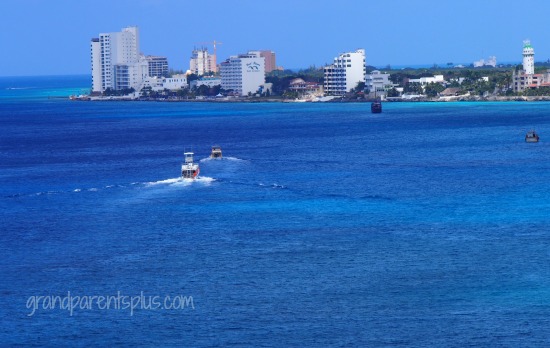 Cozumel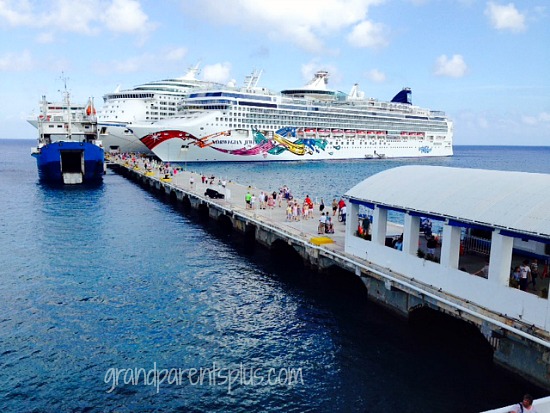 Another reason to cruise is that you go to different destinations. If you choose the cruise by the ports of call, you'll find different attractions and things to see at each location. We had visited two of the destinations before so our criteria for the cruise wasn't necessarily the destinations, but the dates that fit our schedule. Cozumel, pictured above, is great for snorkeling. Another attraction is the Mayan ruins. Belize, another cruise stop, is where you can tube on a river through caves. We did this on our last trip and it was very fun. There are many other options as well.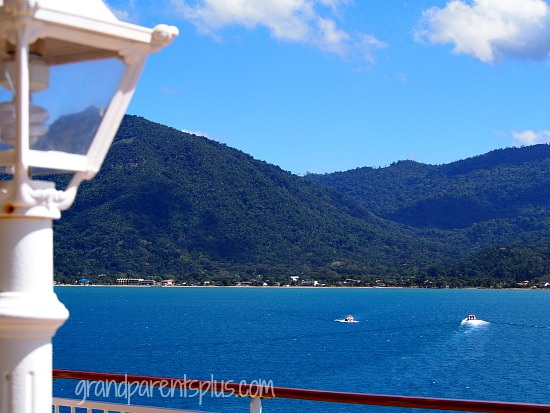 Honduras
Our stop at Honduras (Trujillo) was very picturesque from the ship. This is a new developing port. The natives met those coming ashore with music and dancing. We enjoyed the shopping area here. I found a native nativity set here to add to my collection. It was very hot that day so we opted for a short visit and returned to enjoy the ship. Other people who went ashore said there was great snorkeling here.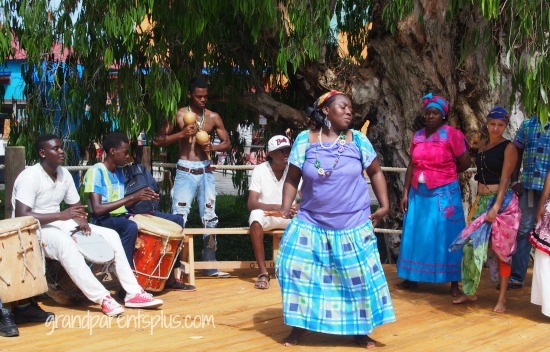 Here's more reasons to cruise….You'll have great entertainment day and night. There are live bands at the pool during the day. During the evening, there's dancing and wonderful shows to attend. We found the evening shows in the main theater were very good. Throughout the evening, more live music is at the various lounges on the ship.
While on your cruise, you can expect incredible service from the staff. From the stewards that make up your room twice a day, to your waiter or any staff member, they are friendly and accommodating. Even the captains are approachable with a friendly smile and greeting. In your stateroom, each night,  you'll find a cute creature sitting on your bed.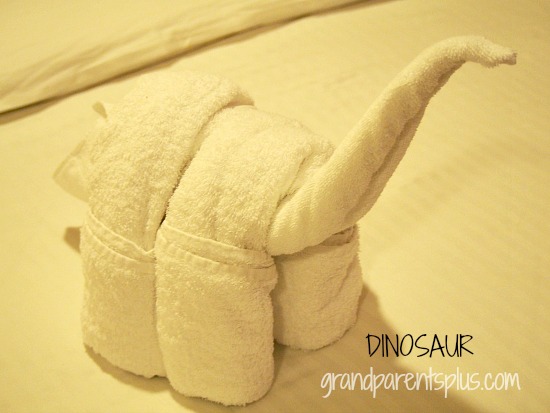 You have so many choices of things to do on the ship. Besides what has been mentioned, there's a Fitness Club to work off all that wonderful food, along with a Spa, Casino, Library, and Card Room.
Final reason to cruise is that it is a very relaxing vacation. You can be as busy as you want or just take it easy!
Why cruise? The answer is, "Why not?"
I recommend to "cruise like a Norwegian" on Norwegian Cruise Lines! We loved it!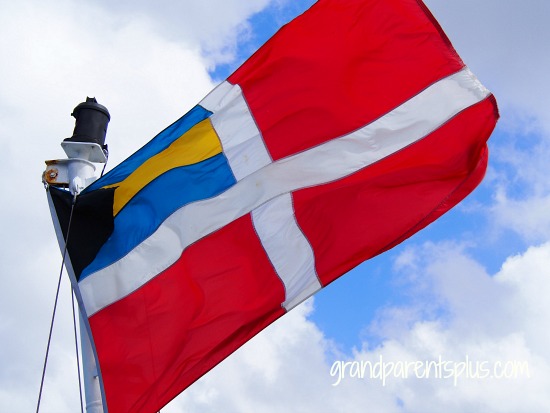 Thanks for stopping by!
Phyllis
This post is linked to many of the following parties….
Pin It