Zucchini Orange Bread Recipe
Zucchini Orange Bread
A zucchini bread with a hint of orange? Yes, it's a delightful addition to zucchini bread! Zucchini Orange Bread is a tasty change from the usual zucchini breads. The light orange flavor comes from orange juice and orange peel.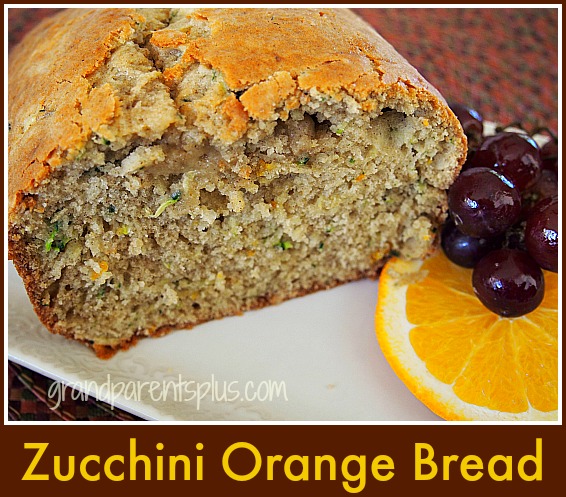 Perhaps you have some zucchini frozen. If not, buy some fresh from the grocery store. Don't wait for your crop of zucchini to come in the fall to make this bread. Bake some this week!
Zucchini Orange Bread Recipe
Ingredients
4 eggs
1 1/2 cup sugar
3/4 cup oil
2/3 cup orange juice
2 cups shredded zucchini
3 1/4 cups flour
1 1/2 tsp baking powder
1 1/2 tsp baking soda
3 tbsp. grated orange peel
1 tsp. cinnamon
1/4 tsp. ground cloves
Instructions
Preheat oven to 350 degrees. Grease and flour two 8 x 4 loaf pans.
In a large bowl, beat eggs until thick and lemon colored.
Gradually beat in sugar
Stir in oil, orange juice, shredded zucchini, flour, baking powder, baking soda, salt, cinnamon, cloves and orange peel.
Mix until well blended.
Pour batter into prepared pans,
Bake for 45-55 minutes.
Let cool for 10 minutes and remove from pans.
Cool on wire racks.
http://grandparentsplus.com/zucchini-orange-bread-recipe/
Be sure to click the Yummly button to add it to your Yummly recipes!
This recipe goes together quickly and produces two nicely shaped loaves. This is a wonderful alternative to chocolate zucchini bread, too. It's a vegetable, right?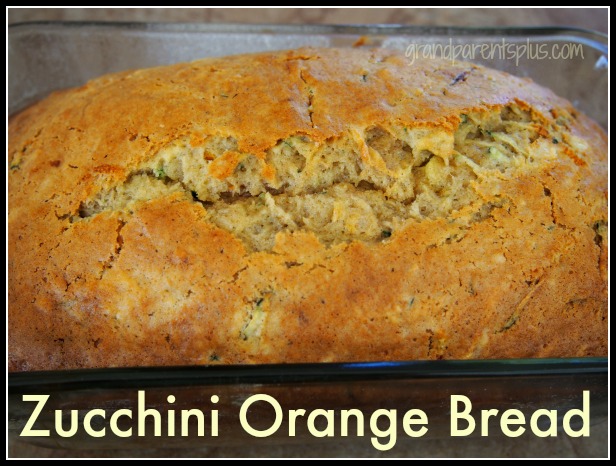 I know your family or guests will enjoy this bread! I like having quick breads in the freezer ready to use.  I pre-slice them before freezing so I can take out only what I'll use.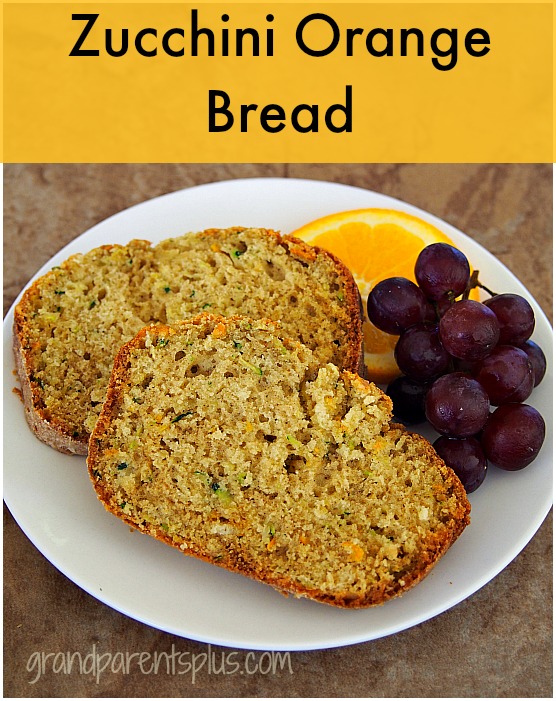 Zucchini Orange Bread! Vegetable and fruit together! Do you agree?
Phyllis
I urge you to subscribe on the sidebar so you don't miss a future post! Your email is never sold or shared.
Follow on Pinterest, too.
linked to these parties…
Pin It